Meet the brain of your Smart Home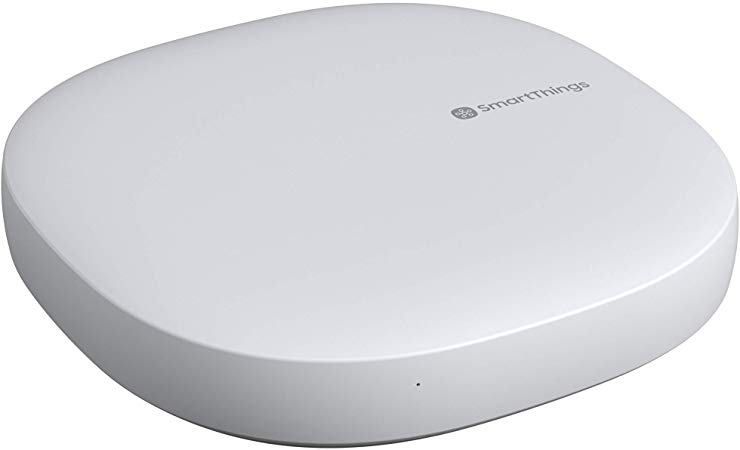 A SmartThings hub is the first step to start your real home automation journey.
You're wondering how can you automate your lights or your smart door locks with only the tap of a button or even with a Voice command? Well, this Hub is designed to create the home of the future right on your hands.
What is a SmartThings hub?
A Hub is the core of your Smart Home. It is the brain and the control of all of your smart devices around your home through only one App.
As you start getting more and more smart gadgets, your Smartphone starts to overload with Apps and different configurations.
You'll see jumping from App to App to make changes in your daily schedule because of the lack of integration. With a Hub, you will connect all your devices to the same "brain" and start controlling everything faster and more efficiently.
Why Do I need A Smart Home Hub?
After you start getting your first Smart lights, Smart Cameras, or even a Robot Vacuum your creativity grows. You'll see how some simple voice commands can control your new gadgets in your everyday routine.
But what about if I want to control all my devices with only one command? That's where the magic begins.
Having a Smart Home Hub is the tool to automate everything in your house with only one device.
It saves time, increases integration, and expands your automation ideas where only your imagination is the limit!
For example, every time you arrive home you can schedule a routine to turn on your living room lamps, turn off your smart camera and open the shades of your room.
Depending on which type of devices you have, you can create any kind of ideas for your home.
After leaving home for work every Monday, Wednesday and Friday you can schedule your robot vacuum to clean up your house. Later on, your Robop mop can automatically start after the vacuum finishes and have a spotless floor.
Why do I need a Smarthings Hub specifically?
Simply because of the integration. The best smart home gadgets, the ones that reduce costs on electricity bills, the ones that actually work, and they're not just sold for advertising are the ones that connect to this Hub.
A good example is the Ecobee Smart Thermostat. This device works fully integrated within the Smarthings App and can be customized according to any kind of morning or night routine, you can think and as you may wonder, the Ecobee Thermostat is the responsible for reducing your heating and cooling costs up to 23% yearly.
With this Hub, the integration goes to another level. You can connect nearly any kind of smart home device thanks to the fact that it has the following protocols:
ZigBee
Z-Wave
Cloud-to-Cloud
LAN
ZigBee3
And this is particularly important if you want to create DIY Smart Home projects.
If you have seen great ideas of this kind and want to reproduce them, having a smart things hub is the way to go.
Automate your Home with the Smart Things App.
Having a Smart Things hub is more than connecting all your smart devices to a simple brain.
Sure, it's an awesome feature and it can be really helpful when you're starting your smart home ideas but the most important feature for you to take advantage of is automating any activity in your home.
You can use the Smart Things App, the built-in scenes, and routines to design your daily routines for your smart home. With these features, you will see"the real experience of living in a Smart Home"
What are Scenes, Routines, and Smart apps?
Scenes: they are custom settings for a group of lights and devices to perform a specific purpose. You can easily add devices to do certain actions to create a perfect ambiance. For example, a "Romantic Lights Scene" will dimmer down the lights, change the living room colors to red and close your blinds at the same time with the tap of a button.
Routines: Lets you trigger actions automatically depending on certain events of the day. Let's say you leave your house at 8:30am, a "morning routine" will turn off your coffee maker, close your shades, turn on your smart camera and lock your door after leaving.
Smart Apps: Around the world, there are app developers that designed great Home Automation ideas for controlling any kind of gadget you have. One of the most remarkable ones is the Smart lights App, because it can, for example, before sunset, turn on the main living room lamp when motion is detected.
Downsides of the Smarthings Hub
IF you have the smartThings Hub V2 and you want to upgrade to the V3 version prepare yourself to do everything from the beginning. If you have lights, door locks, and smart cameras to certain pre-set routines you will have to create them all over.
Certain users have complained about some automation features. When a certain device reports to the Smart Things app a condition like motion detection it should trigger consecutive actions, but apparently it's not working. Obviously, there is a human factor involved here because not everyone is experiencing this, but just be aware that it could happen
Smart Home Devices You Can Control with SmartThings
Below you will see how strong and complete this Hub is. You can control all of the following gadgets:
Voice Control Assistants (Amazon Echo, Google Home, and Siri)
Light Bulbs and Hubs
Light and Ceiling Fan Switches
Plugs
Motion Sensors
Open / Close Sensors
Motion Sensors
Flood Sensors
Tilt Sensors (for garage doors, etc.)
Smart Door Locks
Thermostats (Z-Wave Thermostats and Wi-Fi Thermostats)
Smart Speakers
Within the SmarThings App, you can monitor the status of all these devices. You can even organize them depending on if you have them in certain rooms for your routines and scenes.
If you have a smart device that you are not sure if it's compatible with the SmarThings hub visit this website to check its compatibility
If you want to check the price and availability, Check it out on Amazon  here 
Conclusion
SmarThings is the best hub out there right now to automate your Home. Its capabilities to create different routines and integrations between nearly any kind of smart device in the market makes it the best decision.
The security, versatility, and stability are the main reasons to think that this Hub is a great component to automate your Home.
You need a reliable brain that can handle all of your automation ideas without dying in the intent.