A smart doorbell without a camera is an excellent choice when you want to automate your front door and save up some money.
Or perhaps, you already have a smart camera installed and you just don't want to have an additional one recording with less definition.
Well, I found some pretty elegant solutions that don't require complex installations or technical knowledge.
What were the requirements for this list?
First off, a Smart doorbell without a camera has to have the following requirements to be actually smart:
When someone uses your smart doorbell without a camera you should receive a notification on your Smartphone by any means.
Smart features sum points to be on top of this list: Two-way talk, connection to other smart devices and so on.
If it is possible to automate it with other devices to create routines, get the award because that's the whole point of having a smart home right?
If this is interesting to you, definitely stick around!
Smart doorbell without camera: Arlo Audio doorbell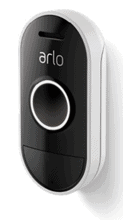 With a beautiful design, Arlo audio doorbell gives you a clean solution to respond to your visitors right from your phone. As it is designed for outdoors it can handle temperatures from 4ºF to 113ºF or -20° C to 45° C.
What I like about this doorbell is that you can pair it with your Smart Camera and get an instant live feed from outside when the ring chimes.
Also, it has pre-recorded quick-response replies in case you are expecting a package and you're not home. It will automatically tell your visitor to "leave the package, thanks" or any desired answer.
Another great feature that it has is that if you couldn't attend the door at the moment, the Audio Doorbell can record a voice message from your visitor and you can hear it later!
Also, it has a two-way speaker where you can talk with anyone outside at the moment someone rings.
Cons:
Works only with Wi-Fi, meaning you can't automate it using a Smart Hub or other Home automation networks.

IFTTT is not supported

in this model, so forget about creating routines.
Pros:
It comes with a chime that sounds at 109db. You can put it anywhere at home and prepare to be notified very loud!
Its design. It's just better built and the materials were chosen to withstand the weather
If you think this doorbell is the best option for you go here on Amazon to check for price and availability.
Arlo is a great company and with this little fellow, you will have a beautiful doorbell that would be very appreciated by your visitors!
NEXIA Doorbell Sensor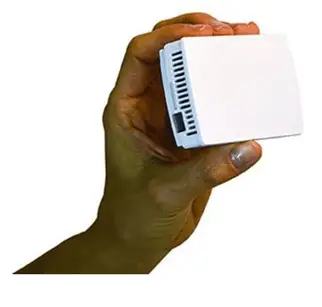 A simple solution for simpler guys. This sensor is designed mainly to trigger a notification once someone rings your regular doorbell.
It will connect your doorbell to your smartphone through the NEXIA Account and a Hub to let you know how many times your visitor interacted with your front door.
About the installation, you need certain Tech Specs to be reviewed to have it fully working. But as a general rule, you would need a Smart Home Hub to control the sensor and notifications.
It works with Z-wave, so expect reliability on the connection and poor interference.
Nexia provides a bridge that works with Z-Wave, but requires a monthly subscription and it doesn't come with IFTTT.
The sensor isn't weatherproof, so be aware that you need to do the installation where is protected from rain and winter.
I love this one because it works with Z-Wave
and Why? because having a powered Z-Wave smart house is the smartest decision you could ever make. If you want to learn more about why is so awesome to use z-wave, please visit this in-depth guide where I broke down every major aspect of this smart network.
Check here if you want to get the Nexia sensor through Amazon.
Smart doorbell without camera: Xiaomi Mi Smart Switch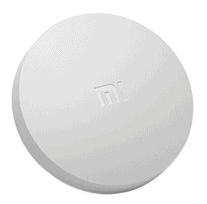 This is a great alternative if you want a Smart doorbell without a Camera and save good money.
The connection between the switch and your Smartphone is using Wi-Fi.
You don't need a hub to run this one and it can be connected all the time as long the Wi-Fi network is strong enough to reach your front door.
As a smart switch, you could think it doesn't work outside, but for this particular model can withstand outside temperatures from 0ºC to 40ºC or 32ºF to 104ºF.
This is an extremely cheap solution and at the same time pretty useful. For only ten bucks you could give it a try and see it for yourself.
At the moment, this brand is only reachable through Aliexpress. Check the price and availability for your country here.
It's an incredible online store with a lot of products that are very affordable.
 Xiaomi Aqara Smart Switch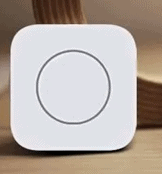 Another great option for your front door. If you are a fan of Zigbee, this smart switch will work as your smart doorbell without a camera.
You can pair it with your Smart Home Hub and trigger automation easily once someone rings.
For example, if you own a Google Home mini or any kind of Smart speakers, you could connect it to your hub and create a routine to notify you through your Speaker.
At the same moment, your Smart camera can start recording your front door so you can actually see who is ringing or if your package finally arrives
It can work between -10º to 60ºc or 14ºF to 140ºF but I wouldn't trust it to withstand strong rains.
Aqara is another brand that hasn't expanded in the U.S. that much yet. At the moment, you can find its products directly on Aliexpress.
They have been in the market for a long time. If you want to check the price and availability for this useful switch click here to go to Aliexpress online store
Smart doorbell without a camera: AOTEC Wireless Doorbell 6
If you're serious about home automation, this is your best shot. Why? Because Z-wave is the best network to automate your Smart Home, and this smart doorbell without a camera is compatible with it.
And even now, AEOTEC doorbell 6 is Z-Wave S2 compatible!
It comes with a smart button and a 105db chime that works in a super low frequency that ensures a good connection and low interference.
Even though is a beautiful piece of technology, this doorbell can withstand the weather pretty good. It works between -4°F and 104°F or -20°C and 40°C, which is practically all U.S. U.K. and Australia temperature range.
And what about if you want to install it on different doors?
The chime that comes with this doorbell can bridge up to three different buttons at the same time to receive information from multiple sources.
The more smart buttons are connected to the chime, the stronger your Smart Home Network will be.
Once someone uses the button, the chime will activate light alerts along with multiple tones to make it more customizable.
The installation is very easy and you don't need to worry about DNS servers or hosting gates to make a button smart. The only thing necessary for you prior to having this smart doorbell is a Smart Home Hub.
This little device will become the brain of your house and trust me, once you get it, the possibilities of automation will become endless.
If you want to get the AOTEC Wireless doorbell on Amazon click here!
Ome Smart doorbell and chime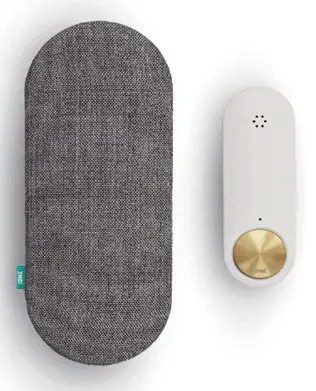 A beautiful option at a higher price. This smart doorbell has integration with Wi-Fi and an app that will let you know if someone is ringing.
Off course, this will mean that it can't be automated for routines but, if what you are looking a sleek design with some smart features this one covers it all
It includes two-way audio so you can talk with your phone and with the chime.
If you're in the kitchen, and someone rings, you can instantaneously answer them using the mic. Pretty cool right?
Right now, Ome is having a transition which could lead to poor customer service.
Ome used to be known better as Ding but at the moment the device presents certain glitches on numerous batches that it wouldn't be the best option.
I know, Why do I put it on this list? because is nice learning about the smart home industry right?
Nevertheless, this doorbell without camera is in my opinion, has the best chime above the entire list.
The quality of the materials and it even looks like a Smart speaker!
It doesn't require any kind of monthly fee and the installation it's pretty straight forward.
If you want to check the price in Amazon UK, please follow this link
Conclusion
There aren't smart devices in the market at the moment that can perform as Smart Doorbells without a camera specifically, but using your creativity, you can automate your front door and keep using your smart camera.
Most known doorbells come with monthly subscriptions and a camera that honestly isn't that great, that's why having an automated doorbell that can be connected to your smart speaker is an excellent idea.