Introduction
Usually, Smart home devices tend to increase your expenses after a while and your electricity bill is the one that suffers the most. Having different kinds of lights On without supervision or motion sensor at full strength it will drain energy more than anything at home.
But if you inform better, not all devices are meant to do harm! There are plenty of them designed to save you money and give your home a technological touch.
In the following article, you will see which are the best smart home devices to save money!
Rachio 3: Smart Splinker System
A smart Splinker system is a great way to save money on your water and electricity bills. You may have already a regular controller that is guilty of wasting water and energy by watering your lawn wrongly.
Have you seen your sprinklers working when it's raining? Or have you seen your lawn starts to lose its beautiful green color because your sprinklers didn't water enough in the summertime?
If you want to have a great front yard without being all the time re-scheduling your dumb sprinklers, I think it's time for you to get a smarter one.
Meet the Smart Sprinkler brain!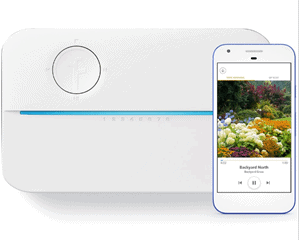 Rachio 3 is a Smart Home device designed to control your sprinkler system in a fun and useful way. Using any kind of Smartphone, you can easily schedule a watering plan for your yard within minutes and start saving money right away.
And How it saves money?
Rachio 3 has awesome connectivity to 130 different weather channels that are updated several times a day. With this information, the Sprinkler system re-schedule the watering plan according to the rainy seasons and humidity in your zone specifically.
It has 6 different features to control your sprinklers in a smart way to keep your lawn green and saving you money along the road.
Let's dive into them:
Rain sensor: Some people could think that information from weather channels aren't as accurate as you would want. With a rain sensor, your smart sprinkler system will know exactly when is raining and how much time it last. If it's raining even though the weather channels say another thing, it will stop watering your lawn.
Smart Cycles: One of my favorite features. When you set up your watering schedule, you set up which type of plants you have on each sprinkler zone. Once finished, Rachio 3 will use its algorithm to know how much each plant  "drinks" to avoid flood your lawn. It's obvious that a big tree needs more water and a regular bush, right? The app already takes into account this and it will save water on the zones where it isn't necessary.
Rain Skip: Besides the rain sensor, Rachio 3 knows when it's going to rain thanks to local weather channels. If there is 100% rain probability on your area, it will skip turning on your sprinklers and let mother nature do its thing.
Saturation Skip: With this feature, Rachio 3 will avoid flooding your zones depending on humidity and rain. Let's say in your front yard you have a big tree and several bushes and, in the back, you have an only lawn. You just tell the app which kind of tree and bushes you have and it will averagely know the humidity of your soil. With this info and rain factors, it will avoid flooding your lawn… Everything automated!
Weather features
Temperature Skip: When the temperature goes below certain thresholds… plants die, and if your dumb sprinkler adds water to it, it's going to make it worse. Using weather channels, the smart sprinkler system will prevent spreading water over your lawn.
Wind Skip: This feature is perfect to avoid watering your sidewalks and your neighbor's yard. If the Weather channels say is going to be windy it will automatically skip sprinkling during that time… It's configured to 25 miles per hour, but you can increase it depending on how your house is located.
Seasonal Shift: Is it summer? Winter? Fall? No need to worry! The Smart Sprinkler controller will know which season are you and re-schedule your watering plan accordingly. A very smart Sprinkler for a very smart home. It has 30 years of information on Rachio's database to change your schedules as accurately as possible.
Installation: Do I need to hire a pro?
If you know how to install an app on your phone and use a screwdriver to remove your old sprinkler control, I think you can pull this off.
Rachio 3 has a very easy wire connection plug. You just need to press it, insert the cable and your good to go.
For security purposes turn off your energy breakers and take a picture of the cables before removing everything.
After finishing the installation, just follow through the app and start scheduling your sprinklers.
Save money with this smart home device:  Flood Sensor FIBARO
At some points in our lives, we have all been victims of a flood and when that happens, you just can see money got flushed down the toilet!
Appliances and furniture get damaged pretty fast in contact with water. It's crazy how much money you lose when there is a broken pipe without control.
Water bill skyrockets and you start taking out to the sun, all your wet furniture.
You and I agree that avoiding a flood is saving even thousands of dollars! And FIBARO knows it better
Meet the FIBARO Flood Sensor!
A great creative smart home idea if you ask me. Just put it in your basement or places close to a pipe and be 24/7 notified if there's a leak. You can locate it anywhere in your house. If you have leaks on the sink or in the basement… the flood sensor will detect it
With Apple HomeKit and Z-Wave integration, once the Flood sensor detects there is water near, it will send you a notification on your Smart Phone right away.
Also, a valve has to be installed on the water supply. If the sensor detects something, it will automatically close it and the damages caused by the failure will be minimized.
It comes with a temperature sensor as well. If you are experiencing a fire in a specific place, once it feels the temperature rising it will notify you.
The battery lasts 2.5 years, so forget about changing it for a long time. Just make sure it is located in strategic places and you're good to go.
For only 52.6 bucks, you can protect your house from floods and even fires.
Save money with this smart home device: Smart bulb Philips Hue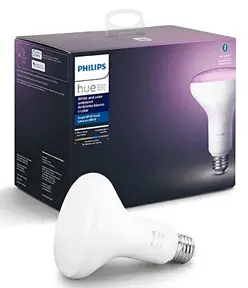 There is a broad market for Smart Lights now. The options are huge, but not all of them work as good as the Philip Smart hue.
Without having to pair it to a Hub, it is a reliable light to start saving money on your electricity bill.
Reduce light power to help you reduce costs. Let's say you have a Smart bulb in your Living Room and you just use it to watch TV or movies. You can reduce light power and minimize energy consumption.
You can change the colors up to 16 million and program routines with Alexa or in the Hue app.
Just screw it in and ask "Alexa, discover my devices" and start using it with your reliable Voice Assistant.
If you're not home, you can program it with the app so it will automatically turn off or on. Very handy if you ask me.
In the market, there are lights designed to save you energy, but none of it is smart enough to behave like the Philips Hue, and for only 46 bucks you can't go wrong with them.
 Save money with this smart home device: Smart Plug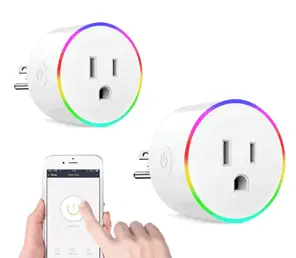 Meet the best Smart plug out there. After connecting it, download the free app Smart life and that's it.
You can plug any kind of appliance that you want to save energy!
For example, most Smart TVs are in standby mode so you can quickly turn them on. If they aren't ENERGY STAR QUALIFIED, they're draining constant energy.
It's the same with printers, as they need to be in standby mode to receive an order to print. Those modes consume more energy than you think.
Just use a smart plug and make sure they are not draining your money right from the pocket!
Another good example is regular coffee makers. If you don't have a smart one they could spend all day long warming your coffee! And it could even be dangerous as well.
Using a smart plug and schedule on and off times can be a great way to save you money and even make your regular coffee machine a smarter one.
For only 25 bucks, a smart plug is an awesome way to start automating your house and saving money along the way.
Smart Thermostats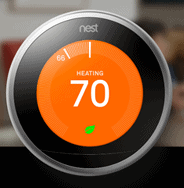 Smart thermostats are the best way to save money with smart home devices…why? Because 50% of your electricity bill is consumed by your heating and cooling costs. Yes…that much.
And if you decide to get a good one, you will be saving up to 23% on your heating/cooling expenses yearly!
The one that My Automated Palace recommends is the Ecobee Smart thermostat.
It is the only Smart Thermostat in the market that it already comes with a Smart sensor to verify temperatures in each room and occupancy.
Most of the other ones, you have to buy the sensor separately and it will be more expensive down the road.
You can use the Smart sensor to call Alexa and use all the awesome voice commands that come with it. In general, the Ecobee Smart sensor is the best device to start saving money right away.
If you want to see a full review of the Ecobee Smart Thermostat and the best Thermostats in the market as well, check this post!
Start saving money at home and at the same time automate it!
If you decided to go for one of the list or you have another good idea, please let me know in the comments below!