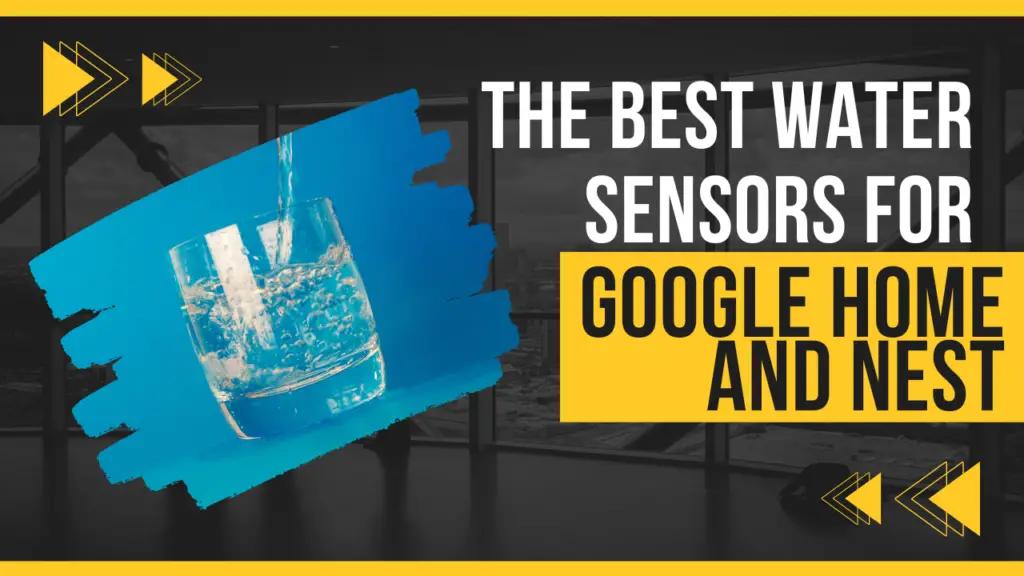 A water sensor that works with Nest and Google Home is a great investment to protect your house from unwanted floods.
Did you know that water damage to your house is more likely to occur than theft and fire combined?
A water sensor that is Google Home compatible is a vital tool to protect your home from an inadvertent flood. Flo by Moen has designed one of the most reliable water sensors derived from the need for an extra layer of protection inside a house and to help the owner save the environment.
In this article, you will know exactly what is the best water sensor and how to set it up correctly.
D-Link  Wi-Fi water sensor and alarm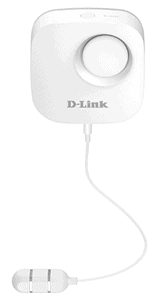 Overview
90dB Siren triggers when detects a water leak
Smart Home compatibility
Easy set up: Forget about cracking up your water pipes
Regular AA batteries
Having water damage at home is no joke.
When your washing machine disconnects by itself from the water inlet pipe and your laundry room floods, you are going to live one of the most awful experiences.
Besides having to replace all damaged goods there, you will have to clean the whole mess up.
Who wouldn't want that, right?
The D-Link water sensor is the best option for your smart home right now because was designed for two reasons:
Protect any place at home where you may experience a leak.
This smart water sensor is one of the few that works with Google Home and Nest
If you are the proud owner of any Google smart home hub, whether is a smart speaker or you just want to control it with your Google Assistant, they have you covered.
As it is super small, you can place it virtually whenever you want.
Is a practical solution that after installing two regular batteries, it can last at least 1-year pushing notifications
What I liked about this sensor, besides the price because is like 69 bucks, is the fact that if you place it strategically in your home, the sensor wouldn't flood and get damaged.
As the cable is 7.5ft long (5-foot cord with an attachable 1.5-foot water-sensing cable.), you can install it strategically so it can send you notifications through your Google Home, Nest, or your cellphone. Whatever you prefer.
In case you have an iOS device, there is an app called D-Link smart devices where you can control it
IFTTT
This sensor is designed to be part of your smart home.
Regular flood sensors are meant to only notify you and that's it, but using IFTTT your expectations go far from your expectations.
After a leakage is detected, you can trigger other devices through routines.
If you own a smart doorbell without a camera for example, and it has a siren inside the house, you can activate it with another tone so you can know immediately that there is a flood near your bathroom.
And how it works?
First, you need to connect it to your Wi-Fi. You don't need an additional hub or anything like that. It's as simple as connecting a new smart speaker.
Place it on spots where there is a potential threat: behind your washing machine, below your sink, etc.
Start monitoring your leaks. If you aren't home, you will receive push notifications on your smartphone to actually know even if it's a little drop of water. You will be notified early on to take action and avoid a potential flood to ruin your house!
What I don't like about this sensor, and let me tell you that it wasn't easy to find, is the fact that after it detects water, the alarm goes ON and it will continue until you take the sensor out of the water.
As you read below, it has a pretty loud alarm that will drive you nuts if you don't do anything fast.
And my biggest concern, in this case, is: What about if something happens and I'm not home?
How can I stop this potential flood if I'm not there?
Don't get me wrong this is an awesome option that solves your problem fast and easy, but if you aren't at home and the flood notifications start to make your phone crazy, you have two options:
Call a neighbor and hope they are at home to close your water inlet
Leave wherever you are and drive all the way home to check what happened
Or, my favorite one, automate your water and cut the water supply with the tap of a button.
Even though this sensor has its issues, it's an awesome option at a great price. If you want to check the price and availability on Amazon feel free to click here
Now, if you want to learn about a better solution that besides notifying you that your house is about to collapse because there's water flooding it, keep reading because I've found a nifty smart home gadget!
Moen 900 Smart Water Shutoff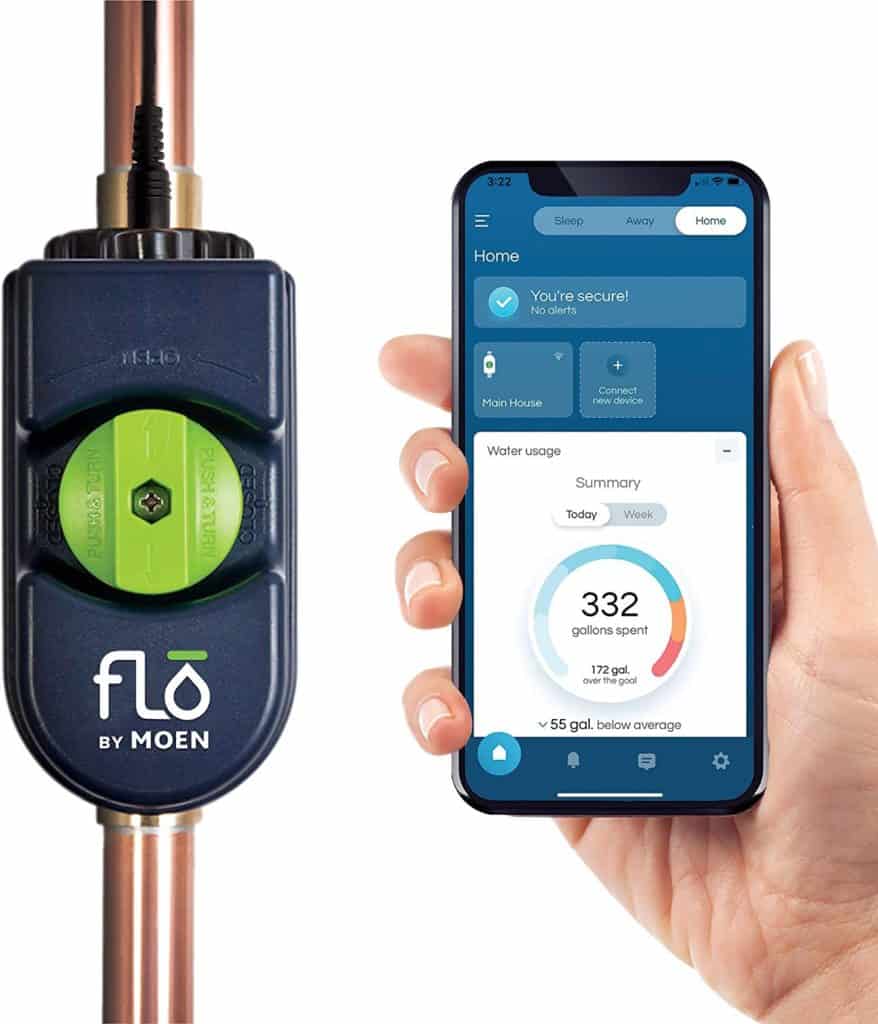 Another not-so-known water sensor that works with Google Home and Nest.
And in this case, you can think more outside the box! Because it is Alexa, Google, and IFTTT compatible.
These three words mean that you can virtually automate it with any of the most known smart home devices that are right now in the market.
This is a smart Water Shutoff.
This means, that instead of just detecting water and notifying you on your smart speaker or your smartphone, it will cut off the water inlet using a voice command or just taping your smartphone!
This is extremely helpful.
After detecting your potential threat through a simple push notification, you can shut off the water and be done with it.
Compared to the D-Link water sensor, this one is better in numerous ways.
First, it will detect any water leak on your entire house, instead of only on explicit points.
How you may ask? because it measures the amount of water that is going through the pipe! and If you're not home, it's impossible to have water coming in! Unless you have a flood
Secondly, you can control your potential threat by cutting off the water with the Shutoff with your Smartphone or your smart speaker. D-Link will only notify you and you will have to check what the heck happened.
It can sense temperature, flow, and pressure and detect if there was a burst pipe and many other issues.
Built-in Sensors
This smart water shutoff is no joke when we are talking about controlling floods. Besides checking leaks, it has three more sensors:
Water flow: How much water is going through your main pipe
Pressure: this will detect if you have a burst pipe
Temperature: You can determine if there are clogged pipes
As an engineer, I think that these sensors are an awesome feature, but it is a pain in the $%&#@ to be calculating stuff to know if I have a burst pipe.
Thank God this isn't the case, because MOEN has developed an Algorithm inside the Smart Water Shutoff to actually do this for you.
But it's nice to know that there are actually mechanical tools in your Smart Home for its protection.
And how it works?
After installing it on your house's water inlet, this Shutoff will monitor how much water is flowing through your house.
As it can detect a water drop per minute, it will detect an unexpected rising water bill, an unwanted amount of water going crazy, and notify you right on your smartphone.
Here, there is an actual video that will show you some of the cool stuff that this Shut off has:
Useful tips about the installation
About the installation, well, you got to pull your handyman skills for this because you'll need to connect it between pipes.
Hey, so many features for sure will require a little bit of preparedness, right?
Just before getting the water Shutoff, make sure that the diameter of the pipe where you are intending to put it is the same as the water Shutoff.
Besides it's obvious that it has to be the same diameter, let me give you some cool engineer facts to understand why is important:
In hydraulics, a change of diameter when a liquid is flowing in a pipe increases, pressure, temperature, and other factors that affect the real measure on the sensor. You don't want to mess with the measurements of your sensor giving you fake data.
Just the fact that you need to find other couplings to install it is a real hassle.
If you choose a small diameter you will decrease Shutoff's life. Turbulence will appear in that change of diameter increasing temperature and creating a phenomenon called cavitation. This depends on numerous factors, but in the short version, it will corrode your beautiful Smart water Shutoff.
Using some good sealant and a good helper to handle the tools it's pretty much what you need to finish the job.
Downsides of the Moen Smart Water Shutoff
Because everything isn't as beautiful as we want, this Shutoff has its issues too:
It has a monthly 5 dollars subscription. Yes, you can do practically everything you need within the app, but for the power user, there are certain features that you would have to pay for it. It's not that much, but hey,

it should be free.

The installation. If you are a hands-on kind of guy like me, you don't have this problem, but for some people, this installation can be beyond their knowledge, but nothing that a good plumber won't do.
You can't connect it with the best Smart Home Hub in the market. Obviously, you can manage the sensor within the app, but if you are down the road automating your house it's an issue.
Wi-Fi: If you don't have a good router your water sensor won't have a  good connection. And it's a real bummer that after installing the smart water shutoff you can't use it because your Wi-Fi is not strong enough.
Price
After reviewing all this information, if you feel that the Smart Water Shutoff is the way to go, click here to check its price and availability on Amazon.
Conclusion
There you have it, two awesome water sensors that are Nest and Google Home compatible to protect your home from floods.
If you own a smart speaker that works with google assistant, you will love how easy it is to use it.
There are not so many water sensors that are compatible with nest and google home right now in the market, but it's nice knowing the ones that can deliver what you really need to protect your house.