If you're looking at smart doorbells, you may have heard that you'll need a subscription for a halfway decent one.
It's also true that some brands of smart doorbells require a subscription to access all the offered features.
If you're unwilling to get a smart doorbell with a subscription, you'll be pleasantly surprised to find how many options are available.
Smart doorbells that don't require a subscription are much cheaper because you don't have to pay a monthly fee. Some examples include the BAZZ Smart Home Wi-Fi Doorbell, Kalogl Video Doorbell, RCA Doorbell Security Camera, and KAMTRON Wireless Doorbell Camera.
This article will provide 22 different smart doorbells that consumers can buy and use without a subscription and outline all the positives and negatives of each one.
If you need a smart doorbell with no monthly fee, you will likely find the perfect one for you right here in this list. Let's get started!
Subscription vs. Non-Subscription
Before deciding that you're dead-set against a subscription doorbell, do some research into both.
Smart doorbells with subscriptions will undoubtedly have some benefits that those without subscriptions will not. Still, not every user needs extra memory – which is usually the trade-off for monthly fees.
It all depends on what you need the doorbell for.
Why Subscription?
Here are some benefits of having a smart doorbell with a subscription:
Store video for much longer periods of time
No caps on storage or much higher storage capacities
Heightened security options
If you're worried about break-ins and other safety issues, you may want to opt for a subscription service.
They'll keep video safe for longer, which may be critical to the police or insurance providers in the event of a robbery. If that sounds like it will benefit you, you'll want to reconsider whether or not you should have a subscription-less smart doorbell or not.  
If you opt for a subscription doorbell, many of these options are available with an optional subscription plan, like Ring and Amcrest.
You can even choose to start out without a subscription, then sign up later on, and vice versa.
Don't think you have to lock yourself into this choice immediately!
Why Non-Subscription?
Non-subscription smart doorbells have one clear benefit: they're much, much cheaper because you won't have to pay for the service repeatedly.
In every case, it's more economical to get a non-subscription doorbell.
Some people have no need for all that storage, anyway. Maybe you don't need the above features and instead just want a smart doorbell to notify you when someone is at your front door.
If you just want to stay on top of your deliveries, a non-subscription doorbell could be perfect for you.
If so, you'll still find any of the below models useful! Don't let the threat of monthly subscription fees prevent you from protecting your home.
22 Best Smart Doorbells Without Subscriptions
If you've decided that a non-subscription smart doorbell is a perfect fit for your needs, here are 20 smart doorbells that you don't need to purchase a subscription to keep track of visitors and keep your family safe:
Eufy Smart Video Doorbell With Chime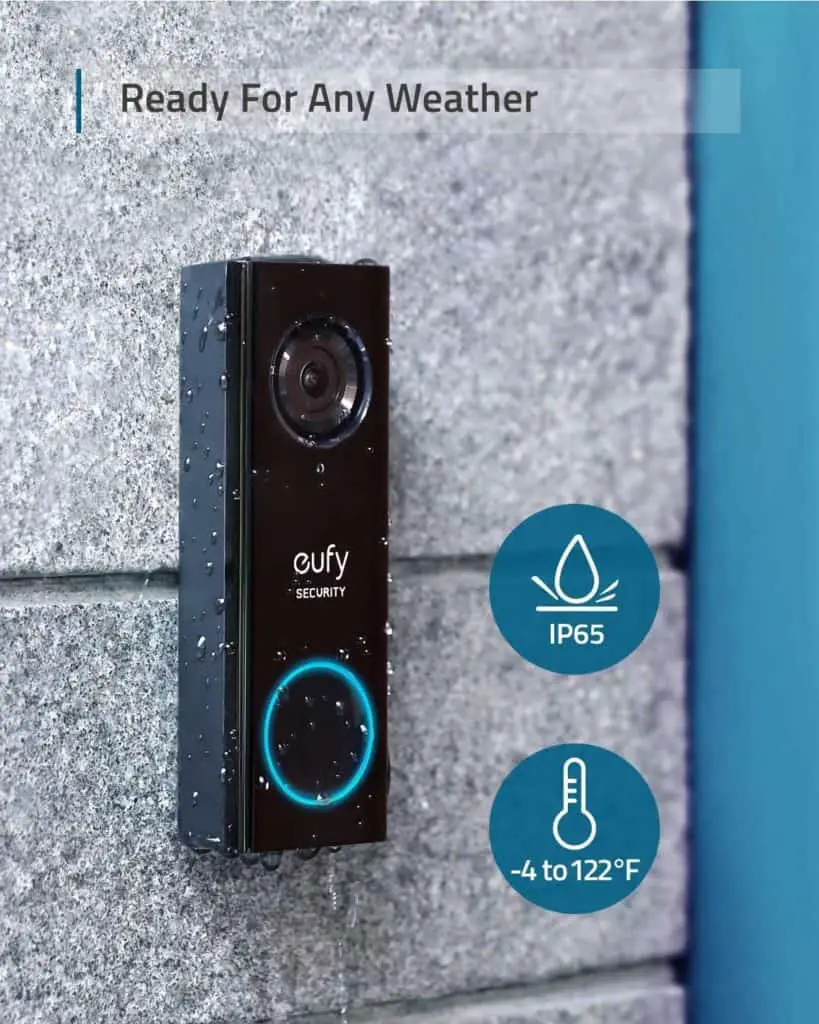 One of the most highly recommended smart doorbells that don't require a monthly fee is the eufy Smart Doorbell. This device – which will cost you a one-time fee of under $200 on Amazon – is one of the most popular on the market, including among subscription smart doorbells.
The eufy doorbell has encrypted local storage and 1080p-grade resolution.
Eufy won't record any video or audio for you, but it will send you a notification and a picture every time a human being arrives at your door. Some people like the simple design and basic function of this doorbell.
It also has a nifty feature called "Alerts Which Matter" that uses sophisticated AI technology to identify human beings from, say, a bee or cat.
You can choose the level of sensitivity as to how many alerts you want. If you want to cut down on the number of accidental alerts from smart doorbells, the eufy may be the best option for you.
Keep in mind that eufy, like some other doorbells on this list, will need to be connected to existing doorbell wiring.
BAZZ Smart Home Wi-Fi Doorbell

Another great option is the BAZZ Smart Doorbell. This video doorbell is equipped with two-way audio, allowing you to speak directly with visitors to your front door.
BAZZ will give you real-time alerts when people ring the bell via the Bazz Smart Phone App, which also allows users to manage multiple cameras or the user's personal email.
It's compatible with 128GB SD storage cards to save video footage – though these cards are not included, so be sure to purchase one if you plan to get this doorbell.
Before you buy this doorbell, keep in mind it needs to be attached to a 12V existing wiring system.
It does come with its installation gear at least, so it should be easy to put into place on your front door!
Remo+ RemoBell S WiFi Video Doorbell

The RemoBell records and stores each instance of all motion activity for three days with a free cloud storage system. It offers HD video at 180° and infrared vision to distinguish living things by the heat they give off.
You can even select areas of interest on your camera's view to help it flag potential visitors better.
Like other doorbells on this list, the Remobell allows you to hear, see, and talk to people at your front door with your tablet or smartphone via the Remo+ app (available on Android 5 and iOS11 and above).
It's compatible with Alexa products as well, making it that much easier for complete integration.
Monthly-paid subscription plans are also available. This makes the RemoBell a great option if you're on the fence about getting a paid subscription.
Ring Video Doorbell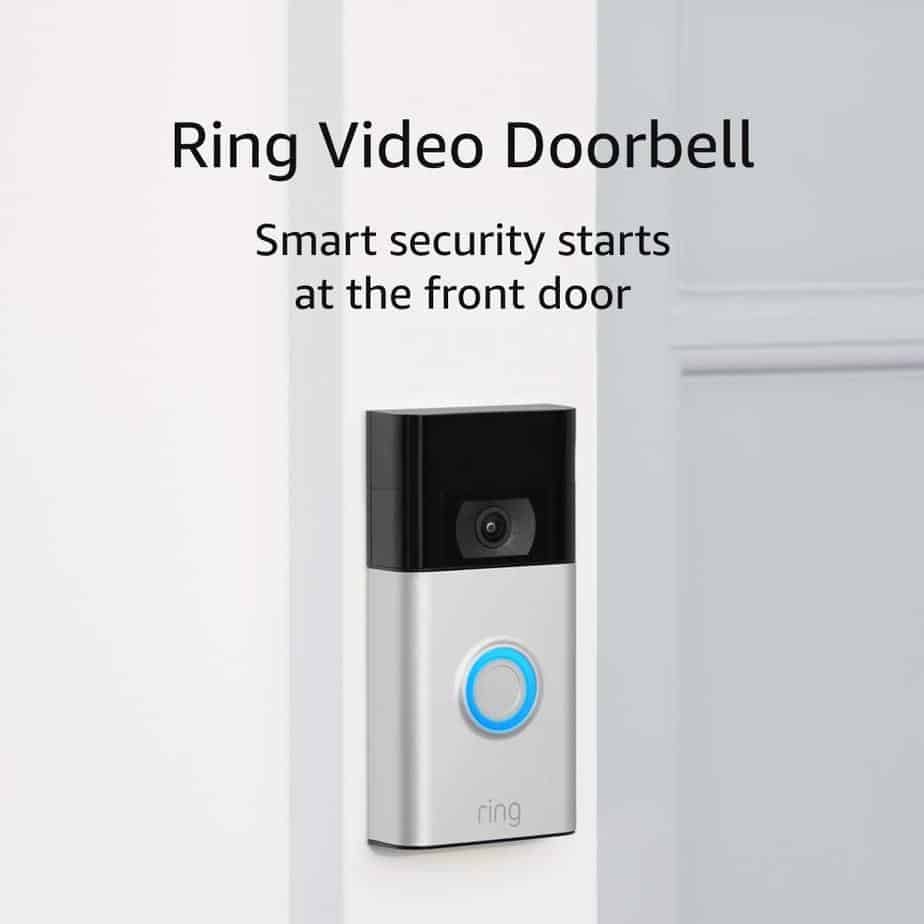 Despite what you may have heard, Amazon's Ring Doorbell does NOT require a subscription plan to work.
The Ring Protect Plan will record videos and store them for up to 60 days and allows you to share photos and videos with any family member. However, it's not necessary to make use of the doorbell!
The Ring is another one of the most popular on the market. It records in 1080p HD and has been updated since its original design to improve many features like its night vision and motion sensors.
It also allows you to talk to visitors from your phone, tablet, or PC.
Rings are equipped with rechargeable batteries, but they also connect to existing doorbell wiring instead, providing a constant charge.
Ring is highly customizable and offers more options for consumers than other brands, which might explain why it's so popular.  
Plus, if you have any more Amazon products like an Alexa, it will integrate with them more smoothly than any other doorbell here for a true "smart home" experience.
If you have multiple Amazon products or several Alexas, a Ring will probably be the best fit for you.
Ring Video Doorbell 4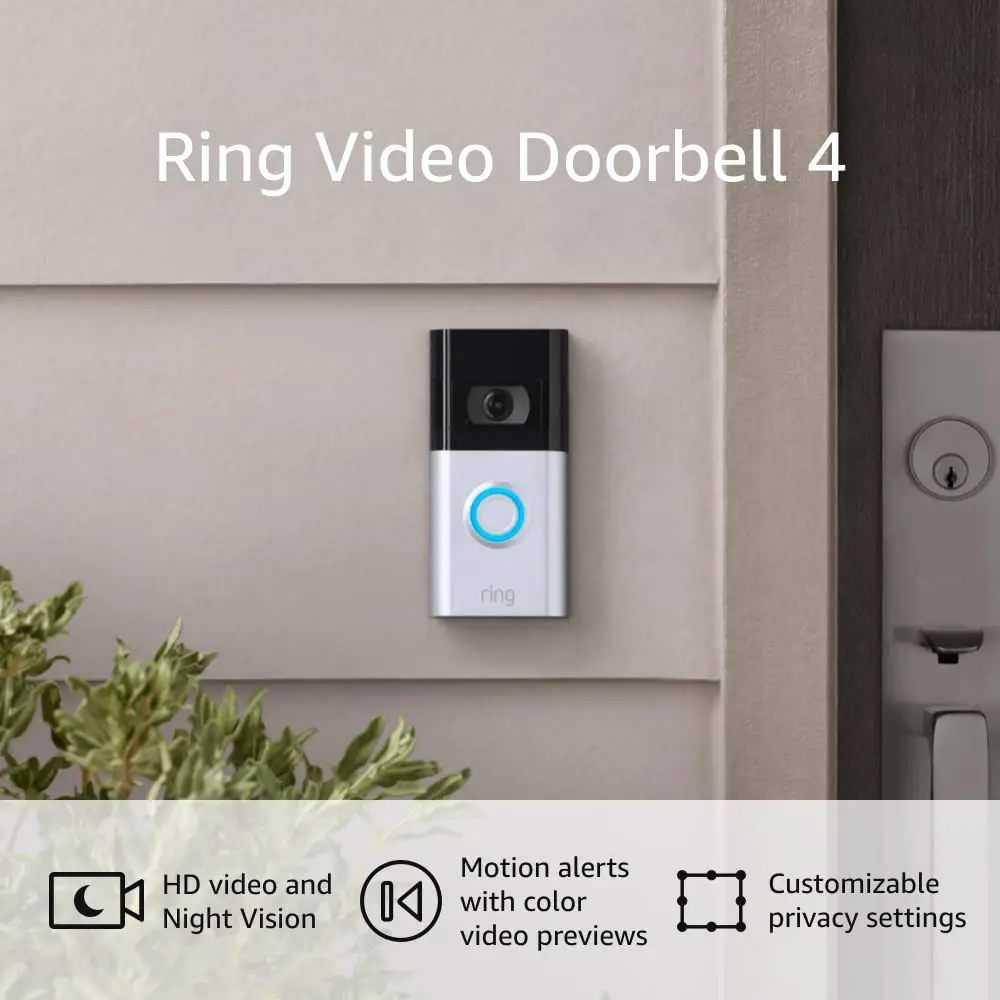 If you're looking at a Ring Doorbell, also consider their 4 which has all the features of a regular Ring and then some.
The Ring 4 has a cool feature called Pre-Roll that will allow you to see four seconds of black-and-white footage of whatever happened before a movement event sets off the motion sensor.
It also connects to Wi-Fi easily.
Like with the previous Ring Doorbell, you don't need to buy the Ring Protect Plan for it to work, but you can choose to do so later down the line.
Go for the Ring 4 if you're interested in a more advanced version of an extremely popular smart doorbell.
RCA Doorbell Security Camera

The RCA doorbell is a particularly sophisticated little camera that won't break your bank account.
The doorbell captures three-megapixel ultra-HD video, which boasts 50% more detail than the standard 1080p HD of most other cameras.
It also has night vision and a 180° vertical field of view with especially tall angles, which you'll find handy if you are prone to "porch pirates" and package thieves.
This doorbell will connect to your existing doorbell wiring and link up to your Wi-Fi network, giving you notifications on your tablet and cell phone and the ability for two-way communication with people at your door.
It comes with a 16GB micro-SD card for storage.
WUUK Video Doorbell Camera With Chime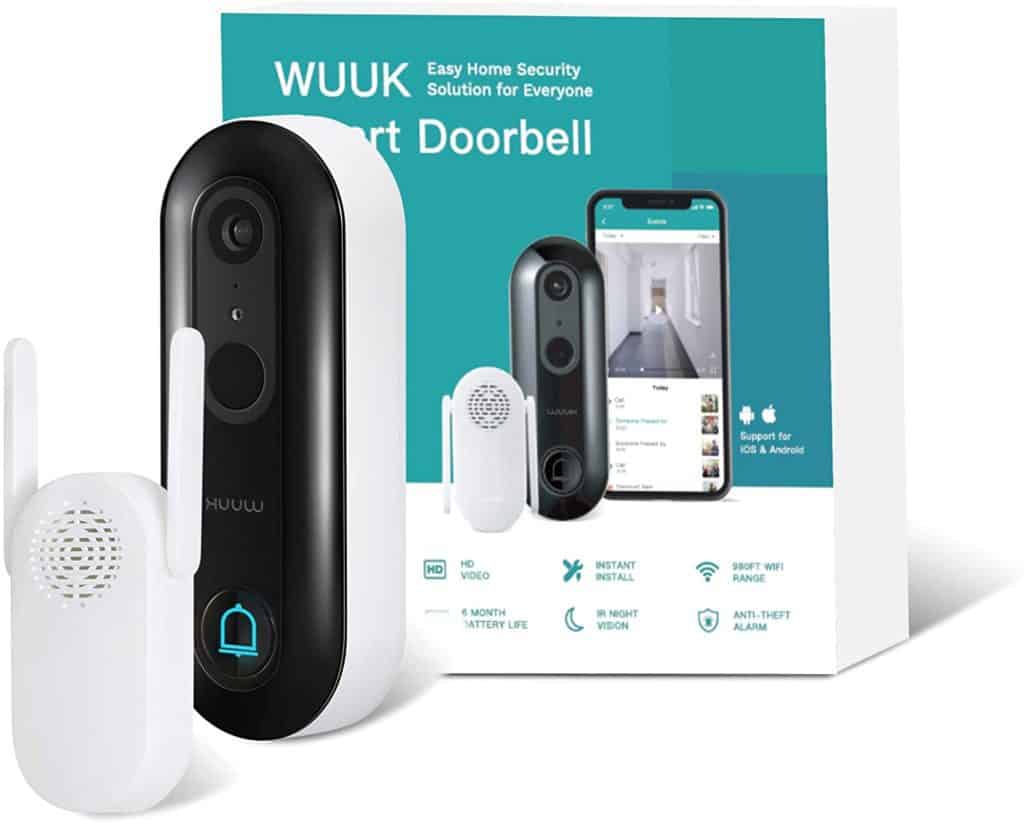 The WUUK Doorbell comes with both a rechargeable battery and 12V wiring.
It's one of the easiest of all the doorbells listed to install and can be put in place with either the included 3M adhesive tape or screws. It has a 162° wide-angle lens and a 4:3 aspect ratio, as well as night vision.
Data can be stored in the cloud or on its WUUK app for up to 48 hours for free or stored in an SD card (not included). The app is available on Android and iOS, and the doorbell itself is compatible with Amazon Echo, otherwise known as an Alexa.
(As you can see, many of these products are Alexa-compatible! Amazon makes it easy to integrate a wide range of cameras into its smart hub device.)
LaView WiFi Video Doorbell Camera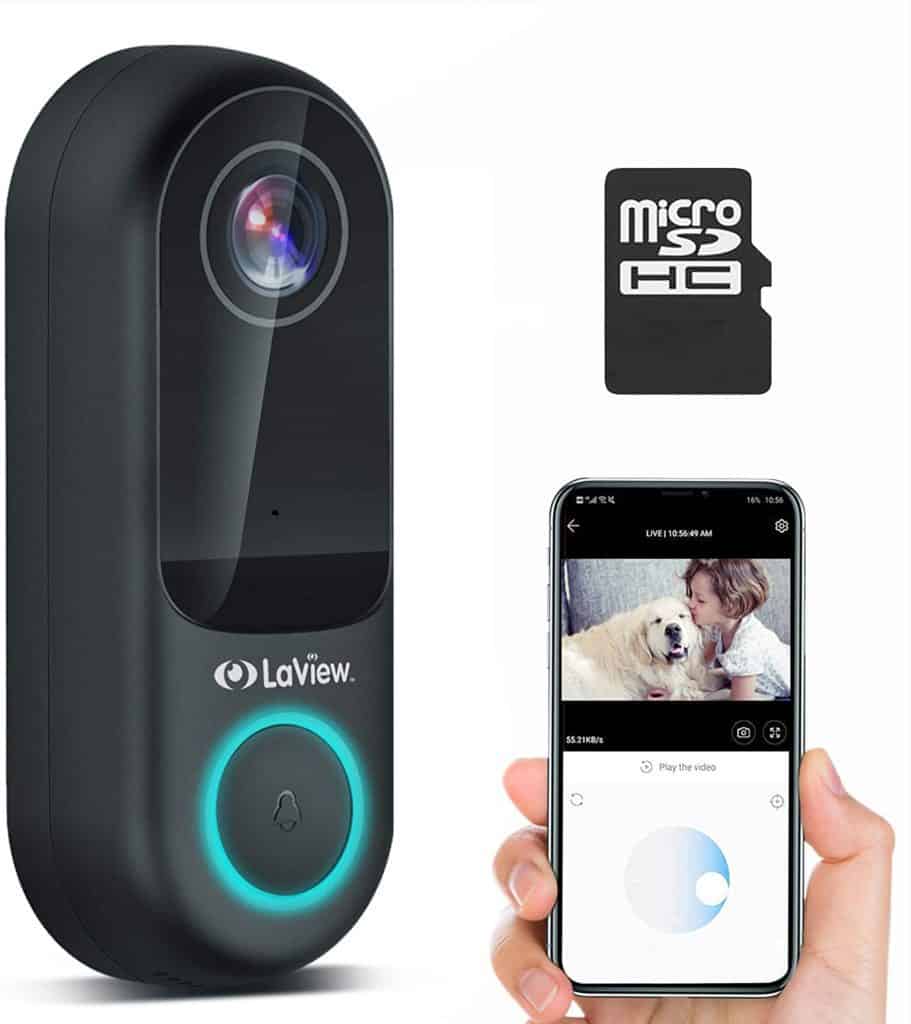 The LaView Doorbell Camera connects to existing doorbell wiring and works with either a mechanical or USB wireless chime.
LaView cameras are sturdy and weather-resistant, so if you live in an area with extreme climate or lots of rain, you may wish to consider this doorbell.
The camera is 1080P with a 166° wide-angle lens and offers night vision of up to 32ft even in extreme low-light coverage.
It also offers two-way communication and an algorithm that detects motion from human beings from other kinds of movement.
It can connect to the cloud for limited-time storage, yet it also has a 32GB SD card pre-installed, so you'll be able to view events after the fact.
LaView WiFi Video Camera Doorbell Wireless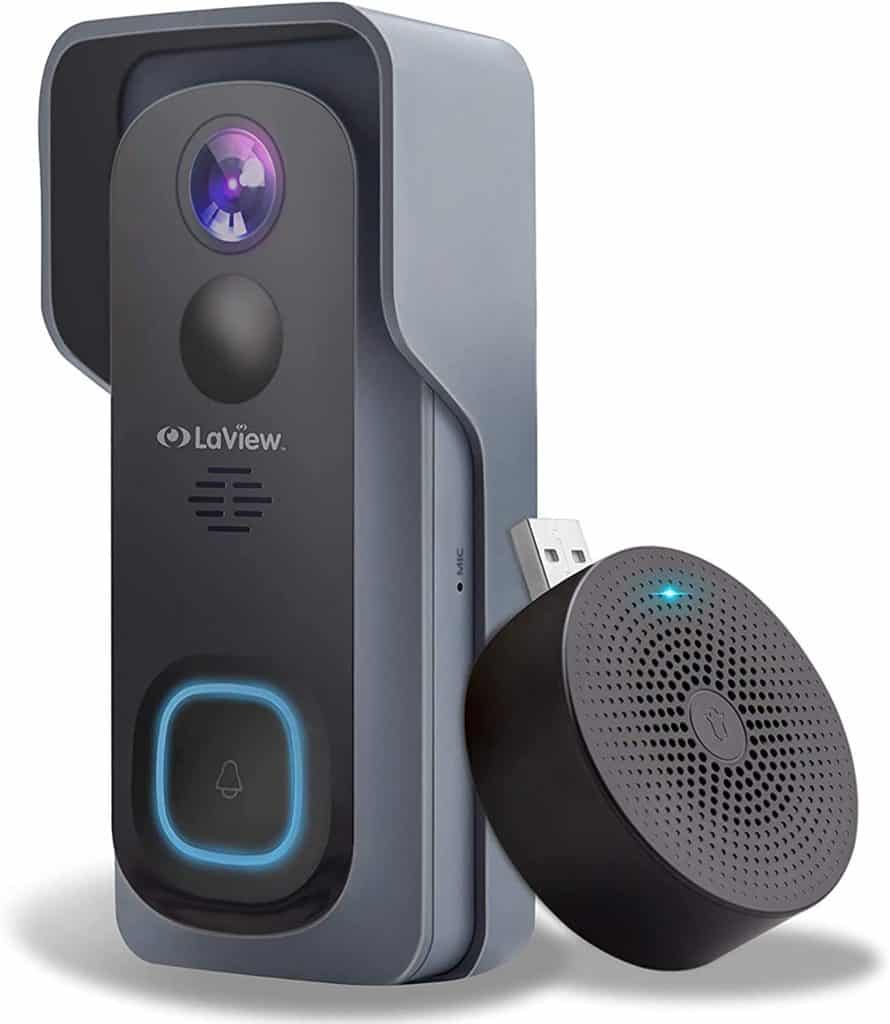 As you might guess by the name, this camera is very similar to the standard LaView Video Doorbell but comes with a rechargeable battery.
The LaView wireless camera will hold a charge for two to five months, significantly longer than others on the market.
The camera also has a 1080P wide-angle lens with night vision and two-way communication. If you want a hardy video doorbell but don't want to deal with all the wires, this is a great option.
MubView WiFi Video Doorbell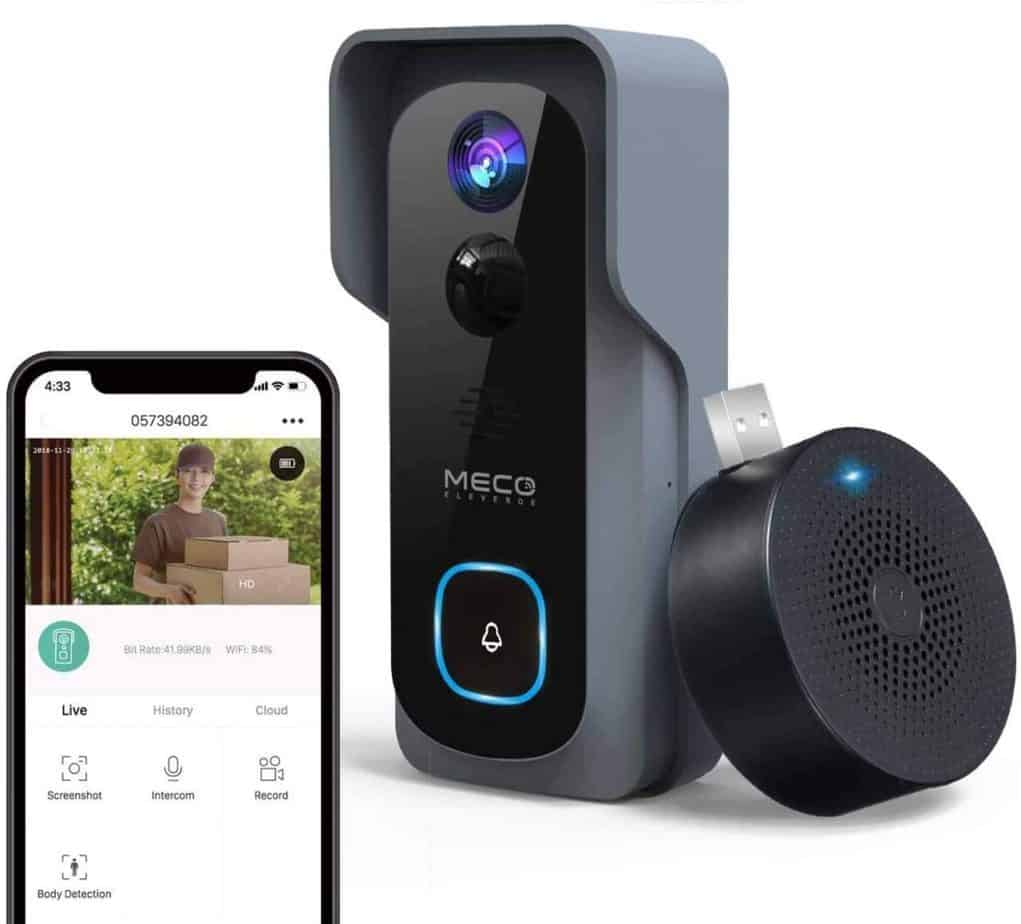 This doorbell has a rechargeable battery that lasts for up to 1,000 rings or "wake-ups" and features a built-in 32GB storage card that stores encrypted recordings for up to nine months. It has a 166° lens and 1080P resolution.
The doorbell offers 16ft of night vision range and can be adjusted to a "fixed-day" or "fixed-night" mode if you prefer.
It also offers motion detection for up to 26ft away, one of the most wide-ranging cameras on the market.
You can mount the Video doorbell on the wall with screws in under two minutes. With its CloudEdge app, users can check the battery percentage, look at notifications, and communicate with visitors. 
The CloudEdge app is compatible with many other doorbells and is completely free to own.
Amcrest 1080P Video Doorbell Camera Pro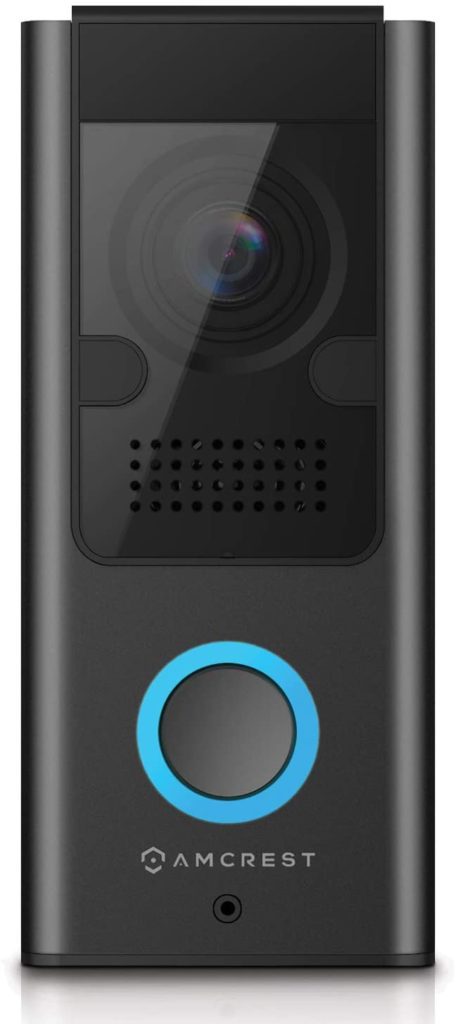 The Amcrest Doorbell works with your home's existing wiring, from 16V through 24V, and is compatible with digital and mechanical ringing.
It comes with silver and black faceplates, which you can switch out whenever you choose.
This doorbell is equipped with night vision up to 16ft away. It also provides an optional monthly subscription fee – the Amcrest Smart Home Cloud – but you can also store data on an SD card up to 128GB (though a card is not included).
With a 140° viewing angle, this camera has a slightly smaller range than others.
It can connect to Wi-Fi, but to 2.4GHz only; the device doesn't support 5Ghz networks.
With all these limitations, you may find that other options are better fits for your needs. However, if you're looking for a basic, affordable option, this Amcrest Doorbell might be the way to go.
Honeywell SkyBell Slim Design

At just 1.44 in (3.66 cm) wide, this doorbell is designed for narrow spaces.
It also comes with a wedge kit, so you can angle the camera manually based on your front door space. Plus, you can store video clips on its native Skybell app for up to seven days.
The video camera has a 180° lens with a 1080P resolution and operates at 15 FPS.
It provides full-color night vision and up to 10ft (3.05 meters) of PIR motion detector.
It also has an omnidirectional mic and integrated speaker for easier communication with visitors. With an IP54-rating for dust and water resistance, it can even handle extreme temperatures ranging from -40 to 140°F (-40 to 60°C).
The SkyBell allows you to store video clips on its native SkyBell app. It only connects to a 2.4 GHz Wi-Fi network and works with a low voltage mechanical doorbell system, so keep that in mind before you buy.
Arlo Essential Video Doorbell

This brand of doorbell also has a subscription tier called Arlo Smart.
If you want to give the features of a subscription a try, each purchase includes a three-month trial, so you can decide if the monthly fee is worth it without having to pay!
The Arlo not only provides two-way audio but allows you to respond with pre-recorded messages if you can't get to the door.
Packages, people, animals, and vehicles can all be identified by the camera, and it records in HD with HDR. Arlo Foresight is also included, which is a feature that allows you to look at the video immediately before the motion-triggered recording.
This is compatible with both 2.4 and 5 GHz Wi-Fi networks and Arlo SmartHubs and Base Stations. You must hook up the doorbell to the existing electrical wiring, so make sure you have some in place!
Morecam WiFi Video Doorbell Camera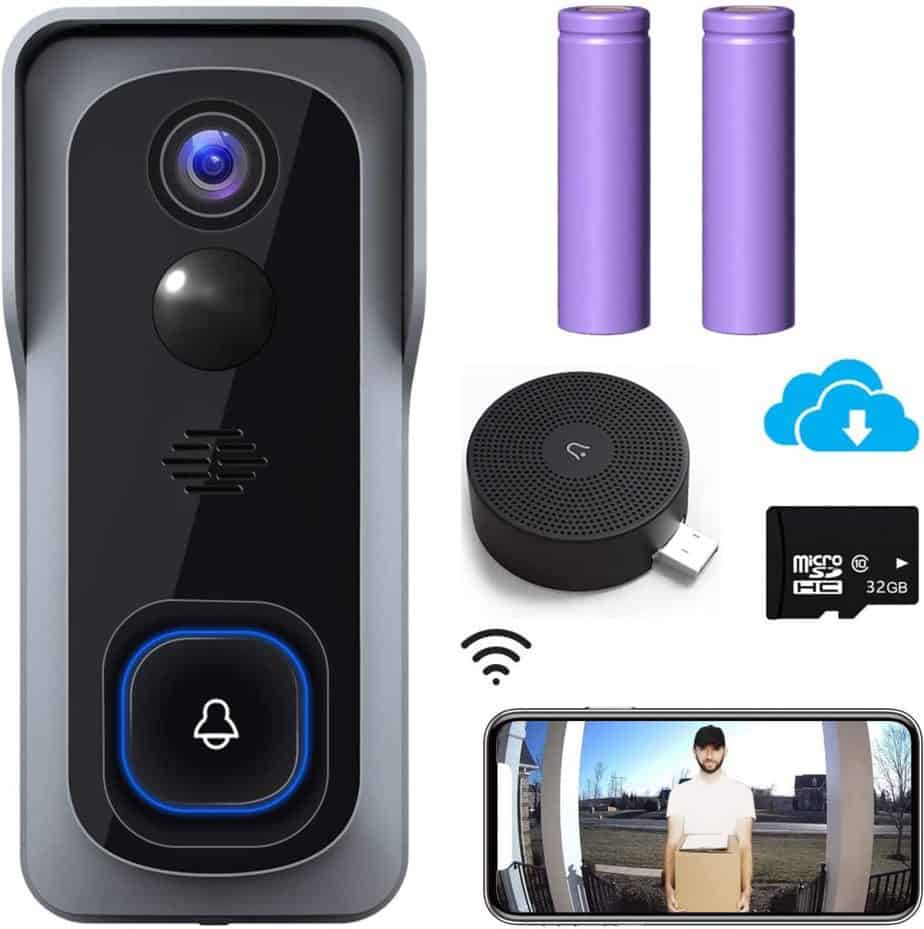 The Morecam Video Doorbell stands out among others with features like real-time live-streaming, two-way audio and video, and the ability to select a pre-recorded voice message.
It has a night vision distance of 32ft (9.75 meters) that's automatically triggered by ambient light. It will store data locally on an SD card of up to 128 GB, and the camera itself comes with a 32 GB card already inserted.
This camera doesn't support Google Assistant or Alexa, so you'll need to download the CloudEdge App to make it work.
This is another option that will work with 2.4 GHz Wi-Fi but not with 5 GHz. You'll find this common of many smart doorbells, though many brands are working on updating their technology.
Nonetheless, the installation of this camera should take under five minutes, and the doorbell is 100% wireless.
It also has a lifetime warranty, so even if the doorbell breaks several years down the line, you should be covered as long as it isn't from external damage.
Geekee Security Wi-Fi Doorbell Camera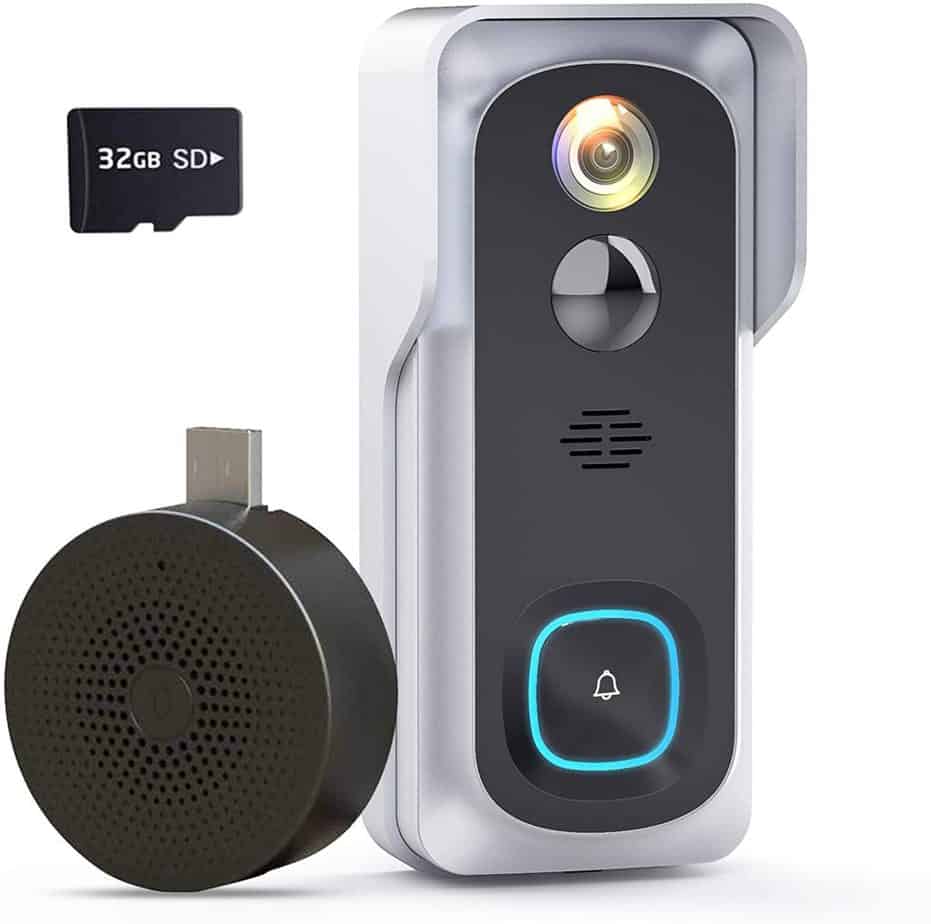 This 1080p camera has night vision, motion alerts, and a 166° wide-angle lens.
It can only connect to 2.4 GHz Wi-Fi, but it is certified IP66 waterproof and comes with a pre-installed 32GB memory card. Like other cameras, you can adjust whether or not its night vision turns on.
This camera is wireless, and on a full charge, it can wake up 900 times. Geekee will send motion detection alerts to your cell phone via the CloudEdge app.
Kalogl Video Doorbell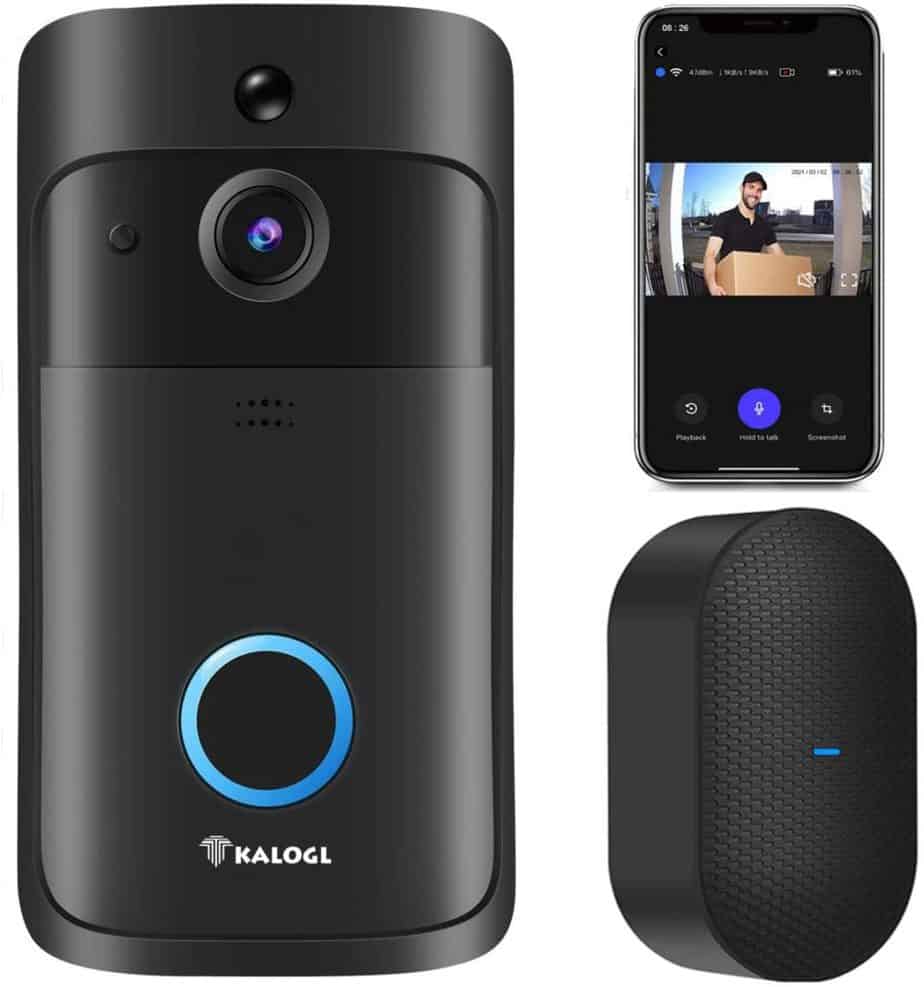 This video doorbell and intercom offer real-time viewing, motion detection, and night vision.
The chime doorbell is designed to ring throughout the house, making it unlikely that you'll miss the door or that important delivery ever again!
It offers free cloud storage on a seven-day cycle and sends alerts to your phone as soon as motion is detected, or the doorbell is pressed.
You can adjust its motion sensitivity between three different settings within 11.5ft (3.51 meters).
It connects to your phone via a QR code without any complicated steps for a setup that takes less than one minute.
GEREE Video Doorbell Camera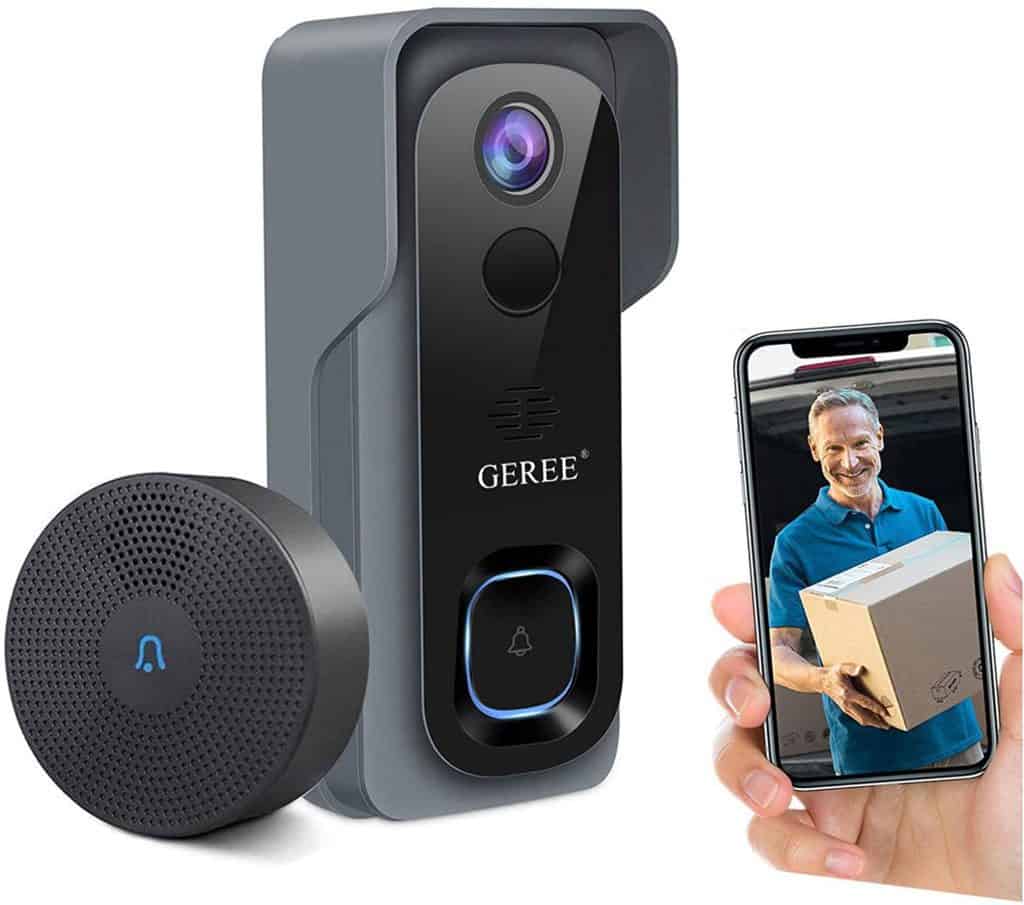 This is another standard model with 1080p HD resolution real-time streaming, which can be shared, reviewed, and stored for free in the cloud for a limited amount of time.
You can also store video on your phone or on the free 32GB memory card provided. The doorbell is compatible with iOS and Android.
It supports only 2.4 GHz for now, with the possibility of an update in the future.
This wireless doorbell comes with two batteries, each of which lasts two to four months on a full charge, amounting to around 20 wake-up times per day.
WOLILIWO Video Door Phone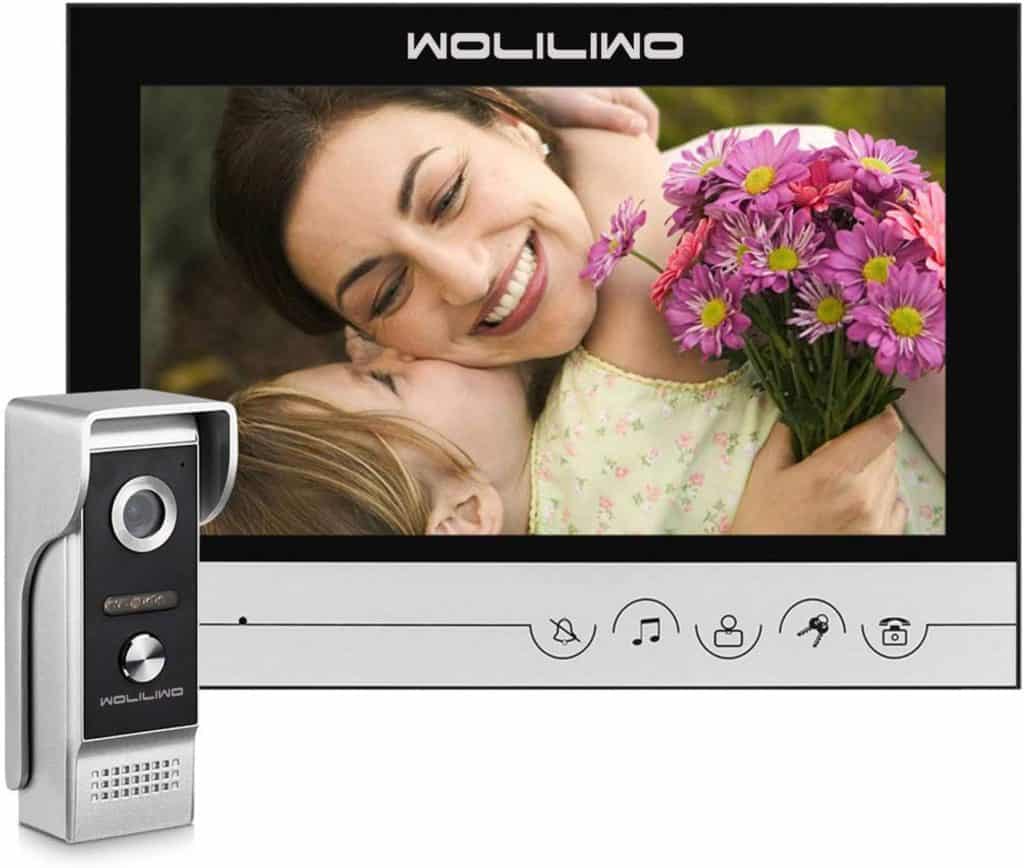 WOLILIWO makes a camera with a sophisticated sound system and high-quality speakers, so two-way communication is easier than ever.
It comes with durable aluminum plating and weather-proofing, as well as a rain cover for extra protection.
Not only that, but the WOLILIWO has the greatest number of sound options, offering 25 melodies for the monitor. The video intercom system can be surface mounted to the wall up to 330ft away from the doorbell.
If you want a system that will look attractive in your home, this doorbell and intercom system will fit right in no matter where you live.
This system is relatively easy to set up, but you will need to buy an extension line.
And it should be noted, while the video system is extremely advanced compared to the others on this list, its video resolution is relatively poor – only 800p.
KAMTRO
Smart doorbells that don't require a subscription: Final Thoughts
If you want a smart doorbell that doesn't require a subscription, there are plenty of comparable options available to you. While you won't have options like unlimited cloud storage or certain other features, you'll almost always find basic things like push notifications and high-quality video. You can even choose to sign up for cloud subscription services on many models.
Now that home deliveries are more common than ever, so are package thieves and other bad actors. If you're concerned with keeping your home, packages, and family safe, smart doorbells are a great option.