Listen to free music on your Google Home is easier than you may think because even though there are plenty of awesome paid music streaming platforms out there, you can also find great and practical solutions without spending money at all. Luckily for all of us, there are numerous ways to listen to music for free decoded for you here.
Youtube Music since the first quarter of 2019 released an update that allows Google Home to play music for free. If you want to activate this feature, you can go to account settings, tap services, select music and then set YouTube Music default. It will let you play your preferred music genre.
But let me warn you first: you won't be able to actually choose which exact song you want to hear!
It's awesome hearing a genre specifically and learn other music bands to help you expand your music collection, don't get me wrong.
But, if you are like me,
You would love to hear your favorite songs once in a while by just using a virtual assistant.
In this article, we will dive into how you can listen to music for free on Google Home without dying trying.
You will also learn how-to:
How to connect your Google Home to YouTube and learn all its features: It's going to be crowded with ads, but hey there"s the option there!
How to pair your Google Home to Bluetooth from the App: A super helpful way to create your preferred playlist.
Great not so know music apps that stream for free
Listen to free music through Music Apps
First, you need to set up your Google Voice Assistant so it can start streaming music in no time!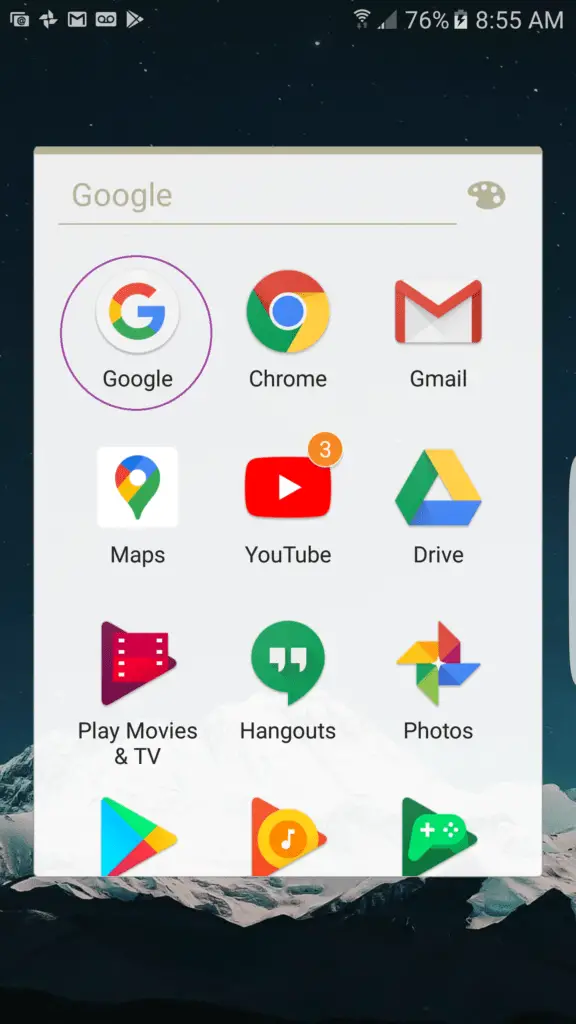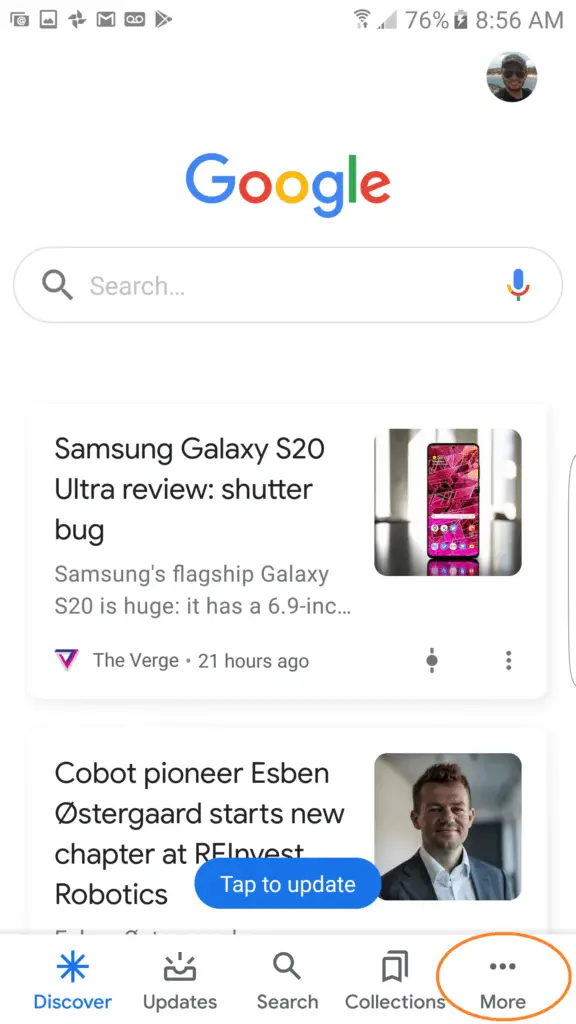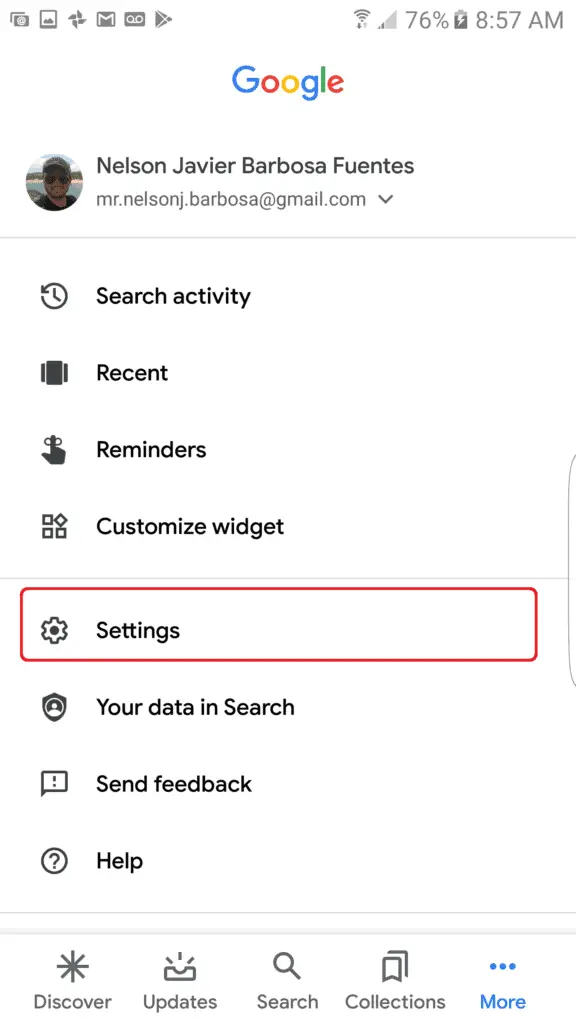 It will take you to the Google Assistant main page. After that, go to "Services"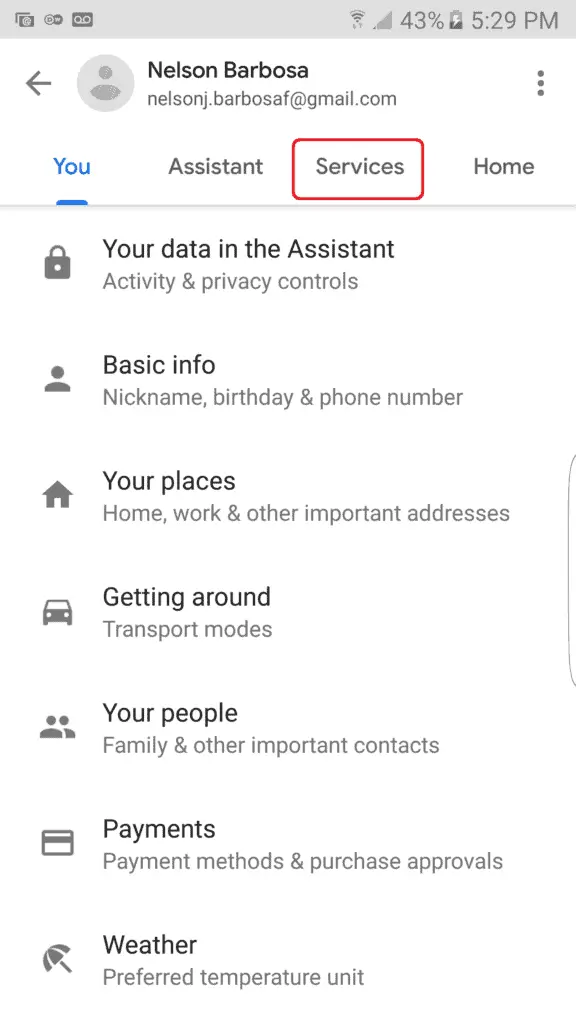 On Services you'll tap on "Music":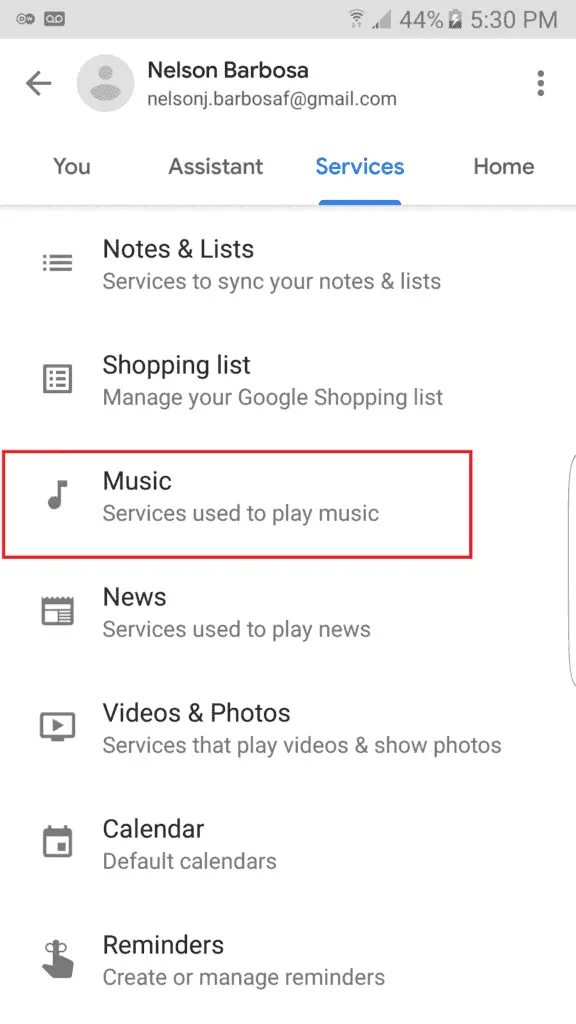 Inside Music, There is the first "free option". Tap on "Youtube"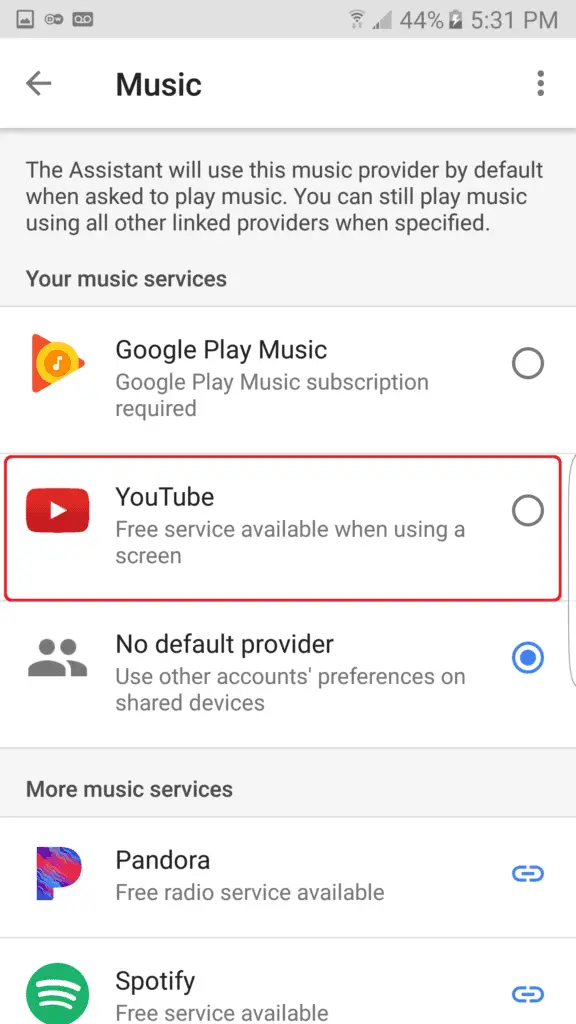 With this option, you'll hear free music on your Google Home but, prepare for some Ads madness.
YouTube is great for music don't get me wrong, but in my case when I'm jamming my preferred songs, it's very annoying to be taping Skip Ad or just hearing advertisement between songs. Ugh.
Also, you'll have your Smartphone screen ON all the time, draining your battery. You can get with it for two or three songs, but in the long run, it's not the best choice.
If you're like me, keep reading down because I've found the solution:
There are music apps that you can link to your Google Assistant and having a better experience than YouTube at least! You'll find that there are certain ads here and there, but nothing compared to it.
Now, as I want to show you the best experience with your Google Home and save you some dimes along the way, my best shot is to recommend you Spotify. It's great free app music and your Voice assistant is very accurate in terms of voice search when you link it correctly.
To connect Spotify to your Google Home, follow these simple steps:
Install the Spotify app from the Play Store like a regular App. You will need to create a free account and log in.
Follow the first 7 steps of the guide above, but instead of Selecting YouTube, tap on Spotify.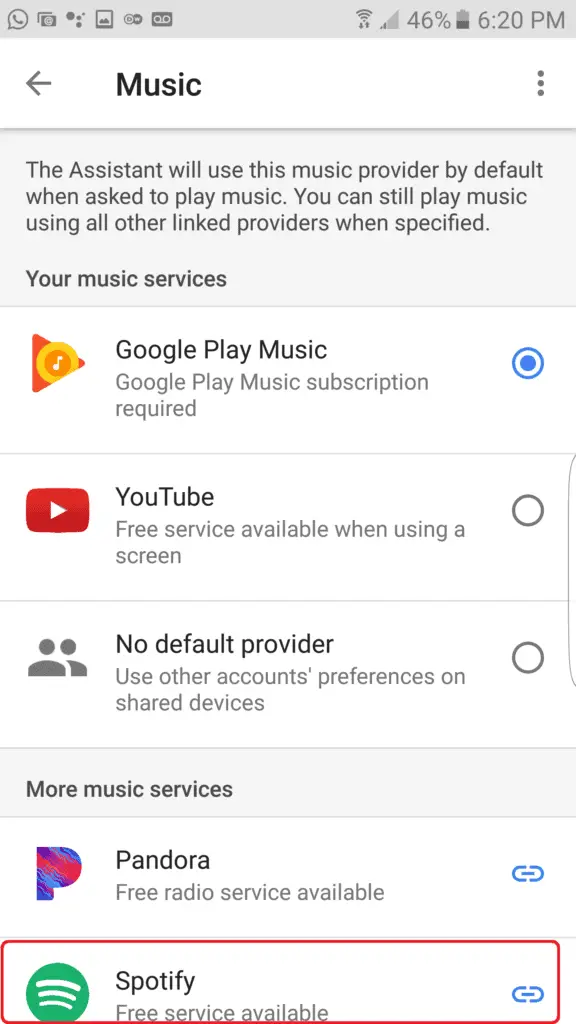 You'll link now your Spotify account to Google Assistant.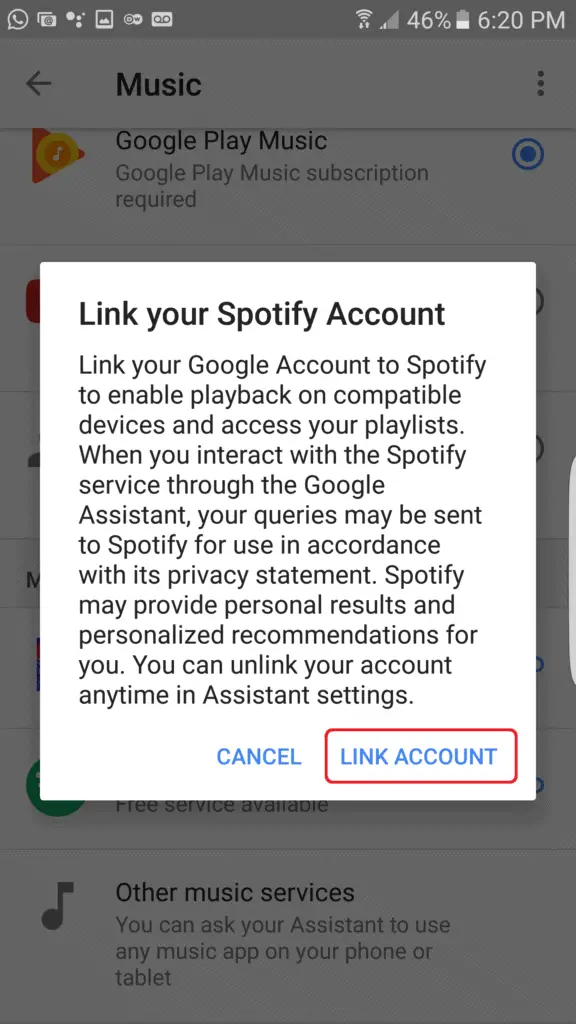 Since you already have signed in to your Spotify account, you just agree with the terms and conditions: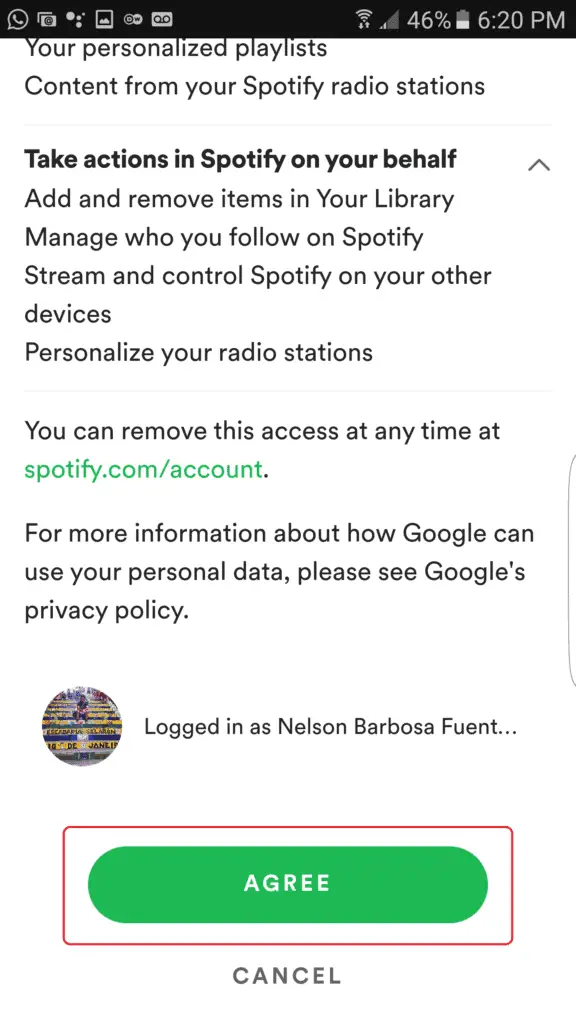 After this, you are good to go! You'll see that your Spotify account is linked to your Google Assistant: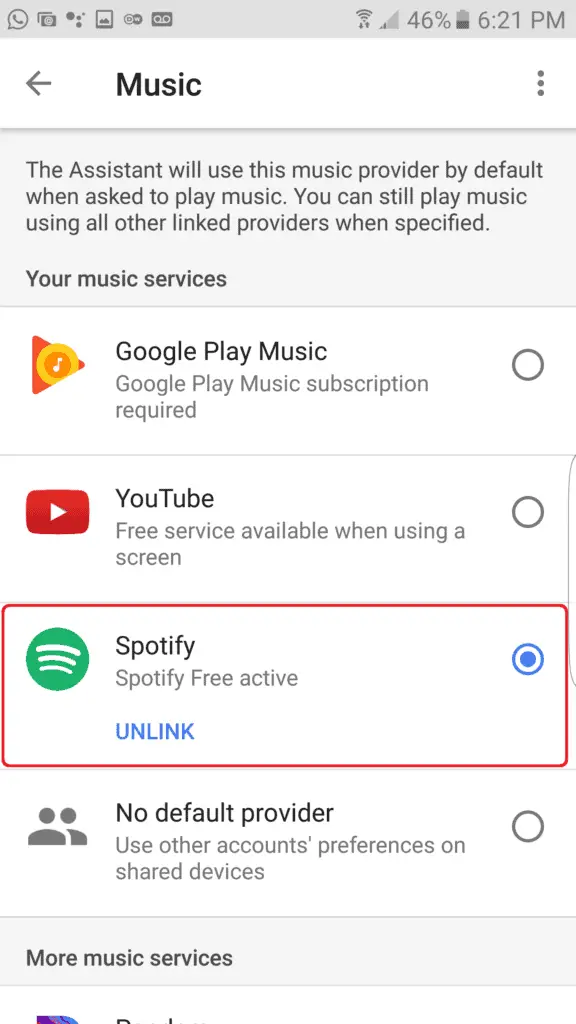 After these simple steps you can start using your Google Home voice commands to play music:
"Hey Google, Play Metallica"
And the Voice Assistant will play an awesome Metallica Playlist.
Besides Spotify, there are plenty of music apps that let you play directly on your Google Home.
I tried Pandora for free and is not accurate at all. When I asked to play a huge band like Metallica, it started to play Anthrax. Good band though, but not in the mood for it.
Listen to free music on your Google Home with Google Play
As you may already know, you can't use Google Play if you don't pay a monthly subscription, but what they don't tell you is that you can use it as your personal music player!
You can add mp3 albums inside your smartphone and play it on your google home following the steps below:
Add your albums to your smartphone with Google Play: Just put in your phone some cool music albums and make be sure you have Google Play.
Follow the steps above to access the Google Assistant menu. Instead of choosing Spotify, select Google Play Music. Don't worry, it won't cost you anything.
Access to Google Play.
Create a music playlist with a name with the albums that you added. This will help out the assistant to identify which songs do you want to hear. Save it.
Just ask your assistant: "Hey Google, Play Lamb of God Playlist"
Enjoy!
Use Bluetooth connection as an alternative solution
Using Bluetooth is a great way of listening to your albums on your Smartphone. Instead of creating playlists on Google Play or installing third-party apps you can just do it like in the old ways.
I don't recommend this option very much because you'll transform your smart speaker into a regular one, but if the options above didn't work for you this is a good alternative when Wi-Fi is dead.
If you want to know how to pair your Google Home, check out this post
Listen to free music on your Google Home with not so known music apps!
Another great option to listen to music for free on your Google Home is with third-party software. As the Google Home Assistant is so intuitive and interactive, it can access apps that are compatible with it and order them to play music automatically.
As an example, IHeartRadio the #1 App to listen to podcasts, lets you play music on your Google Home easily:
First, install IheartRadio on your Smartphone. It doesn't cost anything.
After the installation is done, access the app and give it full permissions. You may want to create an account with your Facebook to do it quickly and painlessly.
Now ask: "Hey Google, Play Metallica on iHeartRadio". This will access the App and find the right radio station. You'll be amazed how accurate can be.
In the following table you can see the most recognized music streaming apps that are compatible with Google Home: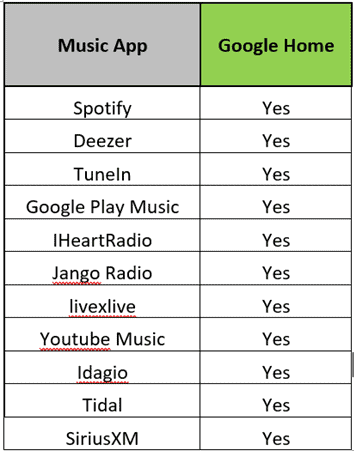 If you tried IheartRadio and you didn't like it, install any of these apps, configure it, and ask:
"Ok Google, Play Queen on XXXX"
Where XXXX Would be your preferred app.
Conclusion
As you noticed, listen to free music on your Google Home doesn't have anything related to doing something bad to your Smart Speaker.
Most of the time, we tend to think that we have to do something sketchy on the software to get free results. This guide was intended to be very actionable and protect your smart speaker and voice assistant along the way!
Peer-to-peer software is in the past.