Introduction
A Smart Security camera in your home will be one of the most useful gadgets you will ever have to protect it.
Just thinking about that you can have live feed of your front door, garage and inside your house is a game-changer in case someone breaks in.
With tech nowadays you can check your house status even if you are out on vacation or for business. As most smart cameras have the ability to connect through Wi-Fi, you will be aware of your surroundings at any time!
Most cameras have different features according to the Brand, but if we are using it for security purposes, we will have to choose your perfect one having in mind the following:
Video and audio definition: The quality of the camera needs to be good enough to let you hear and see with details, the video of the event you're watching. If you want to actually spot people inside or outside your house, this feature is a must-have.
Live Feed from anywhere: Usually, thieves and intruders will be lurking in your house when you're not there! Having the skill of seeing live feed and recording it on a cloud is priceless. Even if they took or destroy your cameras, they will be very well recorded.
 Camera's location: Outdoors and indoors. Depending on the location, the motion sensors and the weather-resistant capabilities will vary.
In the following list, you will encounter the best Smart security cameras to automate your home!
 7.Wize Cam V2: the cheapest indoor Smart Security Camera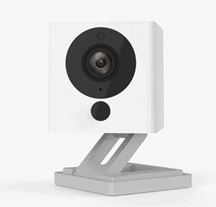 Hands down the cheapest indoor Smart Security Camera right now. With HD video quality, you can expect a reasonably good video quality.
Integrated with Amazon Alexa and Google Assistant, it is a great option if you love to speed things up with your smartphone.
Among the most interesting features of this Smart Camera we can find:
Built-in motion sensors to review movements inside your House. Once it detects something, your smartphone will notify you.
Live-feed is another useful feature. If you have kids at home, you can watch them instantly with the tap of a button!
Night vision becomes handy for those dark nights. Is incredible that at this price it has all these capabilities.
A two-way audio keeps you connected with your furry friend, or if you spot your child doing bad things!
This model can handle a micro SD card if you want to record everything. It's not included, but there are SD cards very cheap that will do the job just fine.
The Wyze Cam automatically records a 12-second Event Video when it detects motion or sounds. It saves the clip on the cloud during 14 days for you to review it with no subscription or monthly fees required.
A very affordable camera with great features at a great price. The only downside of this is it can't be placed outside or the weather will damage it. But besides that, a great option if you ask me.
6. Google Nest Cam IQ indoor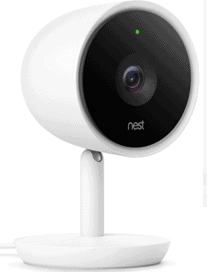 This camera is truly a Smart device. As it has Google Assistant built-in, you can have all the features of the IQ outdoor(please read below to know all the features!) and at the same time your reliable voice assistant at your service!
You can ask tons of things to your google cam. From reminding you important meetings to tell you fart jokes. If you would like to see a huge list of commands that you can use please check out this post
What I like about this camera is that it saves battery keeping only activated the motion sensors… avoiding saving useless videos.
HDR and brighter LEDs are the best companions for night videos, specially designed to keep an eye on your baby.
What else is to say?… an awesome camera that lets you talk to it as you do with your smartphone.
5. Google Nest Cam IQ Outdoor/indoor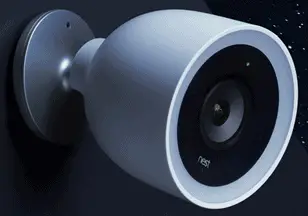 Google Nest Cam is capable of detecting movement up to 50 feet away. Once is detected, it will take a picture and send it to your Smartphone to alert you of a possible intruder!
If you set up familiar faces, it can even say the name of the person that arrived to your door! No more mother in law surprise visits.
It can follow movement once is detected. Let's say that a stranger is passing in front of the camera, it will follow him to get a better view. AI is on another level
HDR, 4K sensor and intelligent tracking? It's like a 1080p camera on steroids!
But you may be wondering… why it has a 4K sensor and it records only in 1080p? Well, the basic idea is that the camera can sample pixels the same way as a 4k camera but the resolution is limited to 1080p. Sure, the definition is better as the pixels are gathered better, but the size of the image remains the same.
It comes weather-proof. The rating is IP66, so you better avoid putting it directly to a strong rain.
The beautiful noise-cancellation feature. With this you will hear every detail of your house! And if you need to, you can shout through the mic and scare anyone around! I've done it for fun…
To access full cloud services, you will need to get a subscription online. At this price point it should have the subscription, but if you want a Smart Home fully Automated with Google Gadgets, this is probably your best bet.
4. Wyze Cam Pan: The best indoor smart security camera in 2019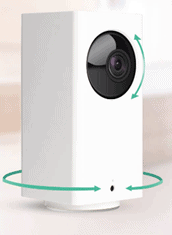 And Wyze arrives to this list again. This American company is killing it in the camera market.
With this camera, you will have a full 360º coverage of your room under 3 seconds.
With 1080p definition, you will see literally all details that under the scope of this panoramic camera.
It can detect movement and easily follow it. Its AI is fast, reliable and more accurate than we have seen before.
As a Smart Device, it works with Amazon Alexa and Google Assistant. You can say things like "Alexa, show me the living room" or "Ok Google, show the kids' room."
2-way audio: You can hear the live feed and shout your mischievous dog running around!
You don´t need to pay for subscriptions or monthly fees, but for sure you will have 14 days of footage encrypted at your disposal.
In case you need 24 hours of video, you only need to get a micro SD card and put inside.
This camera is incredible. For only $30 bucks, you can get the best indoor camera on the market right now.
The Night Vision needs improvement, but it does the job.
It has certain issues to keep connected to the Wi-Fi, but for light use is a great option. If you have dogs at home, this could be your best bet to talk to them while working!
And it comes to this list because of its price and panoramic overview.
3.  Logitech Circle 2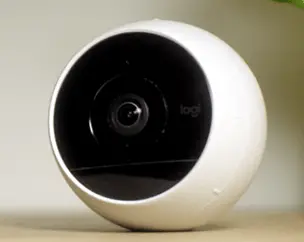 And where are my Apple fans?… Because this is the best smart security camera for you guys!
This indoor/outdoor camera is designed in partnership between Logitech and Apple. With only Apple Homekit Integration, is created with the sleek design that makes Apple what it is now on the market.
Starting with 1080p definition and a wide-range of 180º, this camera is certainly a great asset for your Smart Home.
IP65 for the weather-proof technology. Sure, it can handle moist, but I wouldn't recommend you to put it in a heavy storm.
Most buyers go for this model when they want to have their house fully automated with Apple Home Kit. Sure, there are other cameras that can handle this technology, but the easiness to install it stands out from the other ones.
What I don't like of this camera is the cable. Even though it ensures that you are fully connected all the time to your live feed, if something happens to the electricity, you're going to regret this when it happens.
The free subscription only saves 24 hours of video. If you want more time…let's say you leave you are on vacation.. you will need to get a monthly fee for it.
On the HomeKit App you can make time-lapse day brief to see the major events of the day. Great to avoid checking different videos…just one very fast and that's it
2. EufyCam: 365-day battery life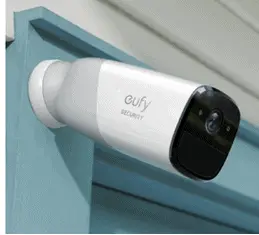 Let me introduce you to the Eufy World. This company has made a partnership with ANKER which is a global leader in charging technology to develop a camera that can hold 365-battery life!
Size batteries are convenient to hold more power, but the fact is if the power management system installed is not efficient enough, it won't hold energy for too long. Eufy and Anker designed this camera having in mind this particular issue, making this camera a unique design found in the Smart Home Security market
Although I don´t like that they make public statements that "they are better than the competition", I found that this feature stands out by itself.
Sincerely, this smart security camera has better reliability due to this. I can't count how many times I traveled abroad and forgot to charge them. And the worst thing is that you remember it when you are away from home.
This camera is the perfect suit for someone who forgets easily.
Useful features
It comes with all the corks and features of a reliable smart security camera:
Wire-free installation
Night-Vision
Weatherproof: IP67, yes you can put it outside raining!
Live streaming
2way-audio
The video quality is good enough, as it comes with 1080p definition. You wouldn't detect specific details from objects in a long distance, but overall, you'll have a great image.
The range of operation goes up to 140º. As I mentioned below, this feature is critical as it is the best way to cover more ground with a single camera.
Putting aside panoramic cams, having a bigger optic field, we are ensuring a more secure Home.
Another great feature that catches my attention is how AI has grown over the years. The EufyCam can recognize faces and follow objects within range of operation digitally to avoid sending false alarms to your smartphone.
The night vision is great to have it. If you have that feature on a camera and there is suspicious activity at home, it will be captured without they even realize it. Hands down, in my opinion, a must-have.
The 100-decibel alarm comes with the camera. But before activating it, make sure you have enough footage and in good quality to try to scare a threat.
Take advantage of your alarm!
I know it can be scary and it could be your first move, but once you have taped them…. Make them buzz!
Also, if someone tries to steal your camera… an accelerometer will detect it and start buzzing the hell of them at 100 decibels as well!…
Arlo cameras should integrate this function to their designs
In this price point, I expect to have all those features in a camera. Security in my home has to be a serious business and with the EufyCam, you will be safer.
And the best of all…. If you don't feel comfortable with the services provided by the camera you can easily return it within 30 days!
1. Arlo Ultra: the Best Overall Smart security camera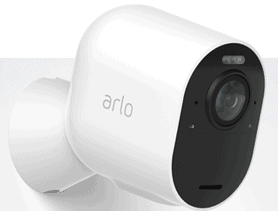 Arlo is the number one company in the U.S. that has the biggest number of cameras connected to the Internet.
It Prestige speaks of its products.
The Arlo Ultra is the best choice if you want excellent video and audio capabilities. With the 4K UHD technology, you will experience crisp videos and pictures on your Smartphone anywhere in the world.
If God forbids, there is an issue at your home, there is a feature where you can call 911 directly from the app in case you see suspicious activity in your house.
As it has one-year subscription to the Arlo Cloud, you will save 30 days on a row of footage to access it whenever you want
Why is the number one Smart camera?
It is the number one camera to start your Home Automation Journey for several reasons:
It has enhanced night vision. If an intruder tries to get closer to anywhere around your house at night, it will be spotted and the night vision protocol will capture better than any Arlo Camera.
The integrated Spotlight ignites once the motion sensor detects something. A bright white light will turn on to increase image quality and if it's an animal it will scare the hell of it for sure!
180º view. This is one of the reasons why I chose it to be the best on this list. Having this feature will cover more ground than any wireless camera out here!
Noise cancellation: As stated above, we are choosing a camera that is easy to install and has the best image and audio quality. The Only Arlo model that has noise cancellation is the Arlo Ultra.
This gives a clearer sound free of distortion and wind noise. If something happens at home, you wouldn´t want to miss it right?
Possible problems you may encounter if you choose this camera
The downside of this is that I need a good internet connection to access the good stuff, but nowadays you can get a fiber-optic connection and get up to 200mb!
Perhaps that I could think of is the fact that the only thing that grabs the camera is a magnet. I think it would be awesome to have a more secure base with screws, but you have to buy it as an accessory.
The future in is Smart Homes is on the Voice Assistants. This camera has Apple Homekit, Amazon Alexa and Google Assistant compatibility.
Just ask your reliable Voice assistant: "Hey Google, Show the Front door on the Living Room TV" and you will see it live feed right away, or through your Apple Watch you can do it faster than anyone.
And the 4K crystal clear video is what stands out the most. If a strange car parked outside your house you will be able to record easily the license plate.
Video features like Dewarping Mode and HDR come with this little camera. Even if the sun is too bright outside, with this feature you will no longer lose vital information
And perhaps you may think that has "too many features" but when an event happens…. You are going to need them.. believe me..
The best of all is that is wire-free!  Just stick the base on a high place of your house and that's it!
Battery life is great too. Depending on how much time you spend using the camera you can expect at least three to six months of standard usage.
But it is the best wireless smart security camera right now, with the most cutting-edge features installed on a Smart device for security.
Conclusion
The World of Smart Security Cameras has evolved so much that we can count right now with Artificial Technology, motion sensors, cloud services, time-lapse, face recognition and tons of features to be protected better than ever.
If you want to automate your security at home, this list is your safest bet. Certainly, Smart home companies strive for the best features in their products and keeping customer satisfaction as their top priority.
If you decide to get one, what was your main reason?
Let me know in the comments below!