A Z-Wave door sensor is a pretty cool gadget that lets you automate your home in such creative ways.
In this article, you will find the most reliable and filled with awesome features z-wave door sensors ready to transform your home in the automated palace that you deserve.
Use the table of contents to scan the info you're looking for!
Z-wave Door sensors: Eco-link magnet door sensor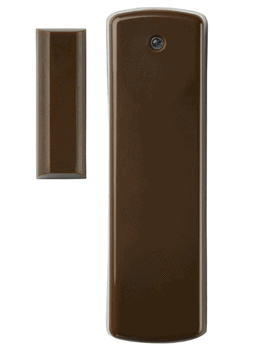 Looking for a practical solution for your door?
With Z-Wave integration, the Eco-link magnet door sensor works as a useful tool to automate any kind of door in your home.
It will be integrated smoothly to your reliable Z-wave network and make it stronger as long as you keep adding devices to it!
It comes on two different colors in case you're wondering if it will fit your decoration and perhaps your wife doesn't want you to change the ambiance of your home.
As a smart home enthusiast, I believe that having a Samsung smarthings hub is one of the best hubs right now.
And With this sensor, you're going to find that is smarthings compatible.
Eco-link is a great company that has been in the industry for over 20 years.
Which translates into good customer service and their designs keep improving over time
They have designed this door sensor to be super easy to be installed.
Just adding the battery, it will ready for use in a couple of minutes
And What about compatibility? You can use it with virtually any type of z-wave smart home hub that is on the market:
Smarthings hub V1, V2, and V3

Vera plus

Vera edge

Vera lite

Homeseer

And the list goes on and on!
It's a great option if you want to have a device that has been built with premium components that will enhance any door's looks in a couple of minutes
It runs with batteries, the common CR123A that will last according to the manufacturer around 3 years.
I take this obviously with a little grain of salt because they give this data without not so much reliability, but if the number is that big I just think that I won't be worrying about it for a long time.
Can I wire it to my house to avoid changing the batteries?
Unfortunately, no, because the voltage that is needed to run this sensor is so low that you would need a transformer to decrease or any kind of variations.
It would be awesome though.
It will work outside if it's dry. The manufacturer doesn't say anything about any kind of climate-proof certification but humidity certainly doesn't affect it too much.
Let me disclosure something about this sensor. Some shops tell you that: sure! It works with Alexa! But be aware that for you to operate it with any kind of echo devices you would need a hub.
Z-wave door sensor: Samsung Door sensor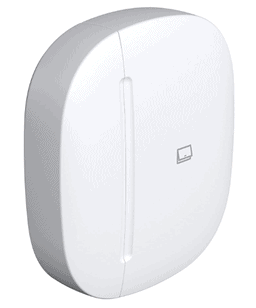 This is a very robust, versatile sensor that could be a great solution for any type of door in your house.
As it's smartthings compatible, you can receive notifications right on your smartphone to know if someone has entered your house or open any room specifically!
With a cool design, you are going to improve your door's looks in a couple of minutes!
A Z-wave door sensor, you can create tons of different routines and automate your home the way you want it!
For example, if it's dark outside, any time you go outside you could trigger the lights as soon as the door opens.
Take a package or check what happened, close the door and the light will go out!
And the ideas for your automated house can be limitless! If you own a smart lock that is smarthings compatible in this case, you could also trigger it after a certain time to lock your front door without any human intervention
Pretty cool, huh?
What I don't like about this sensor is that it has too many functionalities and can be an overkill for only automating front doors
But if you are a practical person, you just buy a batch of these and start automating most of your house!
It is battery powered. The CR-2450 is super cheap and easy to change.
This means as well for the eco-link z-wave sensor that it won't be possible to wire it to your house with a quick fix.
Don't get me wrong, of course, there are options that you could try to connect it to your residential energy, but in my case, I just prefer the battery and be gone with it
Does it work with Amazon Alexa?
Of course, it does, but as usual, remember that you need a smart home hub to be able to control it with your beautiful assistant.
This one is intended for indoor only. It can withstand humidity and temperatures from 32 to 104F, but be aware that the manufacturer didn't tell you any kind of waterproof certification
So, if you intend to put it outside for heavy rain. This is not your best z-wave door sensor
Aeotec Recessed Z-wave door sensor 7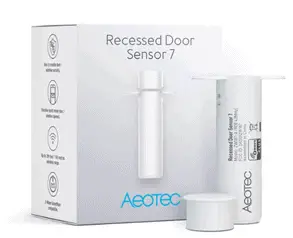 Aeotec again creates an excellent product for your Smart Home powered by Z-wave
This Z-wave door sensor with German engineering and software developed in Silicon Valley is a strong contender.
This sensor is compatible with Z-Wave 2 Technology improvement of the regular Z-Wave to enhance security protocols.
Its design has been reduced substantially letting you install it in different kinds of configurations! Check how small is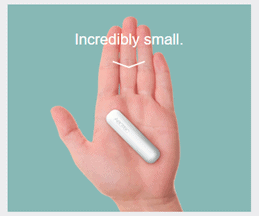 Aeotec has patented a Spatial Intrusion Algorithm to speed up the process of opening your door or windows if you desire and trigger alarms and lights to lure away intruders
This sensor has a very sensitive motion detector that is well integrated into the Algorithm that Aeotec designed, letting speed up processes so you can have a faster response within your home.
This will allow you to be prepared in case someone tries to break in! Your Smart Home System will alert as soon as possible of any kind of threat outside your door.
One of my favorite features is that you can hide on internal doorways. If you hide something in a cabinet that you don't want to be touched, install it there and let Z-wave notify you!
You could trap anyone with this!
If you are wondering if the installation is too complex for you, well, let me tell you that Aeotec after 13 years in the market has focused their efforts to make super simple and practical
You could install it on your door, your window, a cabinet, I mean, your creativity will be your greatest asset once you get a couple of these sensors. Using double-sided tape, it couldn't be easier.
Speaking about technical features, it comes with two detection magnets including Slimline rare-earth magnet technology first developed only by Aeotec. Disclosure: I love the company 😊
If you are wondering as if it can withstand the weather, finally we have a winner!!
This Z-wave door sensor works -4 to 104F and with a humidity percentage from 10 to 95!
That means is more than ready to resist the most common weather conditions outside and inside your door.
And battery life? Well, according to Aeotec if you open and close your door 5 times a day, it will last three years in a row with Wakeup reports enabled.
Which is a feature to optimize battery life.
Now, getting a little bit further down into technical specifications, the manufacturer gives an operating distance of up to 164 feet outdoors.
This isn't as accurate, because it all depends on how is your Z-Wave network configured.
But if you are experiencing interference with Z-Wave, you can add more devices to the mesh and improve it with a couple of bucks! More reasons to buy smart home gadgets… yeah!
And last but not least, this Z-wave sensor besides being compatible with Z-wave S2 it comes with the latest 700 series platform which is the future of our smart homes.
Smart start 
The smart start is an easy installation protocol that comes with Z-wave sensor 7.
Once you have decided to install it on your preferred door, you will have a QR code for a trouble-free setup. It already has a pre-configured synchronization which will be ready to go.
Z-wave door sensor: Schlage door sensor RS100HC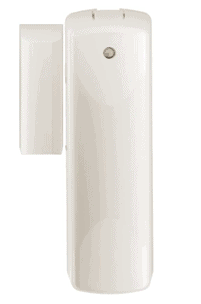 A lot has happened since Walter Schlage opened his first shop in the early 1920s. Commemorating 100 years of history, this company has one of the most meticulous design crews in the smart home industry.
A little bit of history, in 1909 this engineer patented a door lock that turns the lights on and off. From that point forward, tons of devices were crafted for your well-being.
Compatible with any z-wave system, this z-wave door sensor is designed exactly to control any kind of door in your house.
You can pair it with Samsung smarthings hub and control it without paying for any kind of monthly subscription!
 One of the key features of this sensor is that it comes with internal terminals for an external contact that will allow you to trigger it.
With this, you could activate when a motion sensor is activated and receive a notification early on your phone without having to open your door by mistake!
Its response is superb. it reports quickly when they are triggered letting you have a trustworthy home.
Speaking about the battery, same old, same old. Three years according to the tech specs but I wouldn't rely on that solely, but I least I know it won't dry out in a week.
If you buy a bunch of these, you will control any kind of door, cabinet, garage, and practically anything with a hinge.
If you want to get it on Amazon go here! And get crazy automating your house.
Z-Wave door sensor: Monoprice Z-wave plus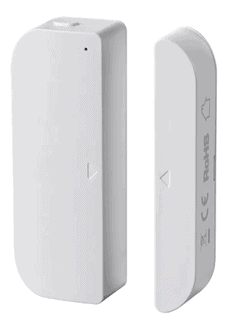 Monoprice is a fairly new company. Founded in 2002 they have been growing in the Z-Wave industry!
From all the sensors listed in this blog, this one is the cheaper one without compromising too many features or quality
And you may be thinking, why is it cheaper than the competency?
Well, this sensor is a little bit bigger compared to the other ones and the battery lasts over a year according to the manufacturer as I usually prefer, it uses AAA batteries so you should use the good ones!
Also, it can't withstand any kind of strong weather 
If you want to automate a door from the inside and you don't care too much about its beauty, the Monoprice is your best option.
It's Z-Wave Plus compatible, which means that it will work with:
SmartThings

Vera

HomeSeer

Zipato
Besense Z-Wave plus door sensor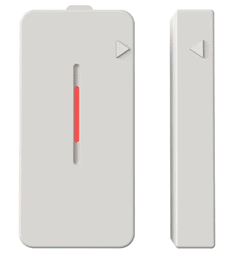 Another cool option if you don't want to spend too much on a Z-Wave sensor. 
It comes with Z-Wave plus, it uses AAA batteries and it has a little better design compared with the Monoprice sensor.
As an additional feature, it comes with a tamper-alarm and as usual, it's pretty easy to install it.
Be-sense takes very seriously their devices and their growth on the IoT technology. You can check their website here, I'm sure you'll drown a little bit like myself when I found it for the first time.
 What I don't like about it is that it can be a little bulky, so you got to be very creative to locate it and make it look part of the decoration.
To pair it with your Smarthings Hub is extremely easy and fast.
Fibaro Z-wave door sensor

Fibaro is a Poland company with nearly 250 employees now and they have produced a beautiful z-wave door sensor that is capable of improving your door's looks in a click!
They have focused their design to give you a stylish sensor that is Z-wave compatible!
That's why it comes with eight different colors to choose from. I think that if you want to conserve your house's looks, this is your best choice.
Because no matter which type of color you have on your doors, this sensor will fit in smoothly.
Here's a cool video from their marketing department that deserves a look!
As all of the z-wave door sensors that I have listed in this article, it is battery powered. But, and here's a big one, it doesn't use a common CR123A battery! You would need to find a not-so-normal 2AA battery.
It can be hard to find if you don't live in a big city with tons of shops to visit.
What I like about this particular one is that it has a LED indicator showing you the status of the device. For sure when it's activated, your door will have a new glow
One thing that I would like to point out is that when you install it, keep a distance between both sensors of 5mm otherwise the readings will be bad or inaccurate.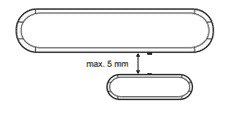 Another key feature that makes it unique is that is compatible with a temperature sensor. 
As in the Z-wave market, there aren't as many sensors as we would like, with this feature you can solve pretty easily!
Inside of it, you can install a sensor within minutes.
To pair with the smarthings hub, I felt it was relatively easy to do it.
HomeSeer Z-wave door sensor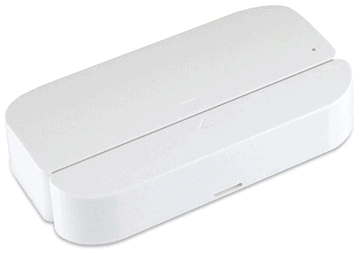 Another bulky solution for your z-wave network
It's practical z-wave door sensor that will let you automate your door without complicating your life in the process
It's not waterproof, but it comes with Z-Wave plus capabilities.
From numerous people in the Reddit forum for this sensor, we can infer that it has a great battery life
It's not compatible with Smarthings, but you can pair it with the Samsung Smarthings Hub as a Z-wave plus device.
The installation is super simple and you can do it by yourself. You just need a chair to put it on top of your door and double-sided tape.
Conclusion
There are lots and lots of different Z-wave door sensors in the market. You could even find ones that are cheap copies of the ones that worth buying.
I won't recommend them to you because usually, you buy numerous sensors and it would be terrible to get some of them damaged or that they could fail faster in the long run.
In my perspective, and I guess yours, is that you should get the ones that worth your money. 
Because nothing is sadder than to start automating your house with some cool gadgets and after some use, you have to put them in the dumpster.
But after this thorough list, which one do you prefer? Or have you experienced something bad with them?