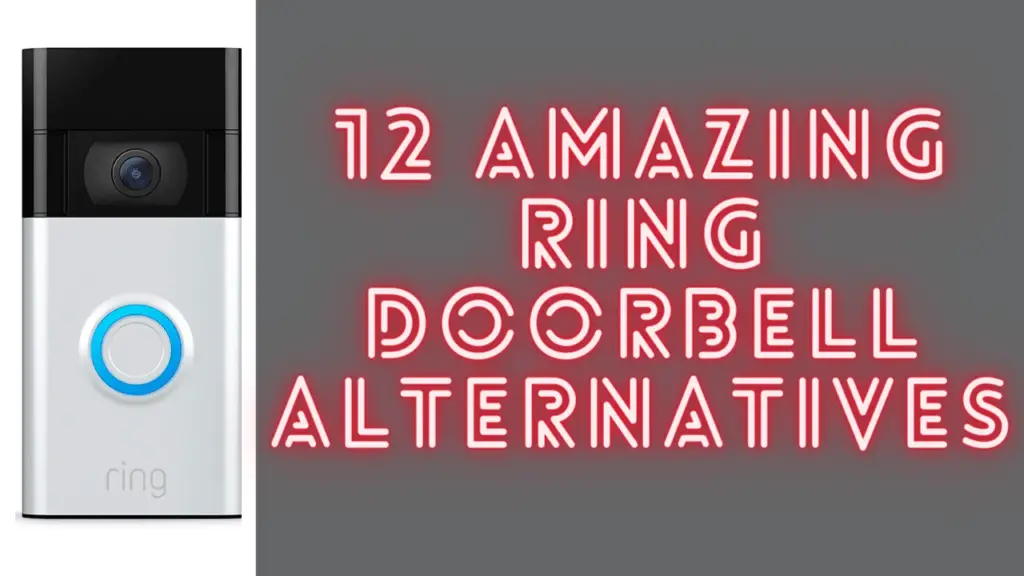 The Ring Doorbell is undoubtedly one of the most popular video doorbells.
However, its users have previously raised privacy and security concerns, especially after receiving death threats or being blackmailed after their cameras were hacked. Because of that, you may be interested in buying secure, amazing alternatives that offer similar features.  
The most amazing Ring doorbell alternatives feature cameras that produce high-resolution videos, smart motion sensors, real-time notification, and massive storage. They are easy to install, come with lasting, rechargeable batteries, feature anti-theft tech, and can withstand the elements. 
Keep reading for more information on what to consider when buying a camera doorbell and a review of the best alternatives to the Amazon Ring on the market.
What To Look For in a Ring Doorbell Alternative
Before reviewing some Ring doorbell alternatives, let's first consider the features to look for when buying them.
It's a no-brainer that buying a doorbell without knowing the essential aspects to consider can be costly.
It's best to evaluate different products based on your needs, preferences, and how you plan to use them.
In that regard, here the key considerations when choosing these devices, according to the experts:
Resolution and Night Vision
The resolution determines the quality of images and videos a doorbell's camera produces. 
Generally, doorbells with high-resolution cameras produce better images.
You should also check for night vision since you may have visitors at night. With a crisp vision in the dark, you can quickly tell if that knock is friendly or if it's a potential intruder.
Two-Way Communication
A quality doorbell comes with a camera, speaker, and microphone that allow dual-way communication.
It's a convenient feature that allows you to speak to the visitors on your doorstep, whether you're home or away.
You can also use the feature to inform the delivery man that you'll need a few minutes to get downstairs.
Field of View
The angle of view determines how much you can see from your doorbell's camera.
As a rule of thumb, a 180-degree field of view is considered the best.
It captures everything in front and on the sides. A 90-degree field of view shows what's in front and a little of the sides. Therefore, I recommend picking the alternative with the widest field of vision.
Ring Alternatives Privacy
Since most doorbells come with cloud storage features, chances are they'll give the service provider a lot of data about you, including how often you leave and return home.
Although most doorbell brands come with detailed privacy policies and aim to protect your data, there's always a possibility that a third party may access that information.
Therefore, it's best always to read a brand's privacy policy and pick the one that emphasizes protecting your data.
Also, do some background checks to determine how frequently specific brands have been mentioned to potentially or previously violate customers' privacy.
I suggest that you watch the following video for more information on the security and privacy of video doorbells:
Now here are 12 of the most recognized Ring Doorbell alternatives:
Zmodo Greet HD Video Doorbell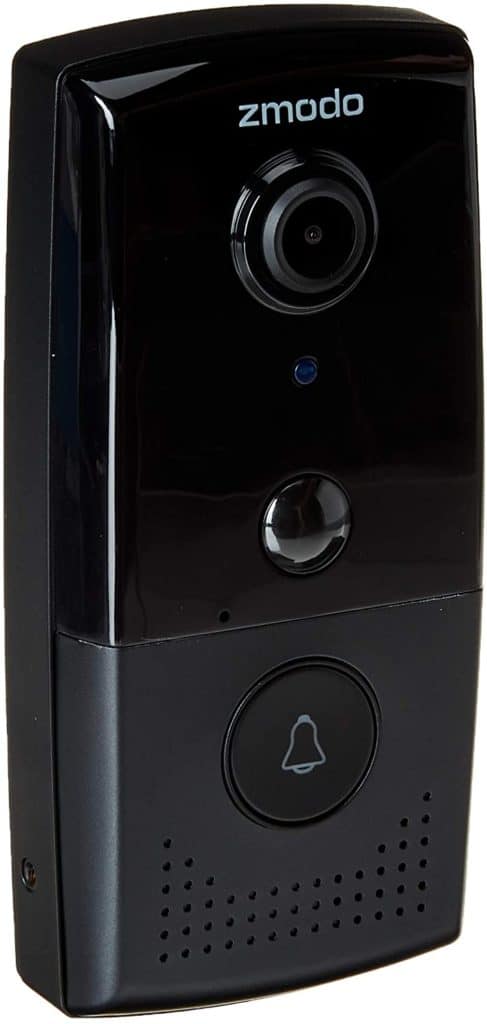 The Zmodo Greet Video Doorbell is a well-designed, pro-grade video doorbell security system.
It comes with a high-definition wide-angle lens for a clear, full view of your doorstep.
I consider it a convenient product ahead of its time, thanks to the simultaneous two-way audio system that allows you to talk with visitors directly through your phone or tablet.
The product also allows you to deliver pre-recorded messages if you're unavailable for the call, so you can inform your guests when you'll be home.
This awesome ring doorbell alternative provides a live feed of the activities taking place on your front porch. You'll definitely love how it detects motion and sends alert clips instead of still images.
That's not all – you can set it to focus on specific areas, like your doors and windows, and get alert only when there's an activity in those places.
The doorbell also features Alexa; with a single voice command, you can get a real-time stream of everything happening on your porch.
The drawbacks? Some customers have complained that this doorbell's user guide isn't detailed.
For instance, it doesn't clearly explain how to adjust video contrast.
The mounting screw rests on a soft plastic tab that tends to break if you over-tighten the setup.
Despite its cons, the Zmodo Greet HD offers clear night vision and is designed to take a beating from the elements.
If you need a ring doorbell alternative that offers unwavering protection, you'll never go wrong with this device.
DophiGo 960P Doorbell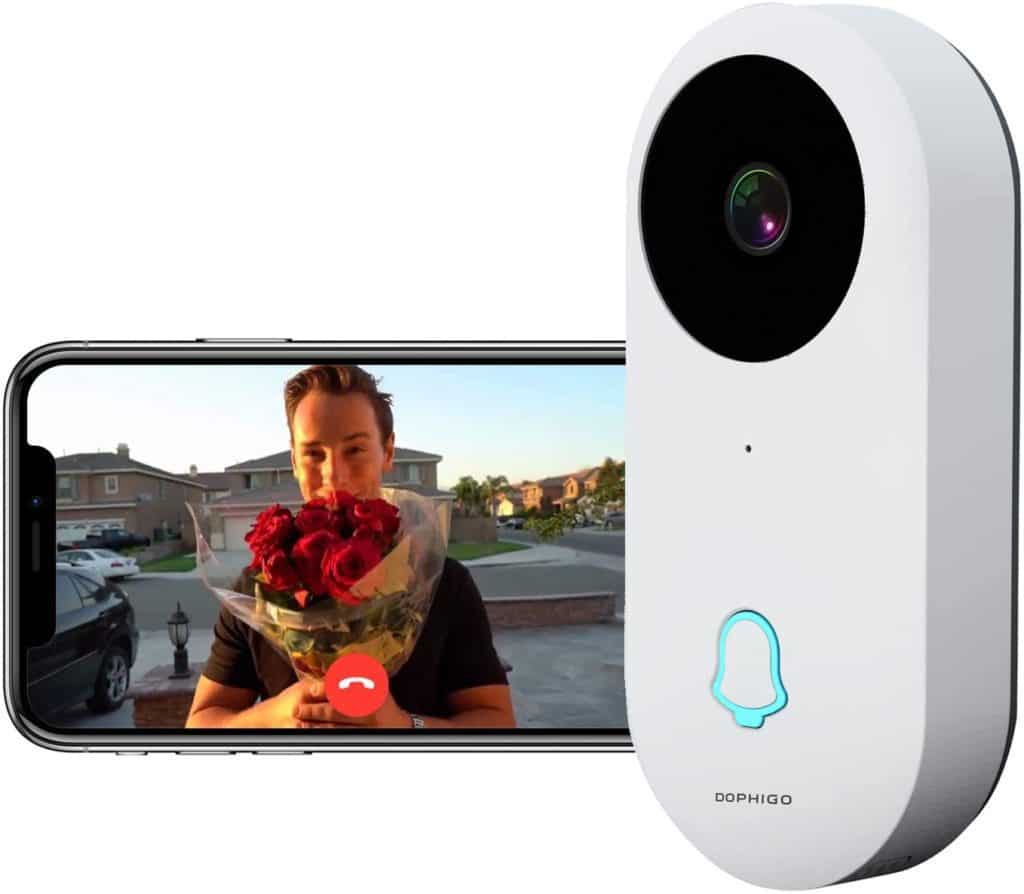 The DophiGo 960P Doorbell comes with remarkable features that make it a sweet steal.
This doorbell's camera comes with military infrared night vision for a smooth, perfectly-timed image texture.
Like its rival, the Zmodo Greet HD, the DophiGo doorbell lets you have conversations with visitors from your smartphone or tablet at your convenience. 
You can also enable the group notifications feature, so each family member gets notified and sees the visitor at the door simultaneously.
The doorbell offers free lifetime cloud storage. Say goodbye to limited trials and subscription plans. You just need to connect it to Wi-Fi to start storing videos on the Internet.
This energy-efficient ring doorbell alternative comes with a rechargeable battery that can serve you for up to 3 months once fully charged.
You can recharge it using a USB connection, so you don't have to remove it. Because of that, you're guaranteed uninterrupted service. Besides, the battery lasts for up to 3 years, which is a pretty decent bargain.
This doorbell is also weather-resistant.
It comes with IP65 protection from cold winter and hot spring.
Installing this product is a breeze. You don't need to dismantle your door panels or wall. You can easily install it beside an existing doorbell.
My main gripe with this doorbell is that it doesn't come with a motion detection system.
However, that shouldn't stop you from buying it. This device comes with a 3-year warranty, a 60-day money-back guarantee, and lifetime theft protection, which means the company will replace the doorbell if it gets stolen for free.
SkyBell HD Wi-Fi Doorbell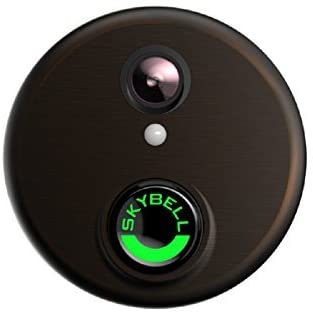 The Skybell WiFi Doorbell is a great alternative if you live in an area with an extreme climate.
The bomb-proof device can handle a temperature range of -40°C (-40°F) to 140°C (284°F).
The SkyBell Doorbell is a pretty decent bargain, although it looks small.
Installation is quick and easy. The doorbell offers a clear, 120-degree field of view in 1080p HD.
You can zoom in up to five times for a clearer view of your visitors or the package the delivery man is carrying. 
The camera comes with two-way audio, allowing you to speak with those standing on the front porch without opening the door. This isn't limited to your home; you can speak remotely, anytime.
This device has bright white light, which shows night footage in color.
The doorbell is weather-proof and can handle extreme temperatures, rain, snow, and wind. It can also take snap photos and doesn't require a subscription to use.
The cons? Although the camera comes with motion sensors, the artificial intelligence features are missing.
This means you'll get lots of alerts throughout the day, some of which may be unnecessary.
Besides, this device doesn't work with Alexa and Google Assistant, a deal-breaker if you have installed a smart home ecosystem.
AUNEX Doorbell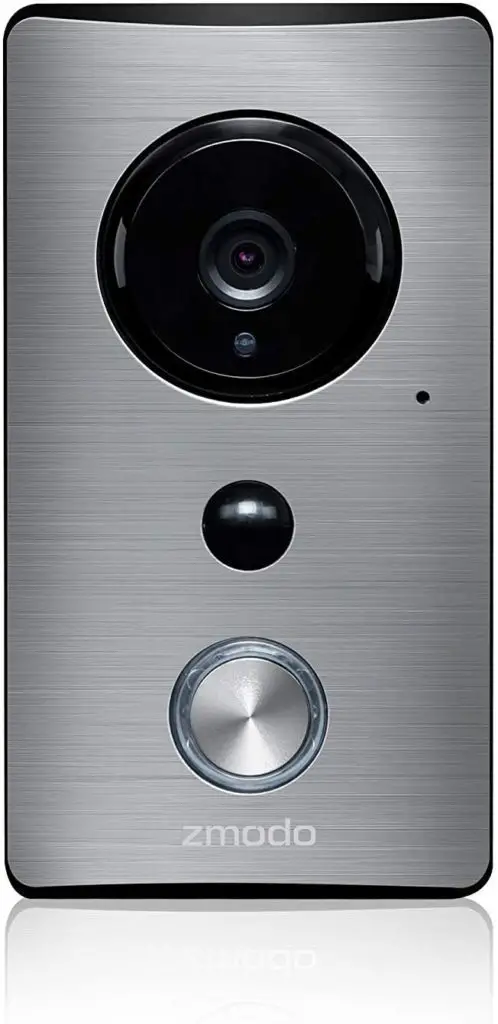 The AUNEX Doorbell is a great choice if you need a device that captures all the activities happening on your front porch, thanks to the wide, 166-degrees angle of view.
Quality and clarity define the camera, which reproduces images of up to 1080p HD.
This device also comes with Smart Night Vision, a feature that automatically activates at night, recording videos in 720p HD.
The camera lets you see the faces of visitors clearly, whether it's day or night. This is an effective measure of keeping safe from intruders.
This doorbell also offers a generous, unlimited cloud storage space. You can store video files on an SD card for convenience. 
Installing this doorbell is quick and easy. You don't need to run wires to connect it.
The doorbell also features motion detection tech, allowing you to monitor the activity around your front porch remotely.
It alerts you of such activity instantly, so you can take appropriate measures, like opening the door for that old-time friend or locking out a bugler.
Besides, the AUNEX Doorbell features a charger, two rechargeable batteries, and USB connectivity, allowing you to charge the device without disassembling the doorbell. That's not the entire package.
This device comes with two-way audio, allowing you to communicate with your guests without opening the door. Also, it allows you to communicate with the visitor at your front door remotely using your smartphone or tablet.
Additional pros include a 45-day money-back guarantee, lifetime support, and a 2-year warranty.
However, some customers have complained that the motion detection is slow.
Furthermore, the device doesn't come with operating instructions, so you may have to search the Internet for information on how to operate it.
The cons aside, the AUNEX Doorbell is a great buy for anyone looking for a safe alternative to the Ring doorbell. The doorbell comes with anti-theft screws and alerts you if someone attempts to disassemble it.
Eufy Security Video Doorbell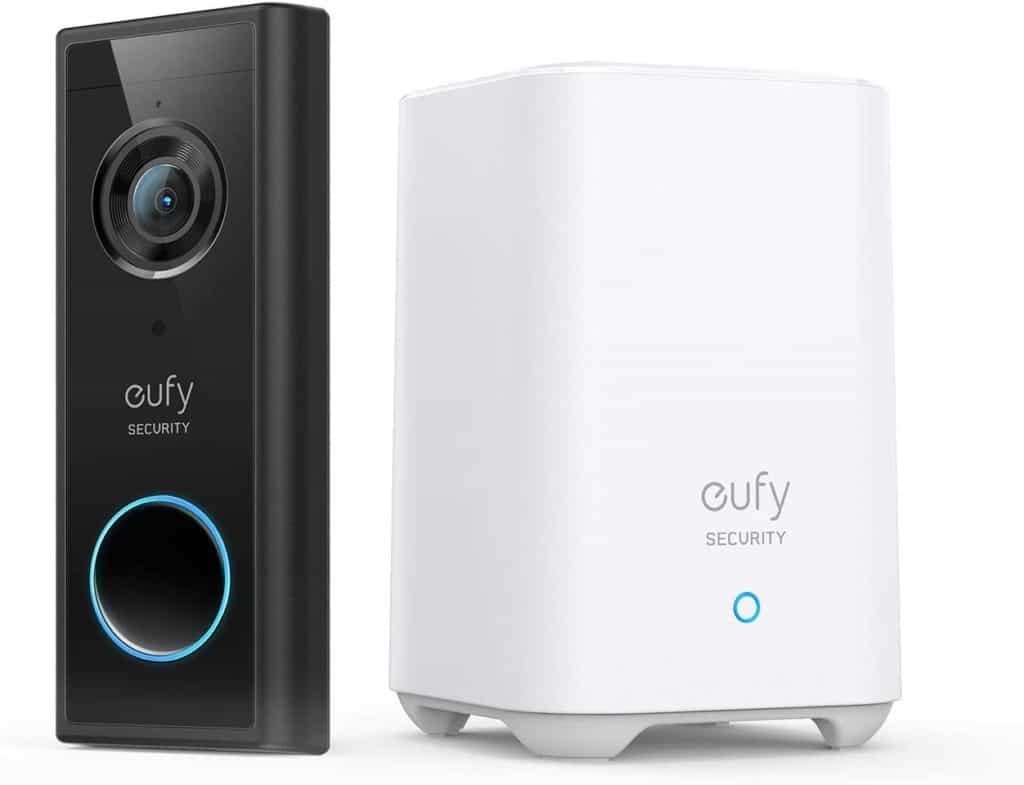 The Eufy Security Video Doorbell earns a spot on this list of amazing Ring alternatives, thanks to its unrivaled reliability and performance.
This product comes with features that blow the competition away, like its sleek design and an aesthetic button that glows when the device is ready to use.
Renting a place with an existing doorbell doesn't mean you have to compromise your security, and this wireless doorbell proves that.
Notably, you can connect it to your router and mount it on any outdoor surface.
This doorbell is easy to install. Suppose you have an existing wired doorbell. In that case, you can replace it with the Eufy Security video doorbell, which would rely on the same power supply.
Follow these steps to install the doorbell:
Remove the existing chime using the jumper wire that comes with the device. 
After that, remove the old device and connect the power source to your new Eufy doorbell
Then, mount the new doorbell on your door frame.
The Eufy Security app comes in handy when you need to answer the doorbell or see who is standing on your front porch.
The app is easy to use and shows you the activity on your doorstep within seconds of launching.
However, the process may take a little longer when outside the house or not on your Wi-Fi.
Despite that, the audio and video quality remains the same if you're using a network with decent signal strength.
The 4:3 aspect ratio lets you have a head-to-toe view of your visitors besides providing the perfect viewing angle.
The motion sensor gives you total control over what this Ring doorbell alternative detects, thanks to the customizable smart detection system.
You can also set it to send alerts when guests approach, so you don't keep them waiting.
The limitations? You'll need to unmount the camera each time you need to recharge the battery.
Besides, some have complained that the audio and video stream delays when talking to guests live.
However, it takes six hours to recharge the battery, and you'll do that every six months, meaning you won't have to disassemble it every other day.
Also, it works quite well as a security device and stores data locally, protecting your home and wallet.
EZVIZ WiFi Video Doorbell

The EZVIZ WiFi Video Doorbell comes with remarkable features that give it a leg up on the competition.
Its button features an LED ring that glows blue when the device is working perfectly and blinks red when the SD card isn't working properly, or there's a connectivity issue.
This smart doorbell has a high-resolution camera that produces Ultra HD video.
It also comes with local and cloud storage, third-party integration, and voice control.
Unlike most video doorbells that come in plain silver or black color, this device adds a fascinating panda bear or Storm Trooper aesthetic appeal on a black and white background.
The device offers one of the most generous angles of views, at a 180-degree vertical field of view.
As a result, you get a head-to-toe view of the visitors on your porch.
The doorbell also features a dual-band Wi-Fi radio for connectivity and a built-in speaker and microphone for two-way audio communication.
You also get free 180-minute cloud storage, so you can download and view all clips saved in the last 3 hours. Still, the microSD card slot can accommodate a 128-GB card.
The device is designed to withstand the elements, thanks to its IP65 protection.
It also offers night vision and allows multi-device connectivity, so you can connect the camera to your smartphone, tablet, or PC 24/7 and monitor your home remotely.
Besides, the device is built to make a laser beam-like noise when it picks up movement on your front porch, a feature that comes in handy when you need to keep intruders at bay.
Interestingly, that's also its Achilles' heel since the noise can be annoying, especially if you need some quiet rest after a hectic day.
However, I think there's no need to compromise your safety for some hours of sleep.
Suppose you need a Ring doorbell alternative that offers pro-grade home security by allowing you to capture, save, and view the activity on your front porch.
In that case, you'll never go wrong with the EZVIZ WiFi video doorbell.
ZhiLiao Smart Video Doorbell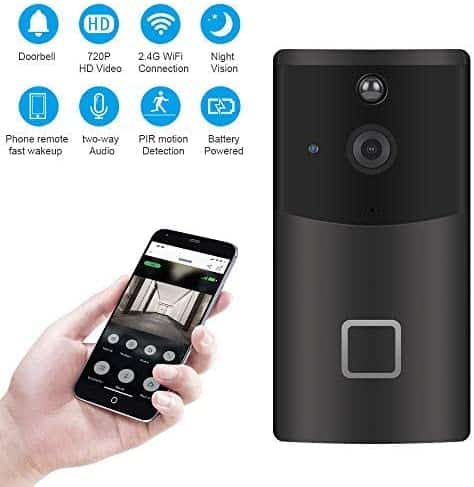 The ZhiLiao Smart Video Doorbell is another amazing Ring alternative.
Installing the device is quick and easy.
Unlike your typical doorbells that require cables to set up, this product only requires you to download the Any home app and connect it to the doorbell.
You simply need to open the app to see a live stream of the activity taking place on your doorstep.
You can access saved footage or images on any device you've connected to this doorbell.
A reliable video doorbell should ensure you don't miss any single event taking place on your doorstep, and this smart device proves that! Its camera offers a 166-degree field of view, meaning you get a decent view of everything that happens near or on your porch. 
The two-way talk allows you to communicate with the guests standing on your doorstep without opening the door. This also comes in handy when you're away from home and need to answer your visitors.
Another pro worth mentioning is the motion detection feature, which instantly sends a message once it picks up movement in front of the camera.
This is a plus for situational awareness and safety.
You can either open the doors for guests without keeping them waiting for long or call 911 if you spot an intruder.
The ZhiLiao smart video doorbell also features microSD and free cloud storage.
The SD card slot has a memory capacity of 64GB, so you don't have to worry about losing important footage due to expired subscriptions or failing to save it.  
It also comes with an anti-theft feature that activates an alarm when someone tries to steal it.
However, the mounting screws are flimsy and may break easily if over-tightened.
The camera tends to show silhouette images if installed on covered porches.
Despite the cons, the ZhiLiao Smart Video Doorbell is a worthwhile purchase if you need to boost your home security.
SimpliSafe Doorbell Pro

The SimpliSafe Doorbell Pro offers clear 1080p high-resolution video, motion detection, and crisp night vision. Suppose you have a SimpliSafe Home Security System.
In that case, you can integrate it with this device. Alternatively, you can use this doorbell as a standalone system
The dual-sensor trigger is one of its coolest features. 
This technology detects your visitors' shapes and heat signatures, reducing the chances of getting false alerts.
The doorbell is customized to work on any doorbell setup or home type.
The SimpliSafe Doorbell is also easy to install, although you'll need basic wiring knowledge.
If you're not comfortable with that, I recommend hiring a professional – you'll love the outcome!
The main drawback is that you must pay a subscription fee to access recorded footage.
Also, this device doesn't support Google Assistant or Alexa voice commands.
However, its outstanding video quality, motion-sensing tech, and quick installation make it a great choice.
Arlo Video Doorbell

Arlo Video Doorbell is another excellent alternative to Ring doorbells.
It comes with cool features that beat the competition. The camera has a reliable 1536×1536 resolution for a clear view of your porch.
It has a 180-degree angle of view so that you won't miss any subtle details about the activities on your doorstep.
The doorbell comes with a two-way talk speaker and microphone functionality that allows you to answer guests from your smartphone.
This feature blows away other devices that only use push notifications, which you can easily miss.
Arlo also features smart notifications that can differentiate between people, animals, and vehicles.
Because of that, you only get important alerts.
Suppose you live on a busy road. In that case, you can avoid those distracting and pretty annoying false alerts by installing a Ring alternative that can pick up different motion types and correctly distinguish them.
The Arlo doorbell does that job perfectly!
The doorbell also comes with an automated schedule you can use to arm or disarm it at your convenience.
For example, you can set it to disarm when home and arm when away using the geofencing range, which controls its mode, depending on your phone's location.
The e911 feature is another well-thought-out functionality of the Arlo Video Doorbell.
The app allows you to dial 911 if there's an emergency, connecting you with a first responder.
Suppose you're out of town when an intruder visits your home. In that case, the e911 can route to the closest dispatch center, meaning you'll get help quickly.
August Smart Lock Pro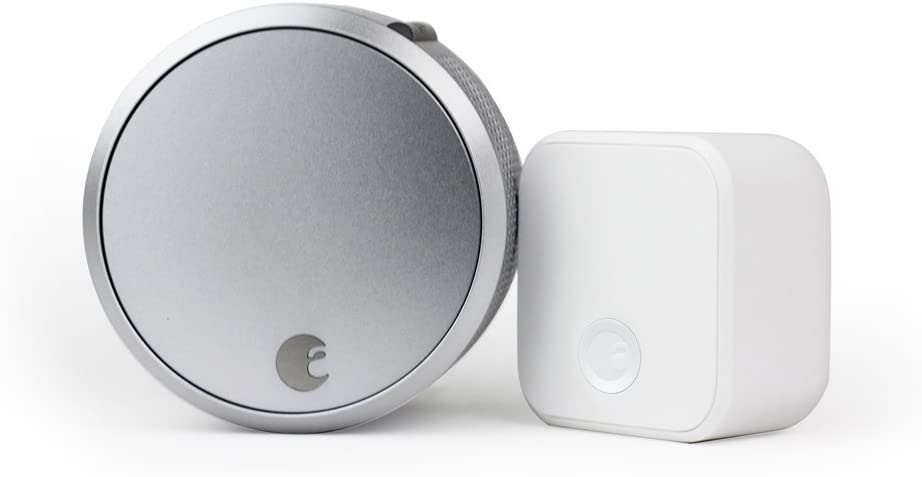 The August Smart Lock Pro is a great choice if you need to monitor your home continuously.
You can rewind and view each day's footage, which comes in high definition.
You'll definitely find the free subscription plan that allows you to view recordings from the last 24 hours.
If you need more, you can upgrade to the premium plan, which offers up to 30 days of video recordings.
The doorbell comes with full-color night vision. Like other high-grade devices, it features two-way communication, although in audio form.
Besides, you can use the DoorSense feature to tell if your door is securely locked. If not, you can lock or unlock it, control the door, and track movement into and out of the door.
This tech makes it easy to identify who came in and out of your house and what time they did.
The August doorbell also features Amazon Alexa, which notifies you of the battery status, so you can proactively replace or recharge your battery when necessary.
Also, this device lets you keep your lock and keys intact by easily attaching your existing deadbolt.
Wyze Video Doorbell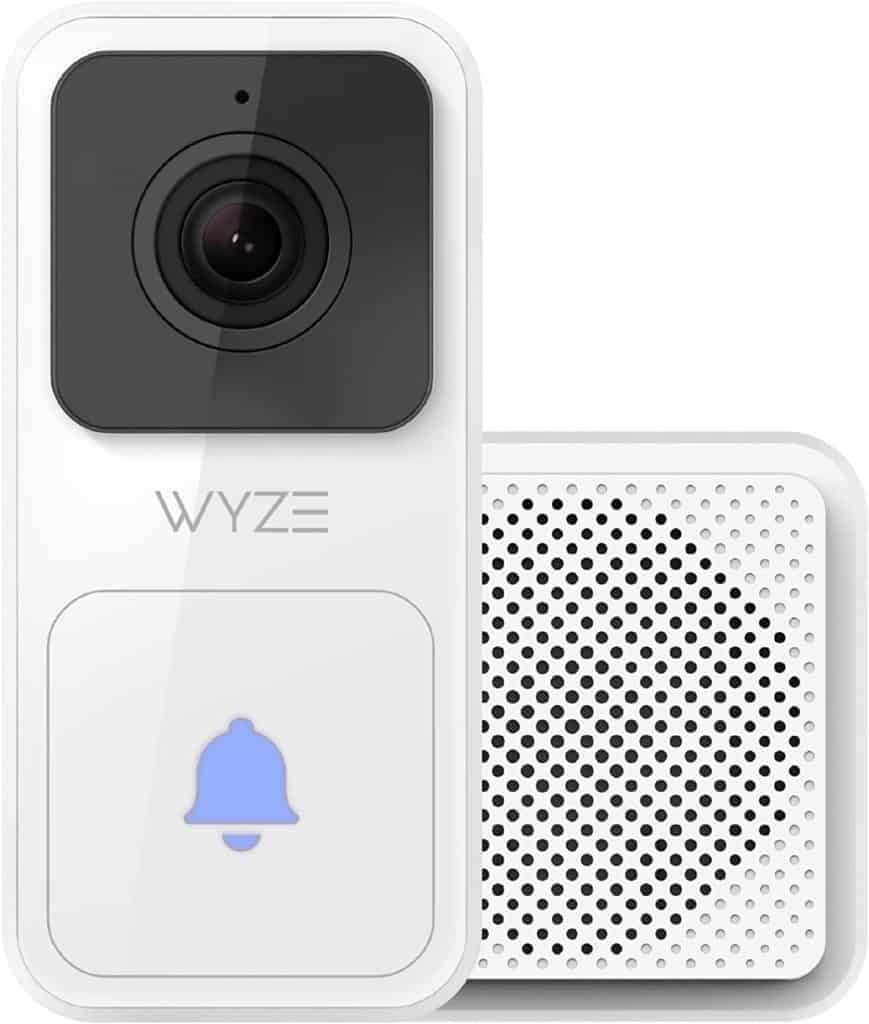 Though considered an upstart in the industry, Wyze pushes the envelope to produce quality doorbells and connected home devices. Arguably, the Wyze Video Doorbell leaves a stunning impression among users.
The device produces 1080p, high-definition videos with a 3:4 aspect ratio, allowing you to get clear images of what's happening on your doorstep.
Besides, this ratio allows you to see visitors from head-to-toe or any boxes dropped on your doorstep.
The device comes with motion detection and smart alert functionalities that notify you instantly once it senses movement near your porch.
The doorbell is designed to light up once it detects motion, alerting you and your visitors.
This comes in handy when you need to keep potential porch pirates at bay. With the live stream feature, you never have to miss a visitor.
Are you worried that the elements could damage your doorbell because your porch is exposed?
If so, the Wyze video doorbell would be a wise decision.
This device is IP65 weather-resistant, meaning it can withstand extreme temperatures, rain, or snow.
The package also includes a free chime, something you won't find in most doorbells (it's often an additional purchase in most alternative devices).
The doorbell stores 12-second videos in the cloud for up to 14 days, and you don't have to pay a cent to view them during that period.
Geeni Quickpeek Doorbell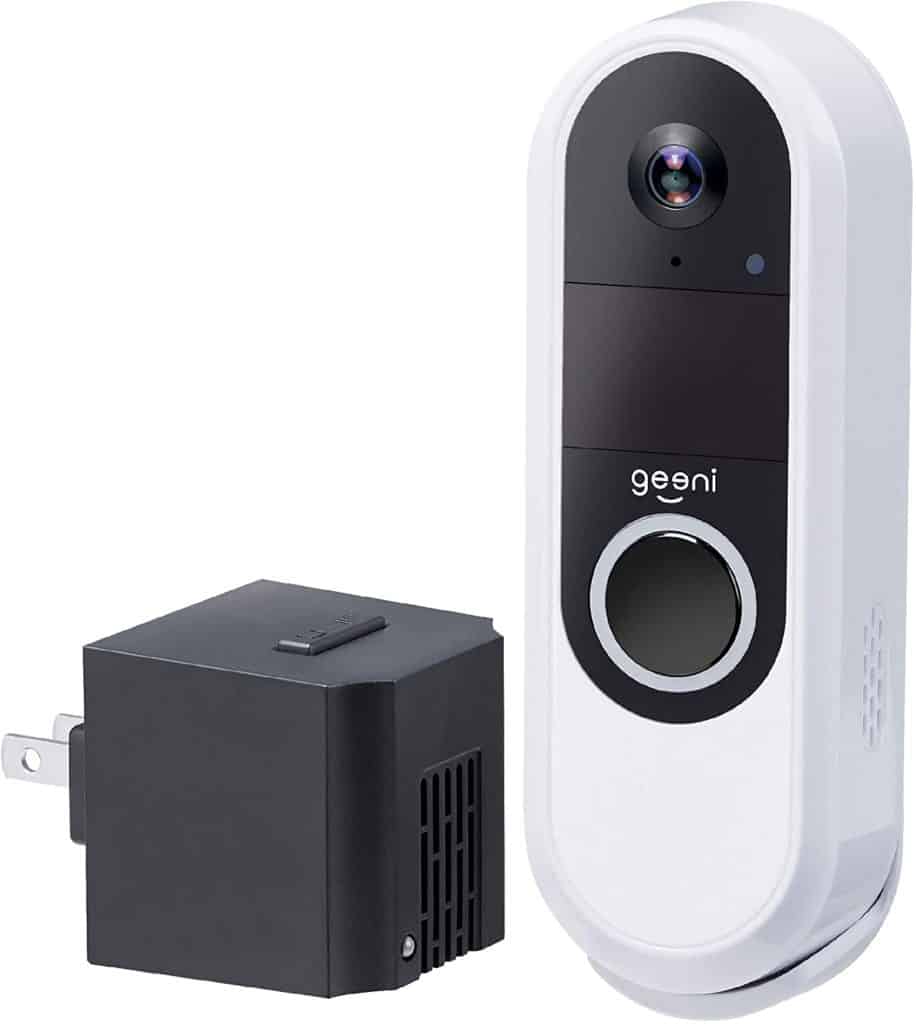 The Geeni Quickpeek Doorbell is a great Ring doorbell alternative.
The device is easy to install – it doesn't require any wire or power to set up. Simply mount it, download the Geeni app, then link the two, and you're good to go.
The doorbell is wireless and comes with a battery that lasts for up to 3 months.
Besides protecting your home, this device saves you money since you won't need to spend a penny to subscribe to any service or feature this doorbell offers.
You also get high-definition, 1080p image quality, a 130-degree field of vision, and a device that's built to last.
It can withstand extreme hot, cold, rain, and snow. 
You can also answer your doorbell while enjoying your vacation in the Bahamas, far away from home, thanks to the built-in dual-way speaker and microphone and Wi-Fi connectivity.
The motion-sensing technology, coupled with night vision, means you won't miss anything if someone tries to take advantage of the dark. It also comes with a chime you can keep in any room.
Ring doorbell alternative: Bottom Line
Although I've reviewed several of the best alternatives to the Ring Doorbell, your final decision should be based on your preferences, like the level of convenience or security you need. This is because these alternatives come with their pros and cons.
Nonetheless, you should first examine each of these options in detail to determine if they offer the level of protection and privacy you need. In the wrong hands, your data can be used against you, and you wouldn't want that!