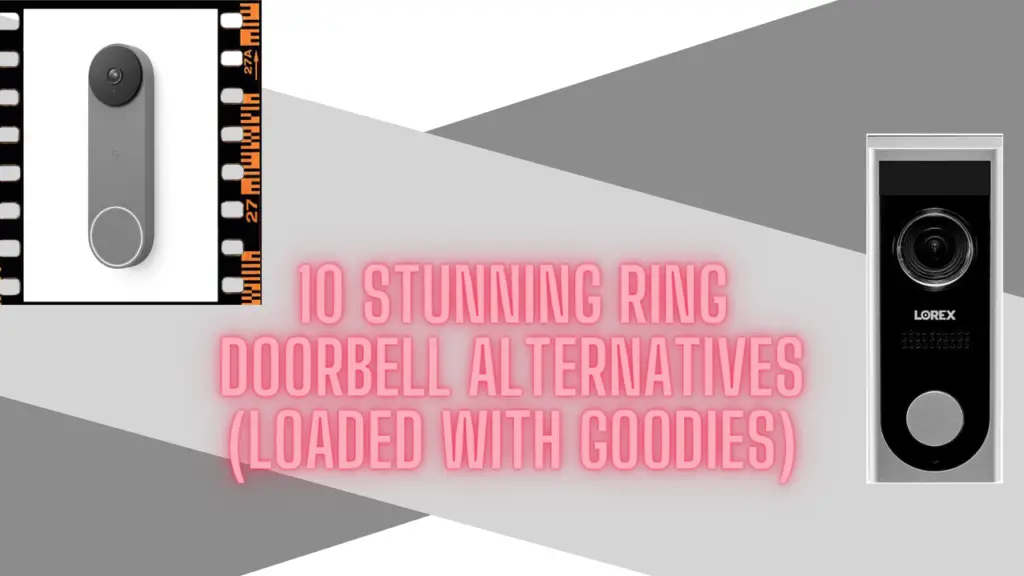 The Ring Doorbell is undoubtedly one of the most popular video doorbells.
However, its users have previously raised privacy and security concerns, especially after receiving death threats or being blackmailed after their cameras were hacked. Because of that, you may be interested in buying secure, amazing alternatives that offer similar features.  
The most amazing Ring doorbell alternatives feature cameras that produce high-resolution videos, smart motion sensors, real-time notification, and massive storage. They are easy to install, come with lasting, rechargeable batteries, feature anti-theft tech, and can withstand the elements. 
Keep reading for more information on what to consider when buying a camera doorbell and a review of the best alternatives to the Amazon Ring on the market.
Requirements for a Ring Doorbell Alternative
Before reviewing some Ring doorbell alternatives, let's first consider the features to look for when buying them.
It's a no-brainer that buying a doorbell without knowing the essential aspects to consider can be costly.
It's best to evaluate different products based on your needs, preferences, and how you plan to use them.
In that regard, here the key considerations when choosing these devices, according to the experts:
Resolution and Night Vision
The resolution determines the quality of images and videos a doorbell's camera produces. 
Generally, doorbells with high-resolution cameras produce better images.
You should also check for night vision since you may have visitors at night. With a crisp vision in the dark, you can quickly tell if that knock is friendly or if it's a potential intruder.
Two-Way Communication
A quality doorbell comes with a camera, speaker, and microphone that allow dual-way communication.
It's a convenient feature that allows you to speak to the visitors on your doorstep, whether you're home or away.
You can also use the feature to inform the delivery man that you'll need a few minutes to get downstairs.
Field of View
The angle of view determines how much you can see from your doorbell's camera.
As a rule of thumb, a 180-degree field of view is considered the best.
It captures everything in front and on the sides. A 90-degree field of view shows what's in front and a little of the sides. Therefore, I recommend picking the alternative with the widest field of vision.
Ring Alternatives Privacy
Since most doorbells come with cloud storage features, chances are they'll give the service provider a lot of data about you, including how often you leave and return home.
Although most doorbell brands come with detailed privacy policies and aim to protect your data, there's always a possibility that a third party may access that information.
Therefore, it's best always to read a brand's privacy policy and pick the one that emphasizes protecting your data.
Also, do some background checks to determine how frequently specific brands have been mentioned to potentially or previously violate customers' privacy.
I suggest that you watch the following video for more information on the security and privacy of video doorbells:
Now here are XX of the most recognized Ring Doorbell alternatives:
Logitech Circle View Apple HomeKit

Yes, this big brand manufactures video doorbells as well, and let me tell you they bring an edge in the market.
The Logitech Smart doorbell is a fantastic alternative to the Ring Doorbell because it can certainly pack a punch. With Face recognition and a homekit integration, it is certainly and Iphone user's Paradise. That's right, it is well integrated with iOS!
With a 160 degree angle view, this doorbell will capture nearly everything that gets close to it, even at night! Because the night vision is reliable enough to even catch racoons.
I like this one very much because it offers a lot of customizations in terms of the location of the doorbell. You can get a better angle of view with the proper mounting supports allowing the user better ergonomics and enhanced video quality
With a Sleek design, any time your neighbors get to your main door, they are going to ask themselves: Why this one looks better than my regular ring doorbell?
Although the installation can be a little bit cumbersome as you will need power tools and some electrical knowledge, in my opinion it's worth it as this method is more reliable than just using double-sided tape
Netatmo Smart Video Doorbell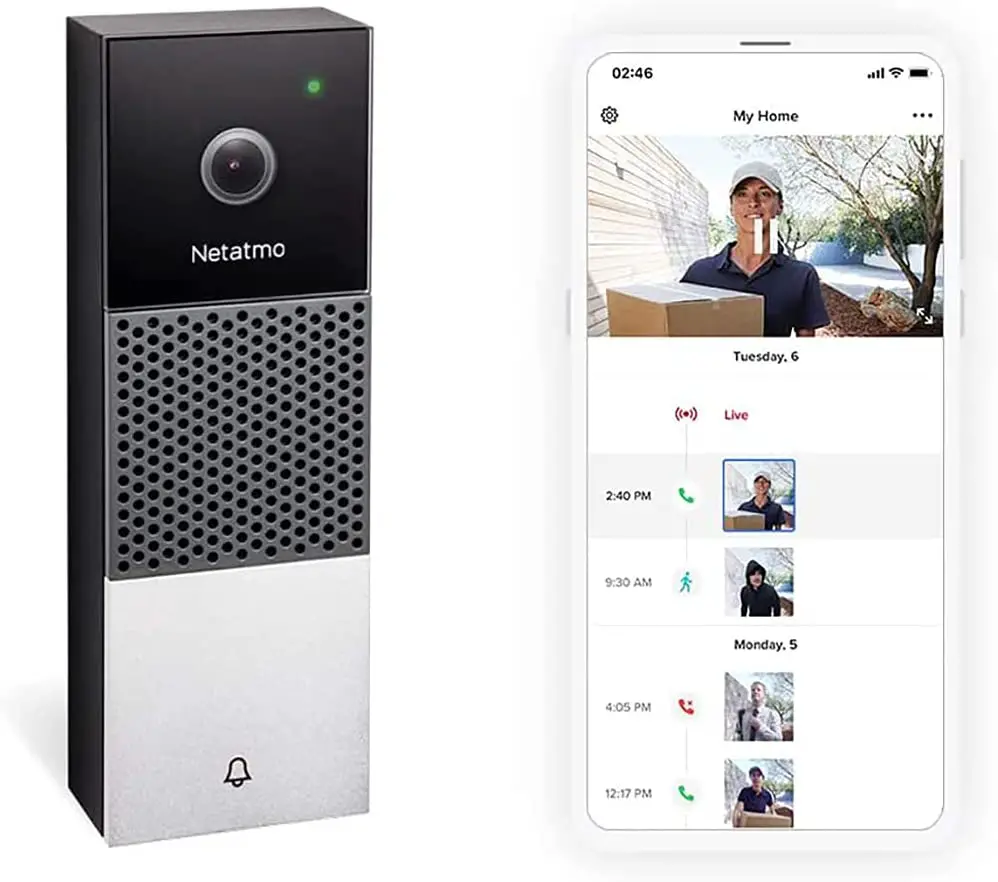 A cool and a little bit expensive Ring doorbell alternative ready for you take advantage of it.
What this unique doorbell is part of this list? Well, it has a very stylish design that will add a nice Mediterranean touch to your front door.
Whilst you will need an Echo Show to operate this device properly, it'll make the interaction between you and the doorbell faster as the screen it is going to be closer to you at all time.
If you already have the installation of your Ring doorbell it's going to be a breeze, but if not, it's time to get your hands dirty (if you don't want to hire a pro) and perform an electrical installation. It sounds harder than it already is, trust me. Just a couple of wiring connections and you'll be good to go
It has all the bells as whistles including HD Video, motion detection and all the features that we love in a Smart doorbell.
But what it most stands out is the fact that you won't require a monthly subscription and Homekit will always be your best friend. Perfect for us, apple fans!
Google Nest Doorbell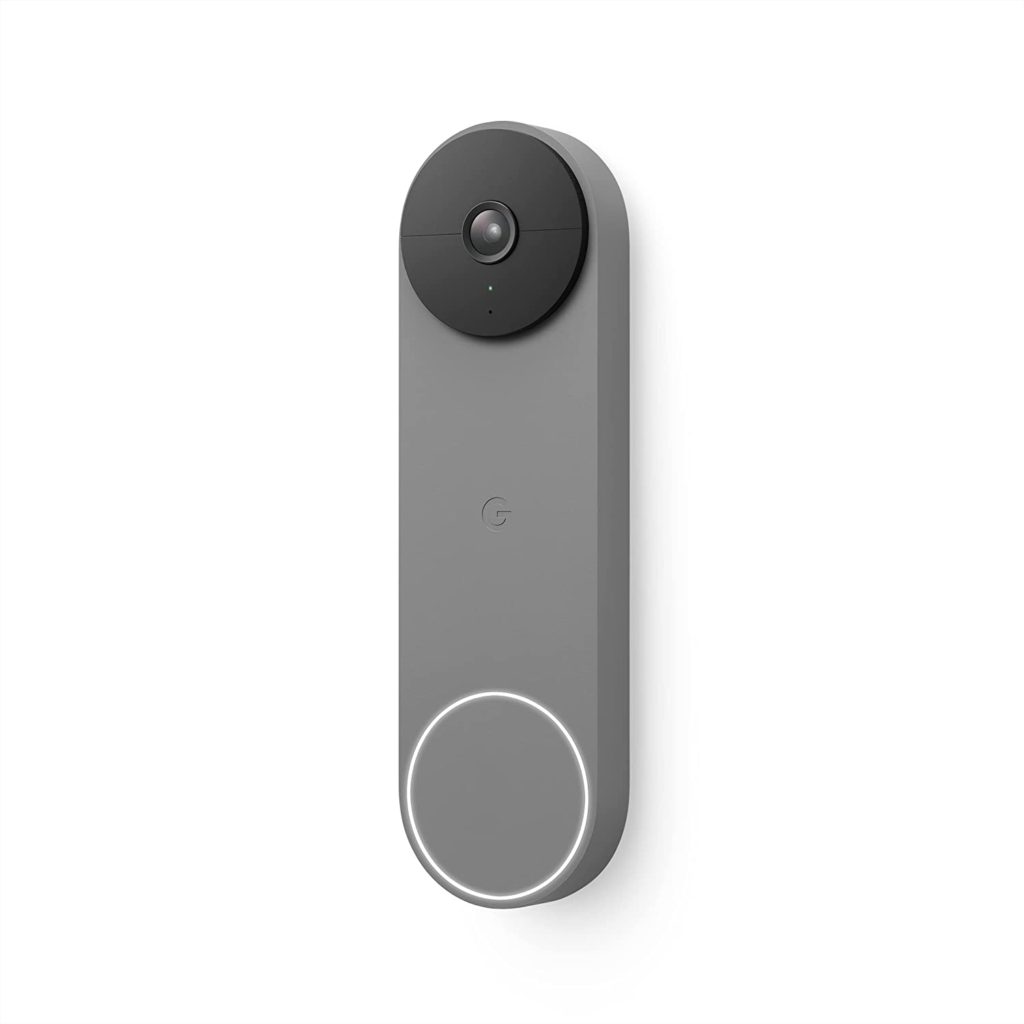 This beautiful and extremely recognized smart doorbell is one of the big contenders on this list.
Nest has been part of the home security market for a long time to understand what you will need to create a safe environment on your front door.
With high-quality materials, sotfware backed by Google and a well thought out design, The Nest doorbell is one of the best Ring Doorbells in the market.
While other ones could potentially offer more features and wider camera angles, this doorbell offers the brand recognition behind Google allowing you to know it's a sure fire in terms of cutting edge Technology.
The camera has a unique feature that is capable of recognizing different elements while recording. It can recognize, packages, animals, people, I mean, this is the power of Google.
It's not the camera what does that, is the software and the AI Technology behind this cool device
It has the skill of recording video even after a power outage! it can store up to one one of footage just in case hell breaks lose!
If you are struggling to choose one, I strongly suggest you to buy this one. You won't regret it.
Lorex Video Doorbell

Not as famous as the Nest doorbell, but strong enough to be a rightful contender
The Lorex Video Doorbell is one of those gems that are so difficult to find in Amazon but when you do get one, it's a game changer
Specialized for outdoor security this doorbell packs a ton of features!
But most importantly, it's designed to be easy to use, deliver high quality video and make the installation accessible for nearly everybody.
Don't worry about having to use complicated apps and use gimmicky scanning methods to connect your doorbell. Just by using a QR code you will have access to your front door's footage in no time
When you see that it has 1080p resolution you might think… that's old school right? Well, although it's not the best out there, you have to take into account that the lower the resolution the more footage you can storage! And if you've dealt with ultra high quality videos you know that it can eat your phone's storage like crazy!
With an easy installation, this doorbell is surely a perfect match if you want to automate your front door
Eufy Security Video Doorbell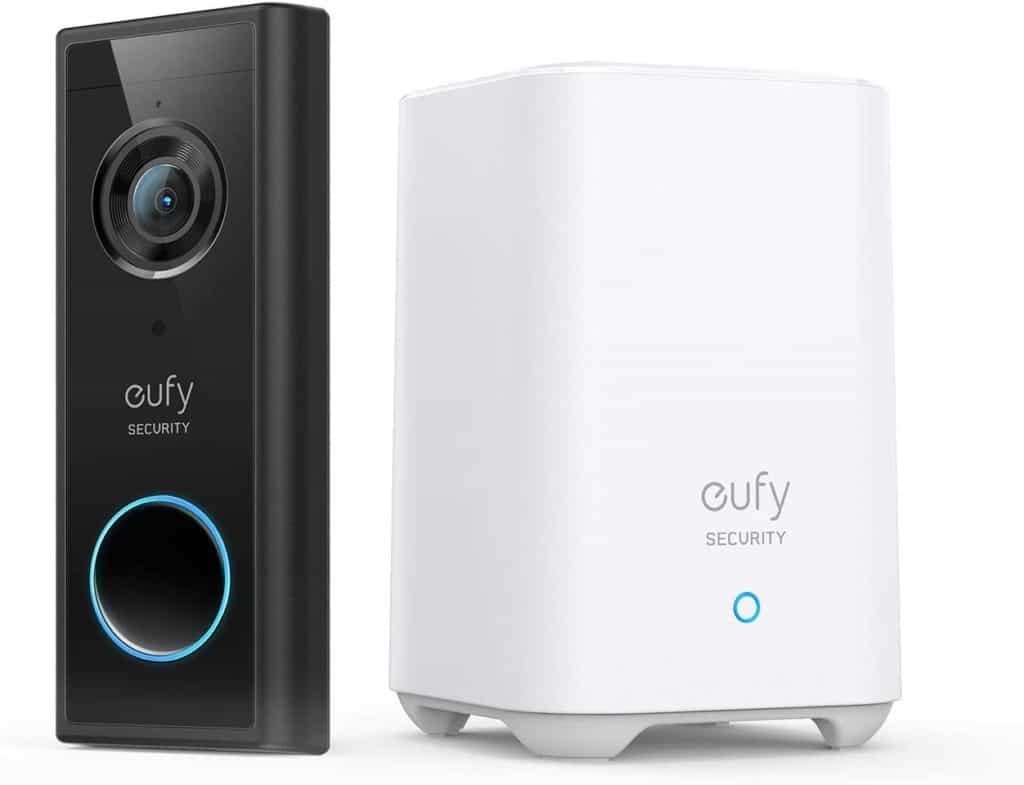 The Eufy Security Video Doorbell earns a spot on this list of amazing Ring alternatives, thanks to its unrivaled reliability and performance.
This product comes with features that blow the competition away, like its sleek design and an aesthetic button that glows when the device is ready to use.
Renting a place with an existing doorbell doesn't mean you have to compromise your security, and this wireless doorbell proves that.
Notably, you can connect it to your router and mount it on any outdoor surface.
This doorbell is easy to install. Suppose you have an existing wired doorbell. In that case, you can replace it with the Eufy Security video doorbell, which would rely on the same power supply.
Follow these steps to install the doorbell:
Remove the existing chime using the jumper wire that comes with the device. 
After that, remove the old device and connect the power source to your new Eufy doorbell
Then, mount the new doorbell on your door frame.
The Eufy Security app comes in handy when you need to answer the doorbell or see who is standing on your front porch.
The app is easy to use and shows you the activity on your doorstep within seconds of launching.
However, the process may take a little longer when outside the house or not on your Wi-Fi.
Despite that, the audio and video quality remains the same if you're using a network with decent signal strength.
The 4:3 aspect ratio lets you have a head-to-toe view of your visitors besides providing the perfect viewing angle.
The motion sensor gives you total control over what this Ring doorbell alternative detects, thanks to the customizable smart detection system.
You can also set it to send alerts when guests approach, so you don't keep them waiting.
The limitations? You'll need to unmount the camera each time you need to recharge the battery.
Besides, some have complained that the audio and video stream delays when talking to guests live.
However, it takes six hours to recharge the battery, and you'll do that every six months, meaning you won't have to disassemble it every other day.
Also, it works quite well as a security device and stores data locally, protecting your home and wallet.
EZVIZ WiFi Video Doorbell

The EZVIZ WiFi Video Doorbell comes with remarkable features that give it a leg up on the competition.
Its button features an LED ring that glows blue when the device is working perfectly and blinks red when the SD card isn't working properly, or there's a connectivity issue.
This smart doorbell has a high-resolution camera that produces Ultra HD video.
It also comes with local and cloud storage, third-party integration, and voice control.
Unlike most video doorbells that come in plain silver or black color, this device adds a fascinating panda bear or Storm Trooper aesthetic appeal on a black and white background.
The device offers one of the most generous angles of views, at a 180-degree vertical field of view.
As a result, you get a head-to-toe view of the visitors on your porch.
The doorbell also features a dual-band Wi-Fi radio for connectivity and a built-in speaker and microphone for two-way audio communication.
You also get free 180-minute cloud storage, so you can download and view all clips saved in the last 3 hours. Still, the microSD card slot can accommodate a 128-GB card.
The device is designed to withstand the elements, thanks to its IP65 protection.
It also offers night vision and allows multi-device connectivity, so you can connect the camera to your smartphone, tablet, or PC 24/7 and monitor your home remotely.
Besides, the device is built to make a laser beam-like noise when it picks up movement on your front porch, a feature that comes in handy when you need to keep intruders at bay.
Interestingly, that's also its Achilles' heel since the noise can be annoying, especially if you need some quiet rest after a hectic day.
However, I think there's no need to compromise your safety for some hours of sleep.
Suppose you need a Ring doorbell alternative that offers pro-grade home security by allowing you to capture, save, and view the activity on your front porch.
In that case, you'll never go wrong with the EZVIZ WiFi video doorbell.
SimpliSafe Doorbell Pro

The SimpliSafe Doorbell Pro offers clear 1080p high-resolution video, motion detection, and crisp night vision. Suppose you have a SimpliSafe Home Security System.
In that case, you can integrate it with this device. Alternatively, you can use this doorbell as a standalone system
The dual-sensor trigger is one of its coolest features. 
This technology detects your visitors' shapes and heat signatures, reducing the chances of getting false alerts.
The doorbell is customized to work on any doorbell setup or home type.
The SimpliSafe Doorbell is also easy to install, although you'll need basic wiring knowledge.
If you're not comfortable with that, I recommend hiring a professional – you'll love the outcome!
The main drawback is that you must pay a subscription fee to access recorded footage.
Also, this device doesn't support Google Assistant or Alexa voice commands.
However, its outstanding video quality, motion-sensing tech, and quick installation make it a great choice.
Arlo Video Doorbell

Arlo Video Doorbell is another excellent alternative to Ring doorbells.
It comes with cool features that beat the competition. The camera has a reliable 1536×1536 resolution for a clear view of your porch.
It has a 180-degree angle of view so that you won't miss any subtle details about the activities on your doorstep.
The doorbell comes with a two-way talk speaker and microphone functionality that allows you to answer guests from your smartphone.
This feature blows away other devices that only use push notifications, which you can easily miss.
Arlo also features smart notifications that can differentiate between people, animals, and vehicles.
Because of that, you only get important alerts.
Suppose you live on a busy road. In that case, you can avoid those distracting and pretty annoying false alerts by installing a Ring alternative that can pick up different motion types and correctly distinguish them.
The Arlo doorbell does that job perfectly!
The doorbell also comes with an automated schedule you can use to arm or disarm it at your convenience.
For example, you can set it to disarm when home and arm when away using the geofencing range, which controls its mode, depending on your phone's location.
The e911 feature is another well-thought-out functionality of the Arlo Video Doorbell.
The app allows you to dial 911 if there's an emergency, connecting you with a first responder.
Suppose you're out of town when an intruder visits your home. In that case, the e911 can route to the closest dispatch center, meaning you'll get help quickly.
August Smart Lock Pro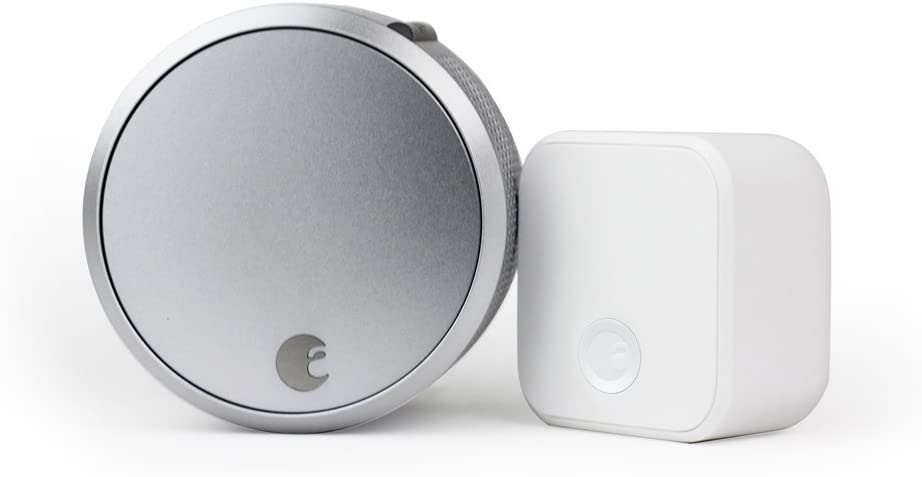 The August Smart Lock Pro is a great choice if you need to monitor your home continuously.
You can rewind and view each day's footage, which comes in high definition.
You'll definitely find the free subscription plan that allows you to view recordings from the last 24 hours.
If you need more, you can upgrade to the premium plan, which offers up to 30 days of video recordings.
The doorbell comes with full-color night vision. Like other high-grade devices, it features two-way communication, although in audio form.
Besides, you can use the DoorSense feature to tell if your door is securely locked. If not, you can lock or unlock it, control the door, and track movement into and out of the door.
This tech makes it easy to identify who came in and out of your house and what time they did.
The August doorbell also features Amazon Alexa, which notifies you of the battery status, so you can proactively replace or recharge your battery when necessary.
Also, this device lets you keep your lock and keys intact by easily attaching your existing deadbolt.
Wyze Video Doorbell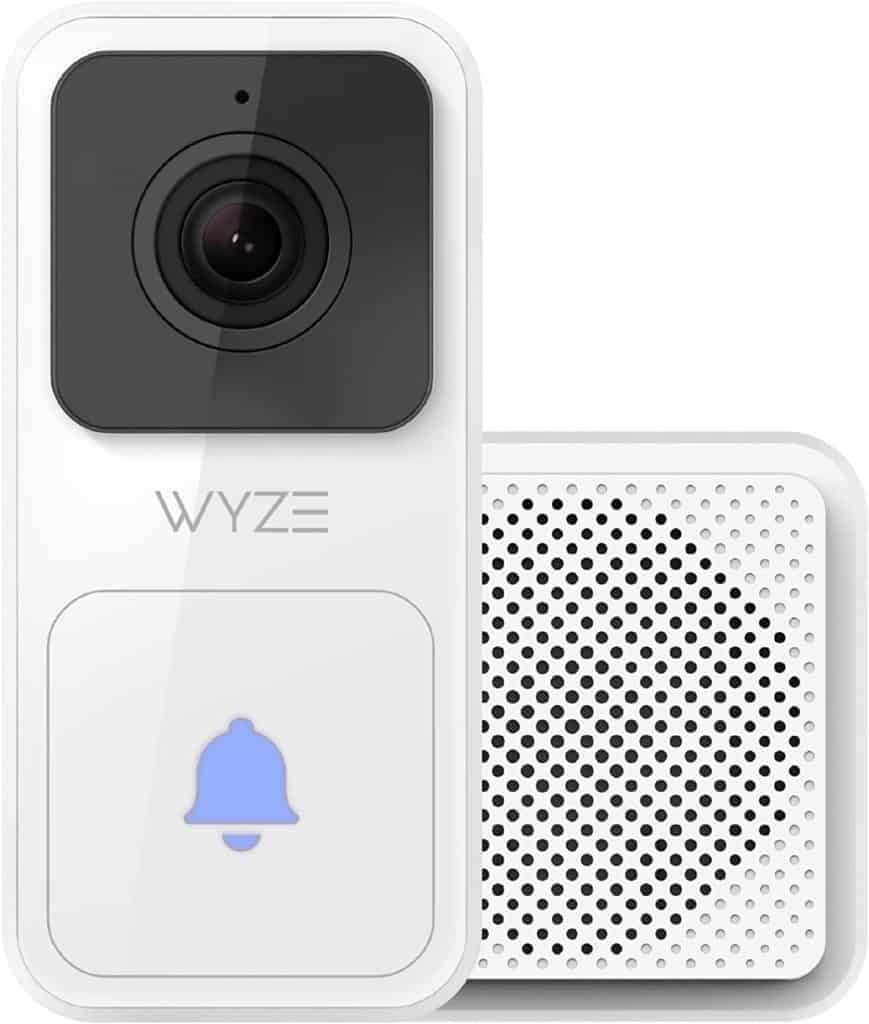 Though considered an upstart in the industry, Wyze pushes the envelope to produce quality doorbells and connected home devices. Arguably, the Wyze Video Doorbell leaves a stunning impression among users.
The device produces 1080p, high-definition videos with a 3:4 aspect ratio, allowing you to get clear images of what's happening on your doorstep.
Besides, this ratio allows you to see visitors from head-to-toe or any boxes dropped on your doorstep.
The device comes with motion detection and smart alert functionalities that notify you instantly once it senses movement near your porch.
The doorbell is designed to light up once it detects motion, alerting you and your visitors.
This comes in handy when you need to keep potential porch pirates at bay. With the live stream feature, you never have to miss a visitor.
Are you worried that the elements could damage your doorbell because your porch is exposed?
If so, the Wyze video doorbell would be a wise decision.
This device is IP65 weather-resistant, meaning it can withstand extreme temperatures, rain, or snow.
The package also includes a free chime, something you won't find in most doorbells (it's often an additional purchase in most alternative devices).
The doorbell stores 12-second videos in the cloud for up to 14 days, and you don't have to pay a cent to view them during that period.
Ring doorbell alternative: Bottom Line
Although I've reviewed several of the best alternatives to the Ring Doorbell, your final decision should be based on your preferences, like the level of convenience or security you need. This is because these alternatives come with their pros and cons.
Nonetheless, you should first examine each of these options in detail to determine if they offer the level of protection and privacy you need. In the wrong hands, your data can be used against you, and you wouldn't want that!