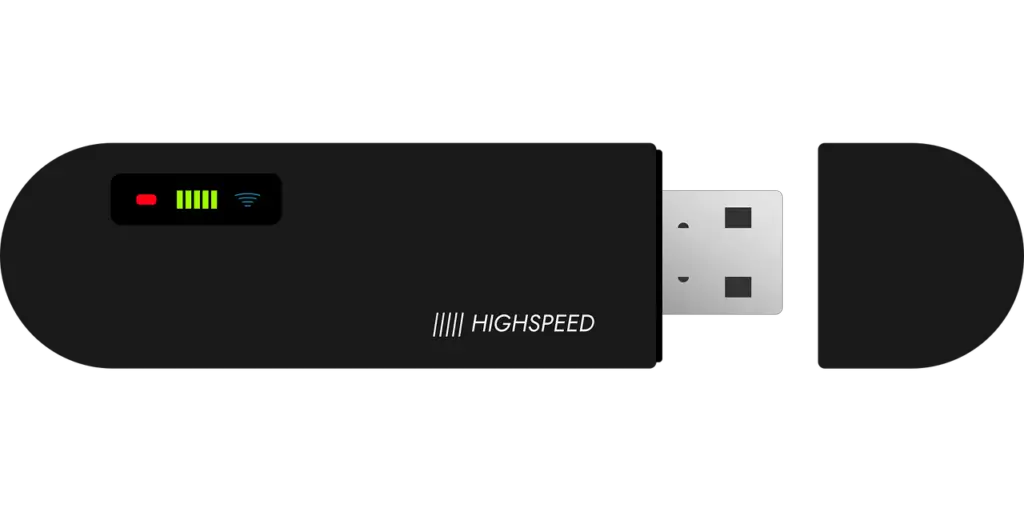 A dongle is a very useful device that functions as a streaming device or a Wi-Fi router, enhancing your TV's functionality.
It allows you to access the internet and other features if your TV has a USB or HDMI port.
But can you use a dongle with your smart TV?
You can connect a dongle to your smart TV if it's compatible. Unfortunately, Wi-Fi dongles aren't typically compatible with smart TVs. You can plug a Smart TV dongle into your TV's USB port and set it up, but you should check if it's compatible before buying it. 
Smart TVs don't usually need dongles, but they can improve your experience if your TV's interface isn't that good.
This article will explain how to connect a dongle to your smart TV, why you would need one, and the benefits of using one. I'll also recommend some good dongles. 
How To Connect a Dongle to Smart TV
Connecting a smart TV dongle to a smart TV isn't very difficult. It involves plugging the device in and following the setup instructions that pop up on your TV screen.
Some dongles are HDMI compatible, while others may need a USB cable. 
For HDMI dongles, you should switch your TV to the same channel you use for plugging in your device.
For example, if you plug your dongle into the HDMI 2 port, you should switch your TV to the HDMI 2 channel. 
Does a Smart TV Need a Dongle?
For all those wondering, "can I connect a dongle to Smart TV?" the answer is yes, you can! 
A smart TV has its own in-built apps and features that allow you to stream content and access the web without any external USB device.
However, some TV sets don't have a good interface, which can ruin the user experience. 
In such cases, you can improve the experience with a dongle that has its own interface. You can set the device up and use it on your TV screen.
Do Wi-Fi Dongles Work With Smart TVs?
As mentioned in the introduction, a smart TV doesn't need a dongle to connect to the internet.
Wi-Fi dongles usually don't work with smart TV sets because they don't have a driver that is compatible with a TV. 
However, if you have an older TV with no built-in Wi-Fi adapter, you can still connect it to the internet using its ethernet port. 
Benefits of Smart TV Dongles
In addition to a user-friendly interface, dongles for smart TVs have several other advantages:
Enhanced Performance
A smart TV uses its software and chip to stream content from other devices.
Unfortunately, this can create performance issues such as log-in, screen freeze, connectivity issues, and more.
Dongles can help alleviate these issues with mirror screening. 
With a dongle, your TV's only job will be to display content.
The dongle will use its chip to process wireless and streaming data and can help increase your TV's functionality. 
Stream With Older TV Models
Some older smart TV models don't have access to streaming apps such as Netflix, Amazon Prime, etc.
With a smart TV dongle, you can use these features.
Dongles can give older smart TVs a great and affordable upgrade as they have in-built apps, so you don't even have to download them. 
However, you must check for device compatibility as not all smart TVs support this technology.  
Portable 
A dongle device is portable, allowing you to use it with multiple TV sets as long as they are compatible.  
If you have an older smart TV, you can often use a dongle with it.
Dongles will give you internet access and save you a lot of money by not having to upgrade to a smart TV.
Best Smart TV Dongles To Consider
You can find countless types of dongles on the market.
With so many options, you must select the device carefully.
Before buying one, check if it's compatible with your smart TV, and pick the one that offers you the most features and adds something more to your smart TV. 
Below are some great TV dongle recommendations: 
Amazon Fire TV
Amazon's Fire TV is compatible with Android TVs.
Being an Amazon product, the Firestick gives you access to Amazon content, which other dongles may not have.
In addition to your favorite apps, you can use Amazon Prime and watch countless videos.
The device also has Disney+, HBO Max, Hulu, and Netflix apps. It has an excellent interface, and it's easy to set up.
Google Chromecast 
The popular streaming dongle has a beautiful interface and is compatible with most Android smart TVs.
You can easily browse and download apps using the device's remote control, which supports 4K and HDR content. 
You can also set up Google Assistant to give voice commands, which enhances the user experience. 
One of the biggest cons of this dongle is that the remote doesn't come with a headphone jack, and you may have to use Bluetooth headphones (if it supports the technology).
Google Chromecast is affordable, reliable, easy to use, and quick to set up. 
Apple TV
It didn't surprise Apple's fanbase when the company joined the dongle club.
As a relative newcomer to the market, Apple YV dongles are already incredibly popular.
Since it's an Apple product, this dongle gives you access to Apple TV shows and content, but you will still need to pay the subscription costs. 
Apple TV's biggest con is its price, which is high compared to its counterparts.
Additionally, it is not compatible with a wide range of non-Apple smart TVs, so it's a good idea to check if it's compatible with your TV before making a purchase. 
Can I Connect Dongle to Smart TV? Conclusion 
You can connect a Smart TV dongle to your smart TV if the two devices are compatible.
Even though smart TVs have their own apps and features, dongles can enhance their functionality and user experience.
This is especially true if you have an older model smart TV.
As for Wi-Fi dongles, most of the newer smart TV models don't need them as they already have built-in WiFi.