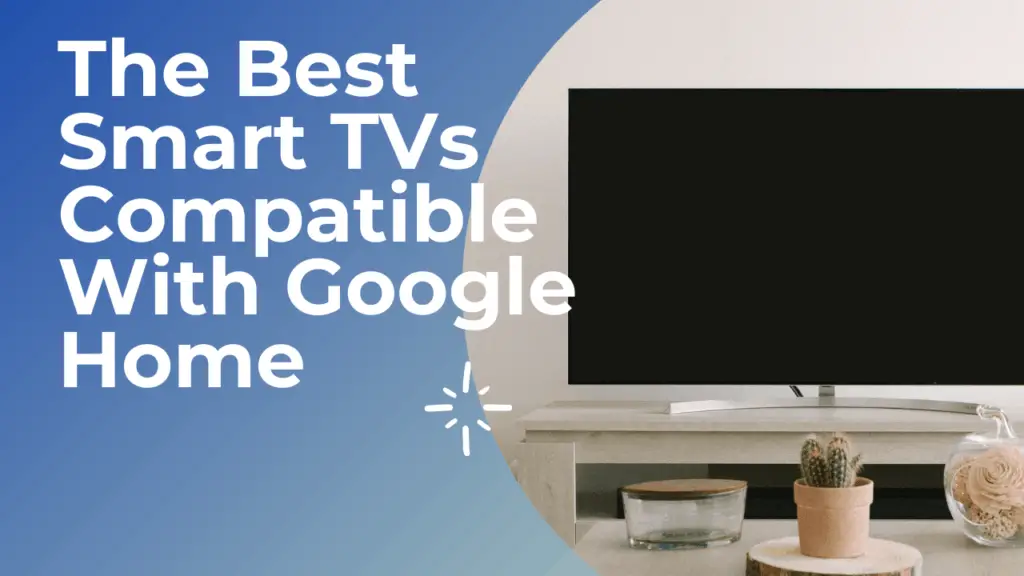 Google Home allows you a more convenient way of watching your favorite shows, catching up on a series, or cozying up with a Sunday night rom-com.
It doesn't take a long time to find the content you want since you don't have to type long query strings or deal with getting movie recommendations when you just can't decide.
But which smart TVs work with Google Home?
The best smart TVs compatible with Google Home are those with a Google Assistant feature, such as the Sony XBR75X900F 4K HDR Smart Android TV. With Google Assistant built-in, you can easily pair your TV to Google Home and control it using voice commands.
With voice command capabilities being as convenient as they are, smart TV manufacturers are designing their TVs to work with smart speakers such as Amazon Alexa and Google Home.
The rest of this article will walk you through some of the best smart TVs that are compatible with these technologies and how to set them up in your home. 
What Is Google Home?
Google Home is a smart speaker that uses artificial intelligence to process and carry out your spoken commands or answer your questions. It's Google's version of Amazon's Alexa.
It also has a high-fidelity speaker with a two-inch (5.08 cm) driver and two sets of similarly sized passive radiators. It has a far-field microphone capable of hearing you even from far away.
Google Home connects to your Wi-Fi network. One feature of Google Home is Google Assistant.
This technology acts as a personal assistant that can search the Internet, play music, serve a video, and even manage your calendar, among others.
What Does Google Home Control?
Google Home works with several services, allowing you to control them just by speaking a command. Here are the various services you can use with your Google Home speakers:
Music Streaming
Deezer
Google
Podcasts
iHeartRadio
Pandora
Spotify
TuneIn
YouTube Music
Smart Home Devices
Honeywell
IFTTT
Leviton
LIFX
Nest
Thermostats
Philips Hue
Samsung Smart Home
Sengled Home
TP-Link
Kasa
Streaming Devices
Bang & Olufsen
Chromecast
Chromecast with Android TV
Hisense
JBL
Marshall
Nvidia Shield TV
Polk Audio
Sony
Vizio
Videos, Movies, and TV Shows
CBS All Access
Google Photos
Hulu
Netflix
Sling TV
The CW Network
YouTube
YouTube TV
Productivity
Baby Connect
Clock
Google Calendar
Google Reminders
Google Search
Reminders
TickTick
Games
Akinator
Crystal Ball
Dragon Ball Z Trivia
Fun Tricks
Hero of Dungeon
Minecraft Trivia
Quiz of Game of Thrones
Xbox One
Others
Ask questions from experts or fellow users on Quora
Be updated with what's happening with Google News
Get business insights, stock quotes, and other business-related news with CNBC
Get real-time news updates from CNN
Get your questions answered with a simple Google Search
Get stock updatesOrder your favorite pizzas from Domino's
If you have questions about your health or want to know what your body is telling you, you can search WebMD on your TVWhip up your own with recipes from the Food Network
Get the latest market and business news from The Wall Street Journal 
What Smart TV Works With Google Home?
Two types of smart TVs work with Google Home. Some are compatible with either Google Home or Amazon Alexa, allowing you to use voice commands to operate them.
If you don't have Google Home and would still like to use voice commands to operate your TV, some TVs have a built-in Google Assistant service.
You may prefer these options if you don't wish to connect your TVs to the Google Home app, though you will need to press down some buttons.
Smart TVs that have built-in Google Assistant will also work with Google Home. Or you can also check out Android TV or Google TV, as both designations indicate that the TV integrates nicely and easily with the smart speakers.
Sony XBR75X900F 4K HDR Smart Android TV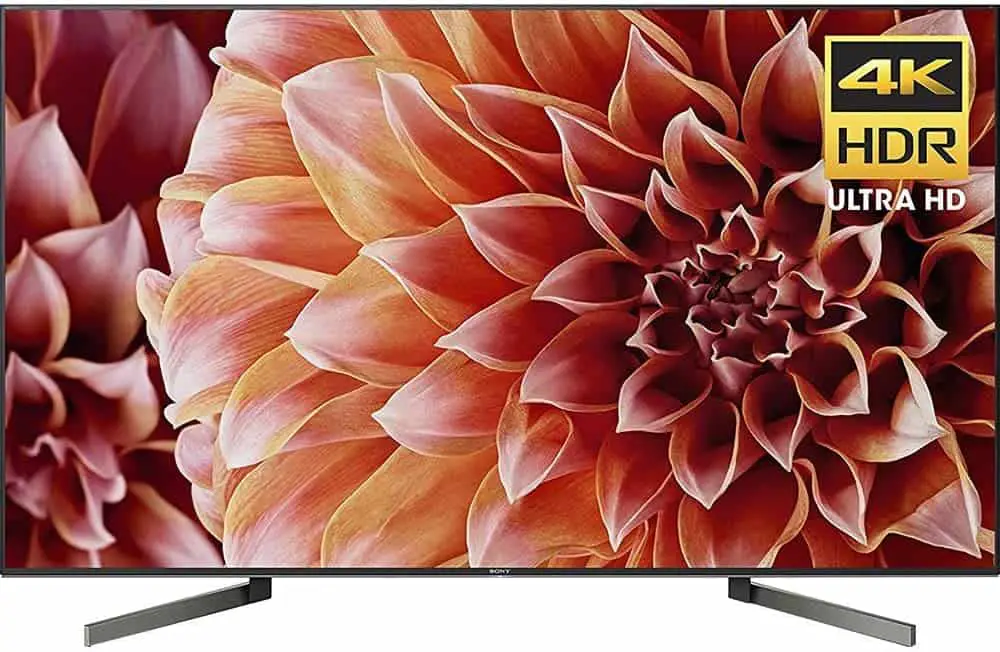 The Sony XBR75X900F 4K HDR Smart Android TV offers 4K ultra high definition resolution, giving you outstanding clarity and a high dynamic range for details and color.
It uses the company's X1 Extreme Processor that allows you to set the optimum brightness and contrast.
In addition, this TV lets you enjoy the most vibrant colors with its TRILUMINOS technology, while the X-Motion Clarity makes the action come alive on screen.
This TV measures 66 by 38 by 3 inches (96.5 by 7.6 centimeters) and weighs 77.1 pounds (35 kilograms). 
You can use voice commands to control it if you have either Amazon Alexa or Google Home. Simply tell it to start streaming music, launch your favorite video apps, or perhaps check on what your security camera is seeing.
BRAVIA XR X92 4K HDR Full-Array LED Smart Google TV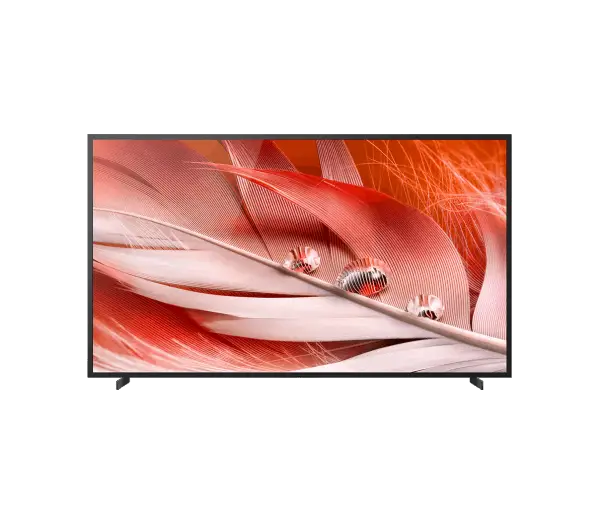 The BRAVIA XR X92 4K HDR Full-Array LED Smart Google TV has some of Sony's latest technologies: Cognitive Processor XR, XR Triluminos Pro, XR Motion Clarity, 4K Upscaling, Acoustic Multi-Audio, Dolby Vision, IMAX Enhanced, XR Contrast Boosters 5, and a full array of LED.
But what's more interesting is that it has Google Assistant embedded.
The feature allows you to find your movies, TV shows, and even play music. You can get answers on the TV itself, plus control your smart devices. 
However, this smart TV is a bit pricey, costing around $20,000. But for a 100-inch (254-centimeter) screen and the range of features that it offers, you can't go wrong with this one.
LG OLED55A1PUA A1 Series 55″ 4K Smart OLED TV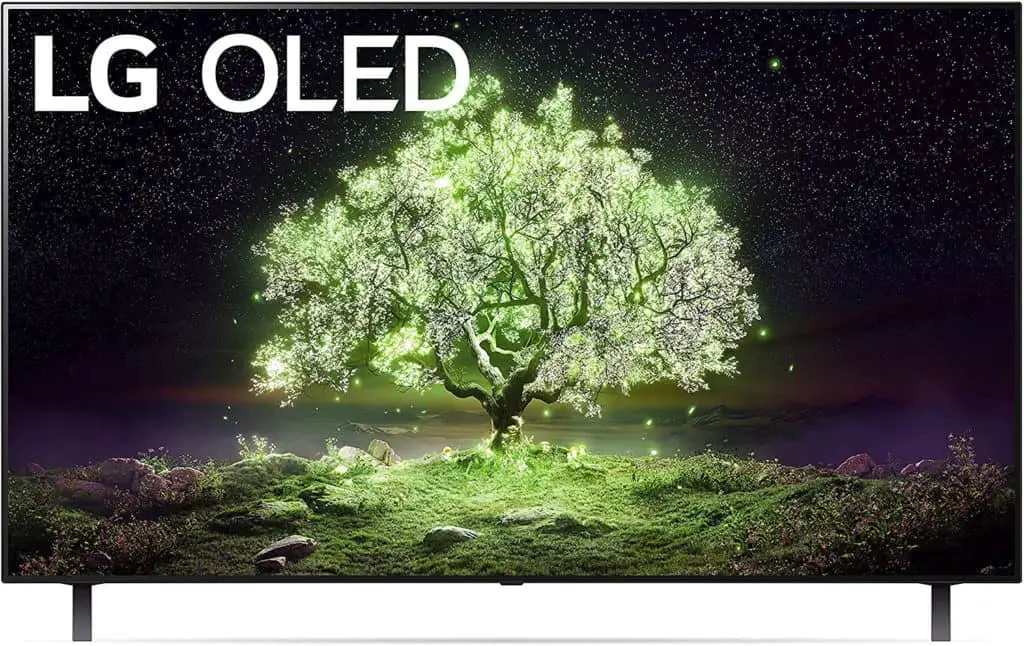 The LG OLED55A1PUA A1 Series 55″ 4K Smart OLED TV is one of the brand's more affordable smart TVs.
It uses an array of self-lighting OLEDs that gives you the deepest blacks, intense colors, and accurate contrasts. 
This smart TV also comes with an a7 fourth-generation artificial intelligence processor that delivers AI sound and pictures.
You can enjoy both Dolby Atmos and Dolby Vision as well. This TV uses WebOS and comes with a magic remote.
All of these specs mean this TV can bring you vivid colors with more than eight million pixels, each one turning on and off without relying on one another.
You get more than one billion colors and all the accurate contrasts possible. 
If you're a gamer, the LG OLED55A1PUA A1 Series will help you get more out of your games.
You get HDR gaming, automatic low latency mode, and detailed gaming graphics. Movie buffs will also appreciate how this TV offers the latest video and audio technologies. It's like watching inside a movie house.
Lastly, you can use voice commands to operate your TV if you have Amazon Alexa or Google Home.
VIZIO P-Series Quantum HDR Smart TV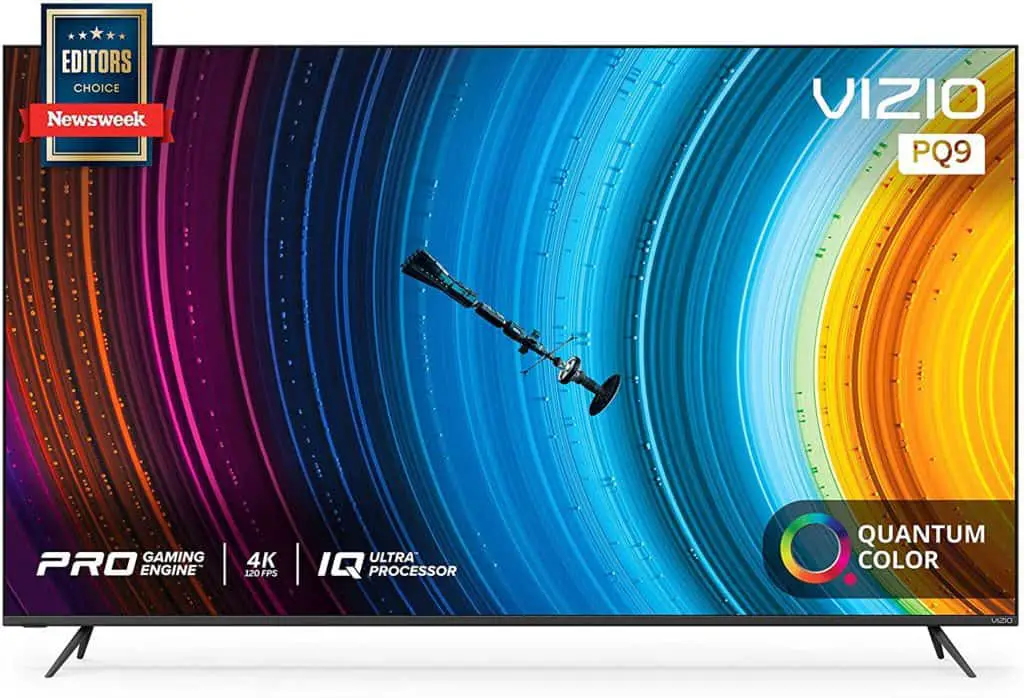 The VIZIO P-Series Quantum HDR Smart TV with Apple AirPlay, and Chromecast Built-in brings you a very bright viewing experience with the company's UltraBright 1100 technology.
This will give you up to 1,100 nits of brightness that can give you more details in a picture otherwise not seen in dark or light areas that other TVs display.
VIZIO also has its own Active Full Array backlighting technology providing up to 120 percent more intense colors than competing 4K UHD TVs.
The backlight has 200 local dimming zones that provide excellent contrast, depth, and accurate color profiles, including deep black shadows.
This smart TV comes with the VIZIO IQ UltraTM Processor, which is deemed the most innovative and fastest chip from the company. It helps to get the top-notch picture processing, HDMI 2.1 connectivity, and 4K upscaling this TV is known for.
Furthermore, you can stream content from your favorite applications, watch free channels, or cast media coming from your phone.
You can even use voice commands to operate your TV if you have Amazon Alexa, Google Home, or Apple Homekit.
Hisense 50-Inch Class H6570G 4K Ultra HD Android Smart TV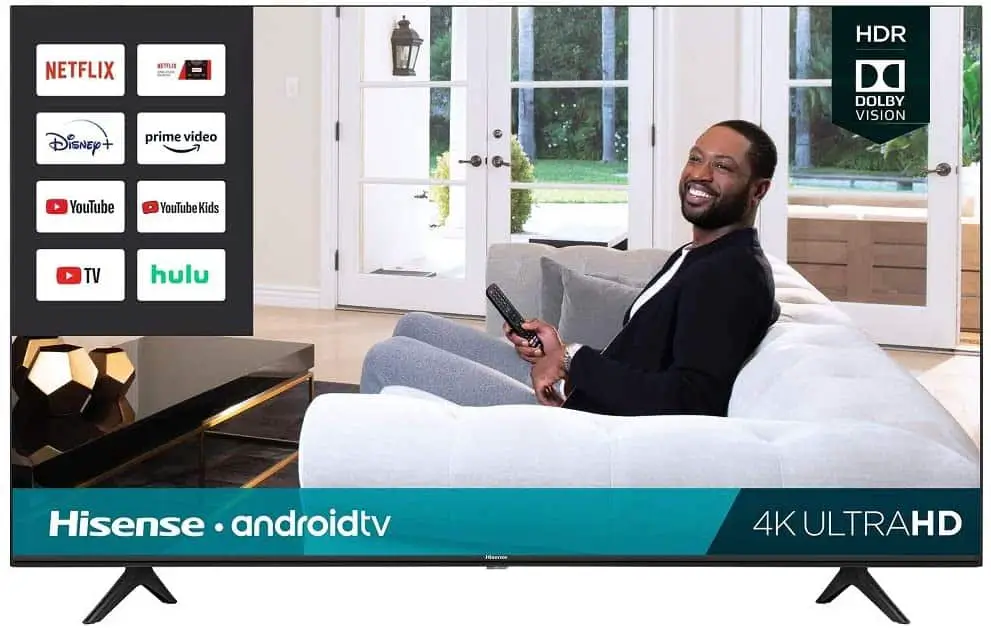 The Hisense 50-Inch Class H6570G 4K Ultra HD Android Smart TV also has Google Assistant — and Chromecast — built in. It measures 44 by 28 by 3.2 inches (111.76 by 71.12 by 8.13 centimeter) without the stand.
You'll need to press the Google Assistant button on the remote to use voice commands with your TV.
This Hisense Ultra HD Smart TV acts as a hub for more than 4,000 games and apps. It delivers 4K ultra high resolution, Dolby Vision + HDR, DTS: Virtual X, Motion Rate 120, and wireless Bluetooth Audio capabilities.
Caixun Android 50-Inch Smart LED TV 4K EC50S1UA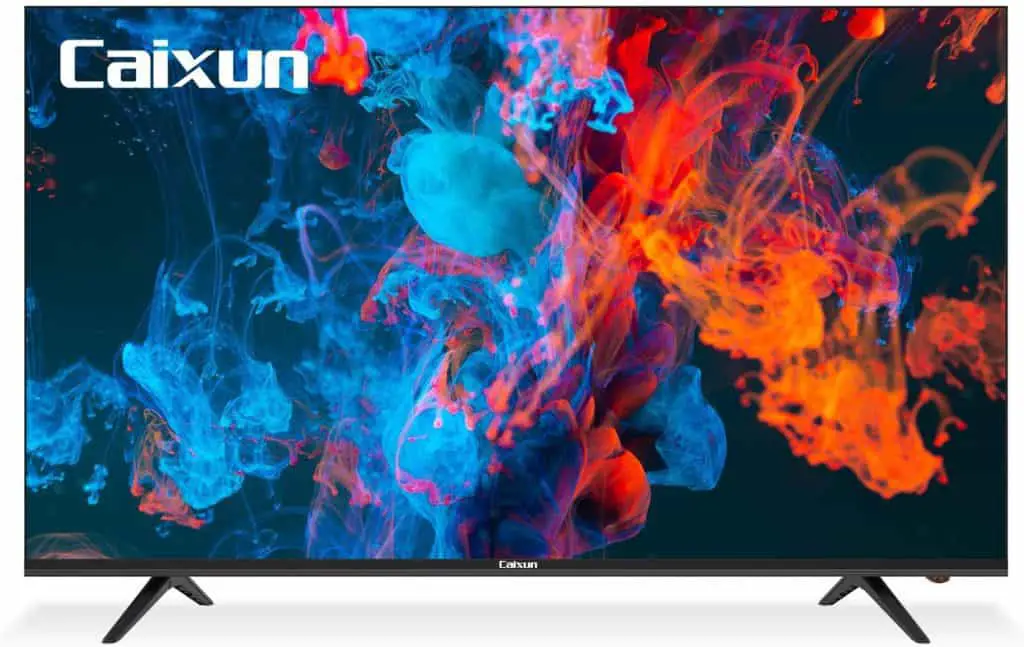 The Caixun Android 50-Inch Smart LED TV 4K EC50S1UA has a resolution of 3,840 by 2,160 pixels, making it a 4K ultra high definition TV. It also has a 178-degree visual angle, high dynamic range, and 1.5 and 8.0 gigabytes of storage and working memory.
You can use the storage space to store your media files, making the TV an entertainment portal. It also has Google Assistant on board. 
Pressing the Google Assistant button on the remote will allow you to use voice commands to search through more than 500,000 shows and movies.
You can even ask for recommendations on what to watch, control smart home devices, and launch apps.
This smart TV has built-in Chromecast, which allows you to watch videos and view photos from your smartphone on a much bigger screen.
If you want to show party guests photos from your last vacation out of the country, the Chromecast feature makes it easier without needing to hook up any wires or cables.
SANSUI 43-Inch 4K UHD HDR Smart TV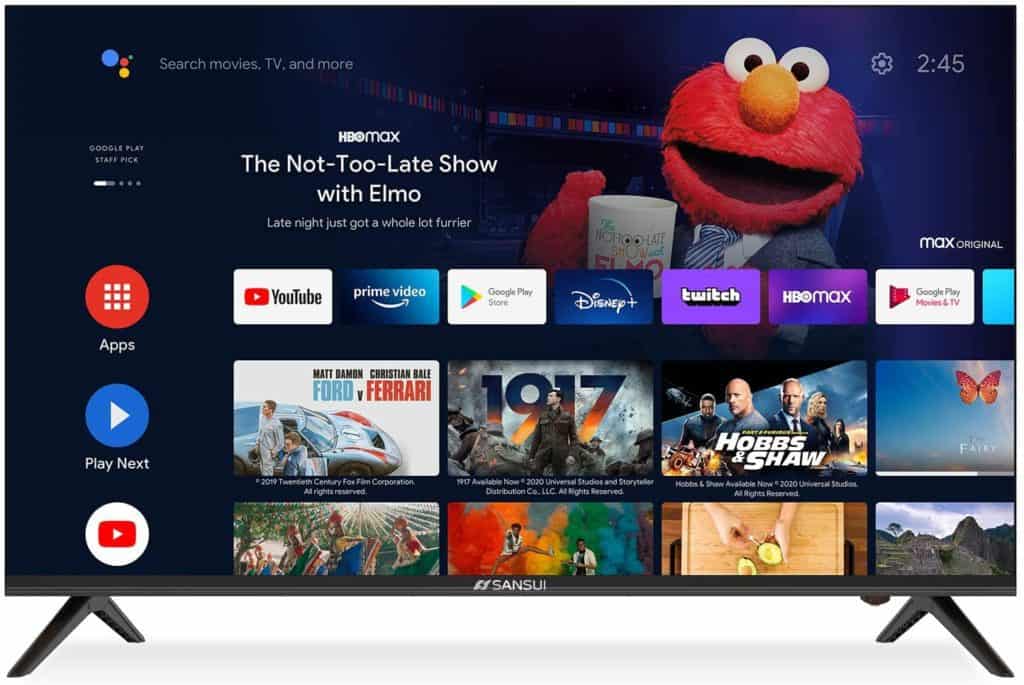 The SANSUI 43-Inch 4K UHD HDR Smart TV is perfect if you want a TV in your bedroom or in a smaller space. This TV measures 38 by 24.5 inches (96.5 by 62.2 centimeters) without the stand, and you can connect all the devices you have as it has three HDMI, two USB, an AV-IN, earphone jack, optical, RJ45, ATV, and DTV inputs and outputs.
You can get different apps on this TV also, including YouTube, Facebook, Twitter, Google Play, and Netflix, among others.
You can even cast photos, music, and videos from your tablet or smartphone. Plus, the sound quality is almost guaranteed with Dolby sound.
It also works with Google Home, making it easier for you to search for the best movies or TV shows and even open games.
How To Setup Up Your Smart TV To Work With Google Home
There are several ways to pair your smart TV with Google Home.
These steps differ from brand to brand, but generally, the setup should be fast and easy.
Some manufacturers use Google TV or Android TV for their products, some use Google's own operating system, and others make use of their apps for their TVs to connect with Google Home.
How To Set Up Your Samsung Smart TV To Work With Google Home
When it comes to Samsung TVs, things can get quite limited and circuitous.
For one, only smart TVs from 2018, 2019, and 2020 are currently supported. For instance, the 2019 and 2020 QLED TV can be controlled using Google Home. 
Another thing, setting up Google Home with your Samsung smart TV will require you to work with two apps.
Set up your account on your Samsung TV.
Connect your TV to the SmartThings app. Then check if you can use SmartThings to control your TV.
Then go to the Google Home app. Add and set up your TV by using SmartThings.
This video will show you how to do just that:
Samsung TVs That Work With Google Home
When it comes to Samsung TVs, you'll have more options if you own an Amazon Alexa.
Some of their models have Alexa built into the TV itself. But if you want to connect your Samsung TV to Google Home, you have to verify the device works with Samsung SmartThings.
What are the Samsung smart TVs that you can choose from?
Samsung QN75Q60RAFXZA QLED Smart 4K UHD TV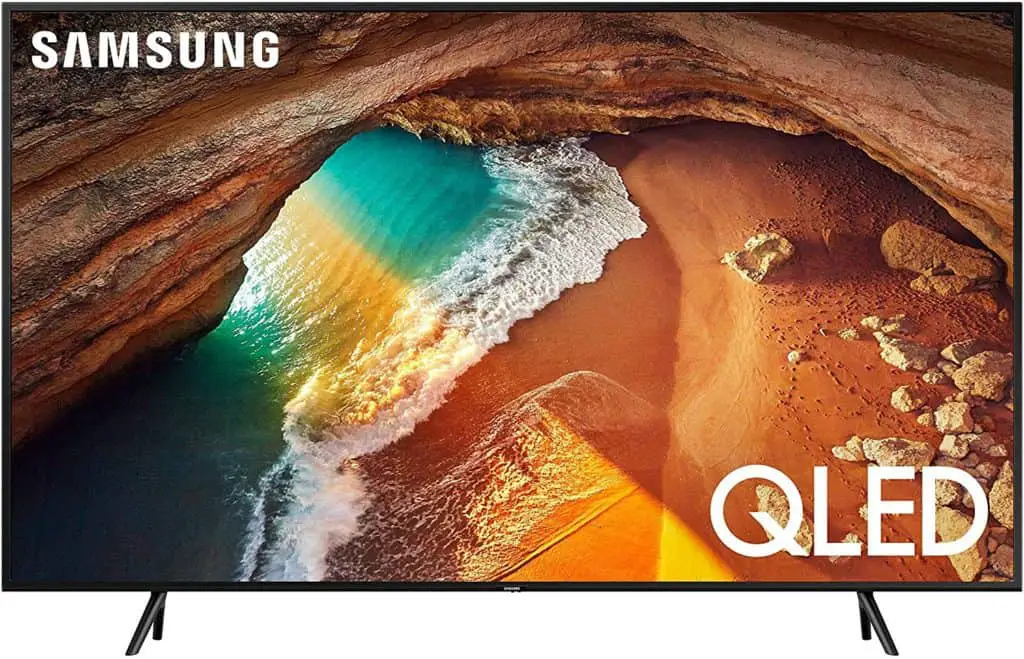 The Samsung Q60R QLED Smart 4K UHD TV delivers more than a billion shades of different colors because of its Quantum Dots technology that also gives it outstanding detail and depth.
The Quantum Processor 4K also upscales your video content to 4K resolution so that you can enjoy full HD content in a higher resolution.
This 4K UHD TV also has HDR10+ technology, so you can enjoy the lightest and darkest shades of any color while seeing things as if they were right in front of you in the real world.
It comes with an Ambient Mode that will show you your photos, artwork, or other images that help brighten up your room.
The Samsung Q60R works with Amazon Alexa, Bixby, and Google Assistant.
Samsung RU8000 Premium Smart 4K UHD TV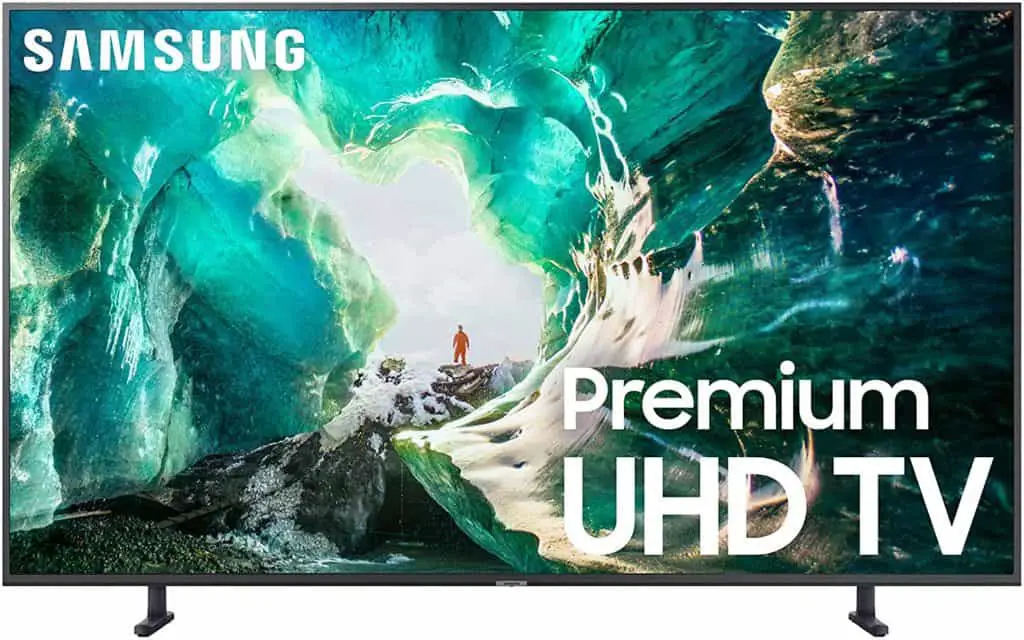 The other option is the Samsung RU8000 Premium Smart 4K UHD TV, which gives you exceptional detail and vivid colors. The display can display millions of shades for all colors. Everything here is powered by a 4K UHD processor that can also deliver all the details that HDR technology can bring.
It works with voice commands, including Google Home and Bixby.
Included inputs and outputs include:
Four HDMI ports
Two USB ports
Ethernet port
Optical digital audio out
RS232C
This TV's dimensions – with the stand installed – measures 66.3 by 2.4 by 37.6 inches (167.64 by 6.1 by 95.5 centimeters). The screen is 74.5 inches (189.23 centimeters), and it weighs 87.7 pounds (193.35 kilograms).
List of Google Home Commands To Control Your Samsung TV
Samsung SmartThings requires you to specify a location for your device. By doing so, you can determine which TV you want to control, whether it's the one in your bedroom, your kitchen, or your living room. You'll need to say the activation phrase also, which is either "OK Google" or "Hey Google." 
What can you do with Google Home controlling your Samsung TV? You can:
Adjust or set the volume to your desired level
Change or set the channel
Change or specify the input source
Mute or unmute the TV
Play, fast forward, rewind, stop, or pause any content
Turn the TV on or off
How To Link Your Android TV or Google TV To Google Home
To link your Android TV or Google TV to Google Home, first ensure the TV and mobile device you have your Google Home app on are on the same Wi-Fi network or linked to the same Google account.
Go to the Home app and then choose your account to check that the TV and your Google Home app are on the same network or using the same account.
If this isn't the case, you can switch to the right account or create another if you want. Once that's done, follow these steps:
From the home screen, tap on your Android TV or Google TV's name
Tap the Settings or gear icon at the top right part of the screen.
Choose "Enable voice control and more."
If the banner appears, do the outlined steps to link your Home app to your TV. If not, you should be able to see the email address you used for your Home app and your TV listed under "Linked account(s)." That means that the TV has already been linked.
If you encounter errors when you're linking a device, you should do a factory reset of your Android TV or Google TV.
These steps will allow you to use voice commands to your Android TV or Google TV. You can also do these steps to enable TVs that use Chromecast, whether these are built into or merely connected to the TV set.
List of Voice Commands on Android TV and Google TV
To give you an idea of what you can do, let's look at what voice commands you can do when watching YouTube videos on an Android TV.
You can play specific songs or playback specific movies (Play Spring Day by BTS on <TV name>)
Play entire playlists or YouTube channel (Play Katy Perry videos on <TV name>)
Play categories of videos (Play funny cat videos on <TV name>) 
Display the captions or subtitles (Subtitles/Captions on/off)
Display subtitles from another language (Turn on Chinese subtitles)
Control your TV (Pause/Resume/Skip/Stop <TV name>
Troubleshooting Tips
If you're having problems linking your devices, you can follow this checklist to see if you've done everything correctly:
If you're using an Android TV or Google TV, you're sure that it's voice-supported and running the appropriate Cast version. If not, you can check if it's running version 1.32 or higher.
Link your devices using the Google Home app.
Name your Android TV or Google TV.
Some tips when naming your TV:
If you have two or more smart TVs, name them with different sounding names and make them easier to remember. You can name one as "bedroom TV" and the other as "living room TV." Rather than, say, "Avid" and "David."
Choose a name that you can pronounce easily. 
Don't use special characters or emojis.
If Google Home isn't playing anything, add the specified device you want to play. For instance, rather than saying, "OK Google, play Britney Spears videos," say something like, "OK Google, play Britney Spears videos on living room TV."
You can rename your TV by going to the Google Home app, tapping the device name, and then settings. Look for Device information and then Device name. Type in your TV's new name and then save the new setting.
How To Connect Your Vizio Smart TV to Google Home
If you have a VIZIO SmartCast TV, an active Internet connection, and a Google Assistant device – such as Google Home, Google Home Hub, Google Home Mini – or if you have a mobile device with the Google Home app, you can connect your TV to the Google Home service.
All you need to do is the following:
Press the VIZIO button on your TV remote and launch SmartCAST TV Home
Find Extras from the top Menu and launch it by clicking OK.
Choose Google Assistant and follow the directions on the screen to connect your myVIZIO account with your Google Home. 
After this, you can now use voice control with your TV, such as:
Turning it on or off
Changing the input
Setting the volume
Muting your TV
Launching apps installed on your TV
Pause, forward, or play any content on your TV 
Play the next episode
Troubleshooting Tips
If you're having problems with turning your TV on or off using Google Home, you'll need to enable the Quick Start mode on your VIZIO TV. To do this:
Press the Menu key on your TV's remote and choose System.
Highlight Power Mode and then press on the right arrow to call up the options.
Enable the Quick Start Mode. 
Sometimes, if you can't turn your TV on or off, it may be because your router is set to block VIZIO's servers. You'll need to call your Internet service provider to have them unblocked. VIZIO's voice command services need the router to access port 8883, which is the standard TCP port for these requests.
How To Set Up Your LG TV To Work With Google Home
When you have an LG TV, the steps to pairing it with your Google Home speakers are a bit different from the ones we've listed above. For one, pairing is only available LG TVs that run on WebOS 4.0 operating system: 
B8
B8S
C8
E8
LK54xx
LK61xx
SK80xx
SK90xx
SK95xx
UK62xx
UK63xx
UK65xx
UK77xx
W8
To check whether your LG TV runs on WebOS, you can do the following:
Long-press the Settings button on your remote.
Choose General.
Click About this TV and then TV Information. You should see WebOS as the operating system.
Once you've verified your TV has the correct WebOS operating system, you can then pair your LG TV with Google Home. To accomplish this, first set up your Google Home app properly and register your TV by:
Press the home button and then select Set Up TV for the Google Assistant.
Sign in to either your Facebook or Google account. You can also create an LG account by going to Settings, General, and then Account Management. Alternatively, you can download the LGThinQ app and create an account using this app.
Launch the Google Home app on your phone. Choose Menu, then Home Control, and it'll go to the Google Assistant app.
Press the plus (+) sign on the Google Assistant interface and then choose LG ThinQ.
An interface will show up telling you to sign in to your LG account.
Another way to do this is to open the Google Home app, then say "Hey Google, talk to LG." Choose Link to LG from the Discover tab and then sign in.
Best smart tvs compatible with google home: Conclusion
With Google Home, you can operate your smart TV simply by speaking short commands.
All you need to do is verify the TV you buy is compatible with these smart speakers.
Then you can pair your TV and your Google Home – a process that's very straightforward and easy to do. After that, you can turn your TV on or off, adjust the volume, and do other things just by asking.