Two big contenders battle today: Alexa Vs Google Home.
And it's because they are more than simple Smart Speakers, they are platforms designed to enhance your experience with their content.
In this article you will find extensive research on how each Voice Assistant performs and which one is the best for your smart home:
Also, it includes:
Voice recognition facts
Smart home automation comparison
Smart devices Compatibility
Music streaming device compatibility
Voice recognition: Alexa Vs Google Home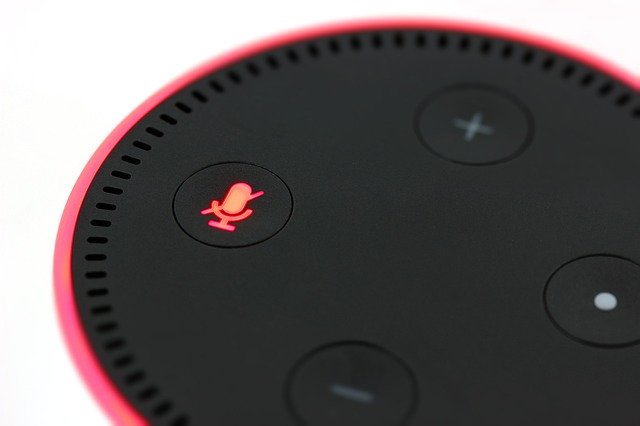 One of the most important aspects of choosing a voice assistant is without a doubt voice recognition. Having to repeat over and over a voice command is annoying and you'll start hating your smart speaker.
In this matter, both Alexa and Google Home are doing an awesome job. As you may know, they use Artificial intelligence to understand what are you trying to say all the time and give a fast and correct answer to your question.
Alexa has this awesome suggestion snippet within the app to give you tons of ideas for you to explore. If you are down with inspiration on what you can ask her, try using it.
But, in this topic, Google gets the award. Since its release in 2016, Google Voice assistant was grown to be conversational and very intuitive. You can ask almost anything and the algorithm will know how to answer quickly and accurately.
With Alexa, you'll struggle a little bit more. Sure, it has tons of commands, but you will need to start to learn them to get the most out of her. Even though it has the ability to learn your voice as Google, it's not as accurate as of its contender.
Google Home has an awesome feature where it can recognize your exact voice and answer your queries faster. I remember when this assistant started 4 years ago it sucked. Even if you had the perfect pronunciation you couldn't see good results after saying something expressly to it.
And now, you can even use it to type information right from your mouth to Google docs! It's awesome to see how Google has put this assistant over the competency.
Alexa Vs Google Home: Smart Home automation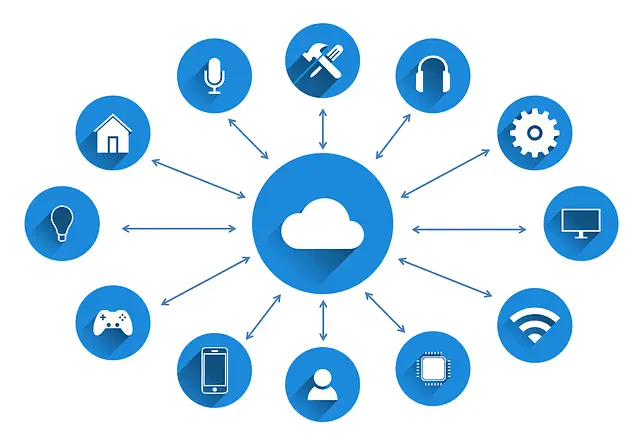 Compatibility
Speaking about smart home device compatibility, both voice assistants are fighting really hard. Right now, in the market, there is a huge variety of gadgets that work for both assistants. Whether we are talking about the simplest smart plug, lights, curtains, smart locks or any type of device, these big brands have partnered with them ensuring that you can automate your home easily!
Just try to look for any type of smart gadget that is worth mentioning and correct me if I'm wrong in the comments below!
I know, speaking directly from numbers there are more devices available for Alexa than Google Home, but the ones that actually worth your time are totally compatible with both platforms.
Alexa vs Google home: Unique features
Speaking strictly about the voice assistants, each one of them is unique in their own way.
For example, as Google has implemented numerous updates, you interact with the voice assistant in a more friendly way, I mean, you can start a conversation with it and get the results that you want. Alexa, on the other hand, has been personalized to behave like your personal assistant to give you straight forward answers and solve your problems in a click.
Alexa
The latest unique feature for Alexa is Blueprints. You can create personalized skills with your Amazon account and use it within minutes in all of your echo devices. If you want to create a little trivia game to play with your family, just follow these simple steps and you would be on the right track.
Alexa is built to give you a better experience with your Smart Speaker because once you search something online it will give you an audible response. When you use it, you sense the experience of having an actual person helping you at home. I think that's one of the most appealing aspects of this voice assistant.
When you buy an Echo device, you're not 24/7 just tied to it. If you visit a friend that owns one, you can connect it temporarily and use it as your own very easily. It's not like Google Home that you need to log out of your account and mess the whole thing up just trying to connect.
Alexa has this unique feature where you can create profiles for each user at home. As it lets you change the wake-up commands, you can automatically activate it with just saying your own. This will let you use your own Alexa skills
Google Home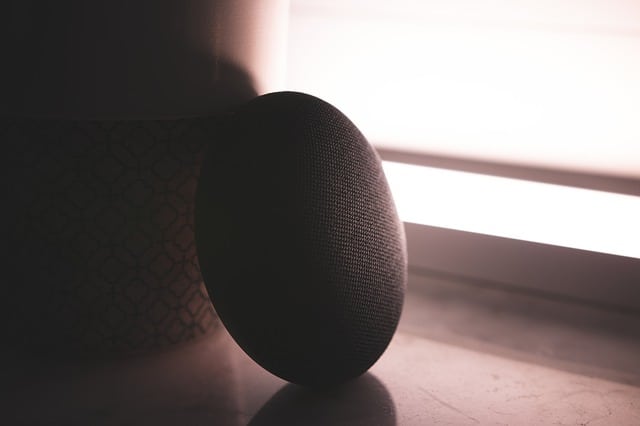 Talking about queries on the web, Google again wins in this battle. Just asking about a specific topic, it will jump right to google and give you the most relevant answer to your question. Alexa is incapable of doing this.
In fact, Google in 2020 has optimized its search engine to be easily found with your Google Home Assistant, making it more voice search-friendly.
The Voice Assistant, as mentioned earlier, is way more intuitive and interactive compared to its contender. This means that you have plenty more options to use your Google Home. For example, you can ask multiple things at the same time and have the answer in one result.
"Hey Google, what time is it and what's the weather forecast?"
As Google has decoded the perfect interactive voice assistant within the smart home devices, they decided to put it in different languages. You can use it in 39 different languages.
Alexa vs Google Home has fewer probabilities of winning when we try to make calls through them. At the end of 2019, Google released this awesome feature called Google Duplex. It's a voice assistant's feature intended to make simple calls for you, I mean, if you want to set up an appointment with your doctor or buy movie tickets, it will do it for you!
Alexa vs Google Home: Music and Sound capabilities
When you buy a Smart speaker you want to listen to music right? It's awesome to play it right on your smart speaker with just a voice command. In the following chart, you'll see which music streaming company is compatible with Alexa vs Google home. As you noticed, both platforms are tied, and the list goes on and on. There are so many music streaming platforms out there that it can triple this! But I wanted you to see that on this topic both devices are very close. Choosing which one is the best depends on which music app you prefer over the other.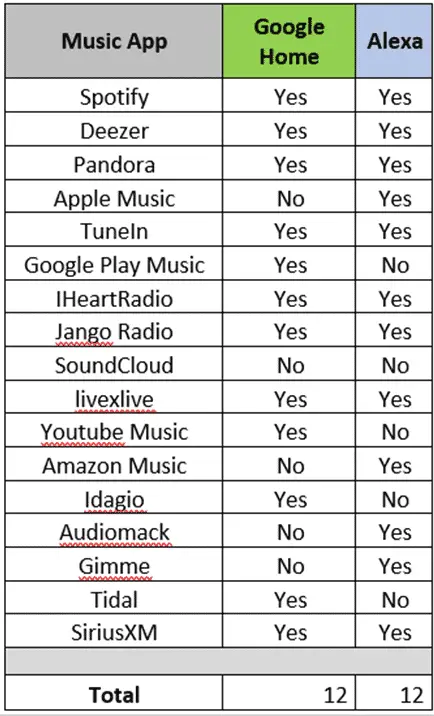 About sound quality, Alexa Vs Google Home, the victory is for Google Home. There are numerous devices on both ends, but customers claim that Google Smart speaker provides richer sound, but they're not as loud with a minimum difference between 3-4db at one-foot distance.
Alexa Vs Google Home: Technical device comparison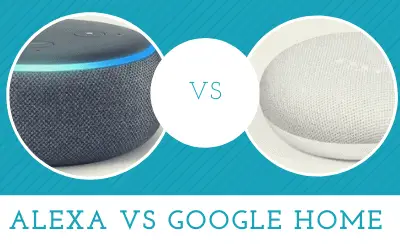 We have talked about how good Voice assistants are speaking about software and overall behavior, but I feel that we should compare the most famous smart speakers in a technical way to see which company puts better features and built-in characteristics.
Alexa: Echo dot 3rd Generation
Google Home: Google Home mini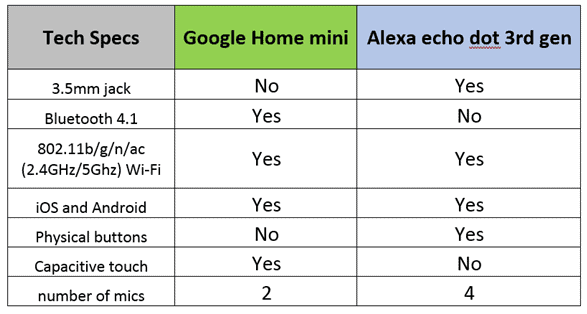 Overall, the echo dot has more features and it feels better built. It's worth mentioning that it differs 15 bucks.
And who is the winner?
Without being a fan of any of those devices, I need to be dead punctual and give you a straight answer. For your smart home, and to start your journey on the right track, the winner is Google home.
The voice assistant is just more interactive, it's easier to create routines and it keeps improving over the years. Adding devices to it is very easy and just the fact that you don't need to repeat over and over due to voice recognition issues your commands, for me is a deal-breaker.
One of the most important things on a Smart Home is having a good experience while interacting with your devices, feeling that you have it in control and it works as you wanted.
Yes, there are certain smart devices that aren't compatible with it, but is negligible really thanks to the huge offer that we find in the market.
But as everything in life, these devices depend only on what you desire for your Smart Home. If you like the feeling of  Alexa helping you at home and focusing your efforts really hard on buying all compatible devices on Amazon due to convenience. Alexa is for you.
If you prefer having a 3.5mm jack where you can connect a stronger speaker and show to everybody that you control the music with your voice, Alexa is for you.
It's just a matter of preference, but talking about facts, technical specifications and support in the battle of Alexa Vs Google Home, we can see who is the winner.