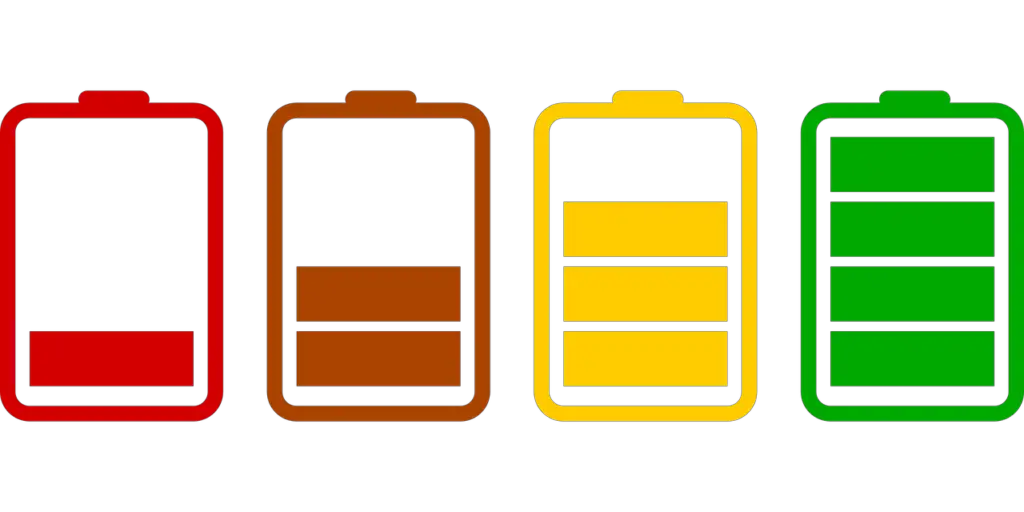 The two most popular Eufy products today are the Eufy RoboVac and the Eufy Security Camera.
Both are durable with long-lasting batteries.
However, if you are a Eufy user, you should know how often you need to replace a Eufy battery. 
You don't need to replace a Eufy robot battery very often, only about every two years. You should ensure you replace the battery with a certified Eufy battery replacement. Eufy camera batteries should be replaced every ten years and charged every 2-3 months.
This article includes everything you need to know about replacing your Eufy product's batteries.
It also has helpful information on how to tell if your Eufy battery is running low and how to look for the best replacement, so read on to learn more.
Is Your Eufy Robot Battery Running Low?
Your Eufy robot battery is running low if the LED indicator light is showing, cleaning time is short, it takes less time to charge, or it makes a continuous beeping sound.
Let's expand upon each of these low-battery indicators in more detail:
The LED indicator light is showing. If the indicator light never turns blue, it's a good sign that your Eufy battery is running low. 
Short to no cleaning time. When cleaning, your Eufy robot should leave its base for a minimum of two hours. If it returns to the base in under an hour or dies immediately after it leaves, it's a sure sign that the battery has reached the end of its life. 
Fast charging. It should take 5-6 hours for a robust Eufy battery to charge. If your Eufy takes less time to recharge, your battery power may be low.  
Continuous beeping. If the battery has a defect, your RoboVac will beep continuously with a flashing red light.
How To Preserve Your Eufy Robot Battery
You can ensure your Eufy robot's battery's longevity by taking the following steps: 
Run it on smooth floors. It needs more suction when a Eufy runs over textured or carpeted floors. More suction requires more battery power, reducing the longevity of your Eufy. 
Use the Eufy frequently. Try to run your Eufy at least once every three months. This gives the battery the run it needs to stay active.
Unplug the charger. If you're not using your Eufy battery for more than a week, unplug it from the charger. While the Eufy has a built-in mechanism that prevents it from overcharging, unplugging it will protect it from damage caused by current surges. 
Keep the Eufy on standby mode when you're not using it. This will ensure that the battery is being moderately used, which prevents deterioration and therefore promotes battery life longevity.
Replacements for Your Eufy Robot Battery
It would be best if you only replaced your Eufy battery with a reputed brand such as the Eufy Robovac Replacement battery pack or the Powerextra Replacement Battery.
These products are explored in further detail below. 
Eufy RoboVac Replacement Battery Pack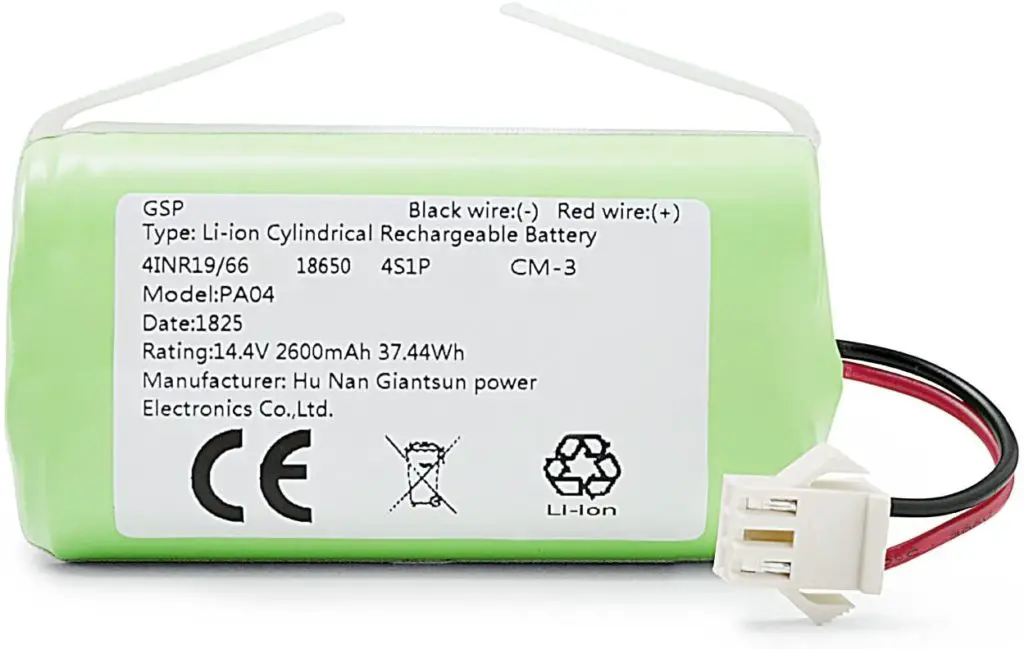 This is a certified Eufy RoboVac replacement battery that has a twelve-month warranty.
Other noteworthy features are: 
It is easy to install. 
It's compatible with a wide range of RoboVac models including the 1,11S,11S PLUS,11S MAX,12,15C,15C MAX,15T,25C,30,30C ,30C MAX, 35C, 25C Max and the G10 Hybrid. However, this battery will not work with the RoboVac 11c pet. 
It lasts between 2-and 3 years. 
Powerextra 14.4v 2800mAh Replacement Battery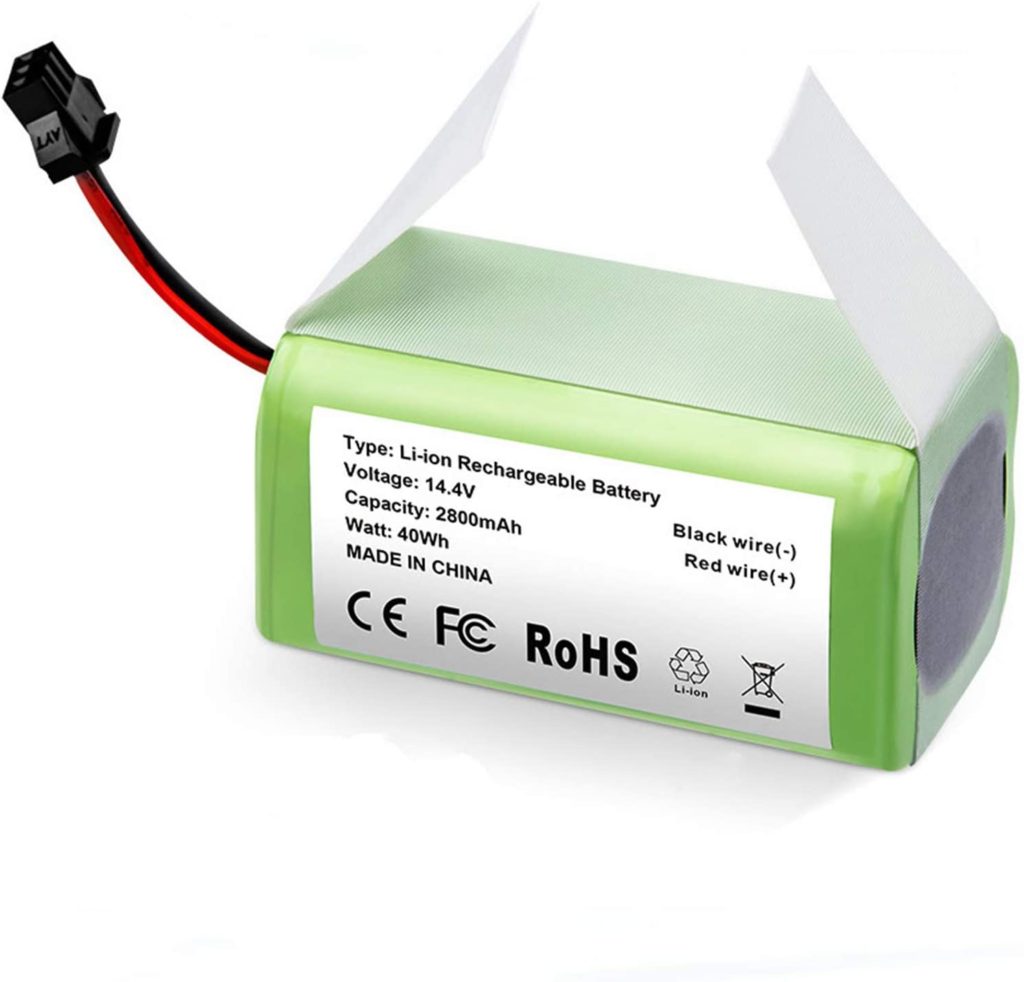 This is a Lithium-Ion rechargeable battery Here are some of its stand out features: 
Easy to install. This battery is easy to assemble and install and comes with step-by-step instructions to allow you to equip your RoboVac.
Return policy and product assurance. Powerextra offers a 30 day no questions asked return policy. It also has a 12-month product quality service from the purchase date and 24/7 customer service. 
This battery pack is compatible with a wide range of Eufy RoboVac models, including the Eufy RoboVac 11, the Eufy RoboVac 12, and the Eufy RoboVac 30.  
How Often Should You Replace a Eufy Camera Battery?
Eufy camera batteries should be replaced after ten years of continuous use.
This is because the Eufy camera batteries are rechargeable.
If your Eufy camera battery is damaged, you should bring it to a trusted supplier to replace it – trying to do it yourself may damage your camera. 
Let's explore Eufy camera batteries a bit more.
How To Tell if Your Eufy Camera Battery Is Running Low
You can check if your Eufy camera battery is running low by checking the app the camera is synced with.
The app will give you many details about the camera's functionality, including the battery power. 
How To Preserve Your Eufy Camera Battery
Eufy camera batteries are extremely energy efficient and can last for up to a year without charging.
However, there are some things you can do to ensure the charge lasts longer.
Here's how to lengthen the life of your Eufy camera battery: 
Place the camera in waterproof areas. Ensure that your battery is protected from water and the elements by placing it in a shaded or covered spot. 
Check the position. If you find that your Eufy battery is getting drained fast, try to change its position. If the camera is in a driveway or garage, it may be getting triggered very often, which drains the battery. Monitor the action triggers and change the position of your camera to reduce the pressure on the battery. 
How To Recharge Your Eufy Camera Battery
Here's how to charge your Eufy camera battery: 
Remove the camera from its mounting position. 
Plug the camera into the Eufy Home Base using a USB cord. 
Monitor the Eufy camera as it charges – the app will notify you once the camera is fully charged. 
Conclusion 
How often you need to replace your Eufy battery depends on the kind of Eufy device you're using.
You should replace a Eufy RoboVac battery every 2-3 years.
You do not need to replace your Eufy camera battery as often, only after about ten years of frequent use. However, you may need to charge it.
Monitor the Eufy home base and app to see the status of each device's battery to ensure that they are performing at their optimum.