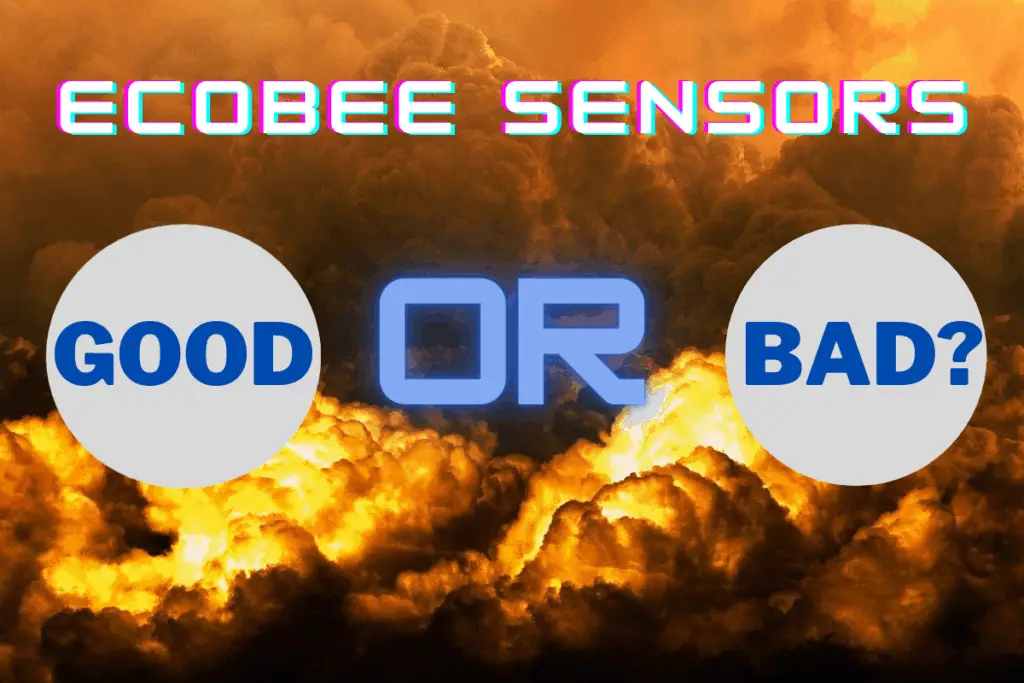 Making sure that the temperature in your home is consistent and correct can be challenging. 
The Ecobee sensor is a great tool to sense the temps in other rooms and let your thermostat know to heat or cool the room.  This novel idea is beneficial and immensely useful.  
Knowing the pros and cons of products before you buy them is a must in our society. An overview of the pros and cons are:
| | |
| --- | --- |
| PROS | CONS |
| Affordable | Burns through batteries |
| Portable | The range is not as far as hoped |
| Has an app | |
| | |
Sometimes the built-in sensors that are in your thermostat just don't cut it. That's where the Ecobee sensor comes in.  It senses the temperature in rooms away from your thermostat. 
Read on to learn about this unit's pros and cons to determine if this sensor will meet your needs and work in your household. 
The Pros Of the Ecobee Sensor
When looking for tech, it is always hard to filter through reviews and figure out if the product is worth your time and money.  What makes it more difficult is that you will always have those one-off reviews where someone gets a defected product.  
Understanding what you need and if a product you want meets your needs is essential.  Here are some benefits of the Ecobee sensor.
The Sensors Are Very Affordable  
One of the biggest pros of this unit is that it is super affordable.  Depending on where you purchase, the price is generally around $80 for a pack of two sensors. 
That breaks down to only $40 a pop!  For the features of this sensor, this is a win.  
When you are in the market to save or regulate your thermostat, making sure you get affordable equipment is key. 
A single sensor's price is right in line with competitors and is very reasonable for what it can do. It is an excellent investment if you are looking to regulate certain rooms temperature in your home. 
You Can Choose Which Rooms Are Top Priority
Because these sensors are so portable and versatile, you can choose to place them anywhere you want.  You can put them in the essential rooms in your house – 
Office
Nursery or child's room
 living room
In doing this, you are making sure that you prioritize the most important rooms to you.
Imagine walking into your home office or your infants' nursery, and it was, either way, hotter or colder than the rest of your house. 
These are very important rooms and ones that you really want to monitor so that you and your child are safe and comfortable.  
They Are Wire-Free and Have a Quick Install 
This unit runs on batteries.  No obnoxious wires protrude from your sensor, hanging down your wall, and just being an eyesore. 
Because there is no wiring to worry about, the install is simple and easy. 
All you need to do is mount the sensor to the wall or place it on a shelf, and you are ready to go.  
Probably the best part about the sensor being wireless is that you can literally place it ANYWHERE. 
You do not have to worry about finding a nearby outlet and making sure that your power cord is long enough. 
As long as it is easily accessible to change the batteries when needed, you can put the sensor anywhere your heart desires.  
An App Can Keep You Connected with Your Sensors 
Like most smart sensors, this product comes with an app that allows you to monitor the temperature in the rooms where you placed your sensors. 
It has multiple features, and you can even adjust your actual thermostat right from your phone.  
The app can do the following: 
Assist you in installing your device(s)
Allows you to adjust settings, turn off lights, etc. 
Keeps track of what's going on (kids or spouses coming and going and energy use)
Monitor entryways (doors windows)
These are just a few of the highlighted features of the app.  Download the app and install your sensors to see all the available features. 
Uses Motion Sensors
The last thing you want to do is waste your power regulating your home's temperature when you are not there. All this does is jack up your energy bill and make your air conditioner and furnace work harder.   
With the ecobee sensor, they use motion sensors to detect when you are home. That way, you can save on energy costs without unnecessary energy use.   
The Cons of the Ecobee Sensor
Just like pros, we always have cons.  Sometimes, even if a product seems like it has all the right features, it lacks the exact features that we need, or it has the features that we just loathe.
I've compiled a shortlist of the cons of this product for you to base your decision on.  
They Run on Batteries
Although it is an excellent feature that there are no cords, it is probably the biggest downfall that this unit has.
  Generally, most of the negative reviews of this product were due to battery consumption. 
Some people reported changing batteries within the first month of owning the sensors and subsequently in at little as six to four weeks after the first change. 
Another downfall is that the batteries used in this unit are not standard and are not found in most retail stores. 
Generally, to find these specialty button batteries, you will need to look at a battery/specialty store or online to find replacements for the system. 
On top of that, these batteries are generally not cheap, especially since they need to be changed often.  
On a side note, per reviews, it seems like this battery draining issue is more of a product defect and not a generalization of how the product will typically work.  
The Radius for Connection Is Smaller Than Hoped For
One of the most disappointing things with this sensor is that multiple users report having issues with the connection between floors. 
Generally, if your thermostat is on the bottom floor and you place the sensor on the top floor, you will not get a great connection.  
It can be a big turn-off because thermostats are usually downstairs on the main level, and most bedrooms and offices are located on the upper floors. 
Many reviews report that there is a very weak and poor connection when going up a flight of stairs.  
The Sensors Only Measure Heat and Cold 
This may seem a bit off the cuff, but it is very relevant. This sensor only has the ability to measure the actual temperature in the room it is in. 
It does not have the ability to measure the humidity in that room. 
Humidity is a huge part of how your thermostat will cool your home.  It measures the moisture in the air and accurately tells your a/c or heater what temperature and humidity percent to send the air out.
Although this is not vital, it is a significant factor in how your thermostat will operate.  A proper functioning and efficient system are essential.
They Only Come in One Color
Although it may not seem like a big deal, the sensor only comes in white. 
When you have a neutral tone or color scheme in your home and throw in a stark white sensor, it can clash and throw off your home's vibe.
It can be a very minor thing for most people, but we have a group of buyers that when they purchase items, will filter search results by color.   This can be a deal-breaker for some people.  
The pros and cons of ecobee sensors: Conclusion
In the case of the Ecobee sensor, it seems that the pros far outweigh the cons. 
From the sounds of it, a few faulty sensors have gotten through that have drained battery life and had trouble connecting. Overall, most reviews are positive, and people are delighted with the way the product performs.