Having a Google Home IR Blaster compatible it's kind of those dreams we wish to come true.
If you do get one, you are going to create the maximum control of your smart gadgets through the best virtual assistant in the market: Google Assistant.
You can control TVs, regular lights, air conditioners, and in general any kind of device that works with IR signals. Let's dive in what it is and which advantages we have for controlling nearly any type of electronic device.
The best option int he market is the Broadlink IR Blaster. It comes fully loaded to manage any infrared device in your house allowing you to control it with the a voice assistant. With the proper configuration, you'll manage your smart home like Tony Stark
In this blog post, you will know exactly what is the best Google home IR blaster that you can get and how to properly configure it and set aside lots of remote controls once and for all.
Wi-Fi Smart IR Control Hub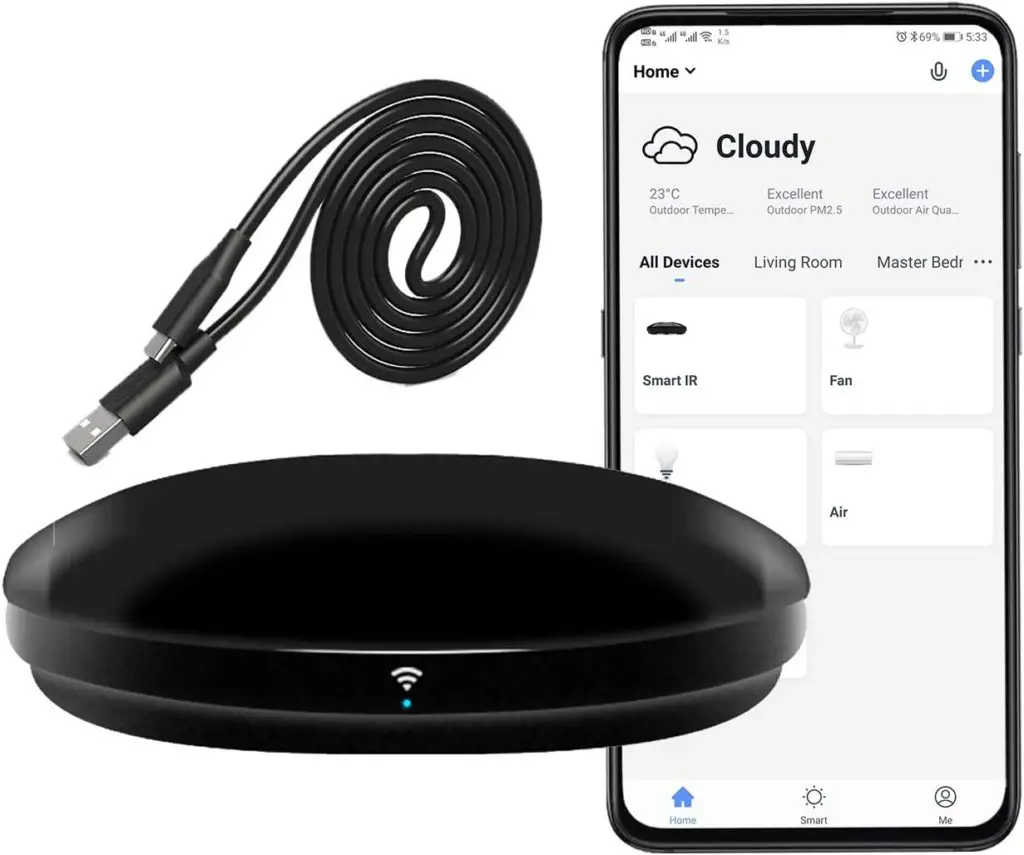 This a great Google Home IR Blaster option. As it is universal, you can use it for Google Assistant and Amazon Alexa!
As a regular IR blaster, you're going to have to have lots of fun managing your TV, ceiling fans, projectors, I mean, as long it has a regular remote control, you can control it with Google Home.
And one of the most fun aspects of this IR Blaster is that it has IFTTT included in their App. In case you don't know what the heck that is, is a cool way to make that your devices respond to certain routines. IF THIS TV turns on, THEN your ceiling fan will turn on as well and THAT light will turn on. 
It's a silly example, but in general, that's how it works
You can create an automation routine with the App. Once is set up, you're going to feel that you live in Ironman's house!
Google Home IR Blaster: Harmony Elite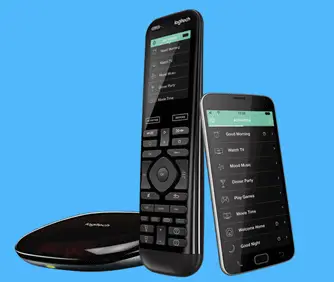 This is the best option to master any IR signal at home.
It comes with a beautiful touchscreen display and all the gadgets that money can buy.
Harmony manufactures so many good devices that it's hard not to value them.
Built-quality in a smart gadget is a feature that speaks for itself.
When you get one of these, you know that you'll have an awesome Google Home IR Blaster and it will be controlling your home for a long time!
It's incredible how many devices you are going to control with this IR Blaster.
There are nearly 270.000 entertainment devices that can be controlled with it! 
In case you feel curious about which devices can you use there's a complete compatibility list for you to explore
The best part of the Harmony Elite is that you have the versatility of a remote control ant the Voice Assistant.
Hey, it's extremely fun to be talking to your Google Home, but sometimes I just want to control it the old ways! And just tapping the buttons of my control it's a nice option to have.
It's important to notice that it comes with a hub, a control, and an App to gather all the activities in one place. Most IR Blasters do not come with all these features.
Don't worry if you own an Android or iOS device, both platforms are compatible and you can even choose Alexa instead of Google Home!
But hey, we are GH Fans so no worries about that.
Best Google Home IR Blaster in a budget: Harmony Hub.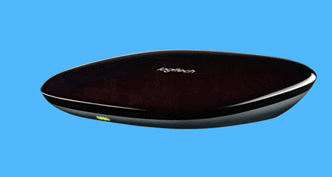 The Harmony Hub is the Best Google Home IR Blaster when you decide to rely 100% on your smart speaker.
It comes with the same versatility and the same compatibility that the Elite but without all the fancy gadgets.
You are getting a reliable hub that is capable of handling around 270.000 different entertainment devices.
But instead of having the cool option of managing them with a remote, you can use whether your phone or your GH.
Now speaking about the features, you can create custom activities to trigger a routine with only a voice command!
I mean, you can turn on the TV and later on your AC with just asking:
Hey Google, set my room for comfort
Now on the downside of this, it can be tricky to set the devices with your smartphone at the beginning but once you understand how the process works its just a matter of repeating it.
Also it comes only with an IR Blaster, so in case you want to control devices that aren't in the same room with the hub you are going to need another one and pair it.
Above all Harmony devices, in my opinion for the power user is this option. Sure, on the elite products is easier the setup and it has more features due to the control
But if you are looking for a reliable IR Blaster built with long-lasting materials, you should get this one
Best Overall: Broadlink RM Mini3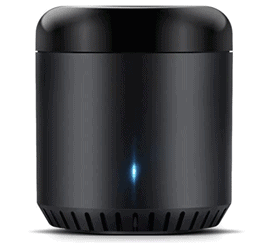 Broadlink is well recognized in the smart home industry for their products.
And it wouldn't be fair that the Black Bean wasn't listed in this blog post.
For all Google Home players out there, the R3 Mini is an extremely cool option that is focused on versatility with the best budget out there.
It's a mini IR Blaster that can be run with your Smartphone as a hub to let Google Assistant create the connection between both devices
The set up is extremely easy, but be aware that this IR Blaster only covers around 80.000 connections instead of 270.000 that Logitech has, nevertheless that is a lot of possibilities still!
Now, the cool option that you get with this Google Home IR Blaster is that as the price is so affordable, you can get 3 or five of them and make your whole house smart!
All those appliances that run with old remote controls can be managed with a little small black box and your smart voice assistant! Whether is Google or Alexa, they have you covered.
Conclusion
When I started automating my home with smart gadgets, I thought I had to get new smart products.
Old appliances as DVD players, ceiling fans, or anything related it had to wait for me to do the proper modifications to be able to control them with a virtual assistant.
Until I knew about these cool devices
Google Home IR Blasters are a fantastic solution to take your smart home to the next level.
Once you get one, it is going to transform every corner of your house into a reliable source of information for you and your family.
There are plenty of other IR Blasters in the market that you can research for yourself, but in this list, there are only the ones that are worth buying.