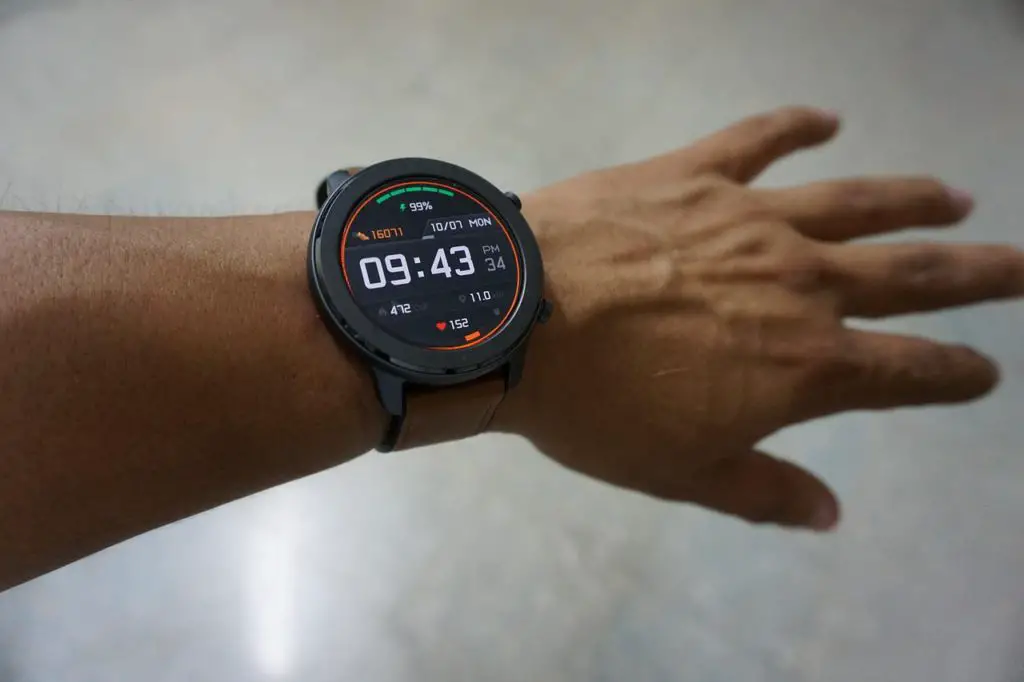 Most of the smartwatches on the market today come loaded with so many features that you might wonder if you even really need your phone all the time.
Leaving the phone at home can be very convenient for workouts, travel, and other activities where physically carrying your device can be cumbersome.
Smartwatches don't always need to be near a phone. If your smartwatch has LTE, you can leave the phone at home and get notifications, calls, and texts on the watch. However, if your smartwatch does not have LTE, you must be within 30 feet (9 meters) or connected to WiFi to get full functionality.
If you want to know what your smartwatch can do, even when you're miles away from your phone, stick with me.
I'll tell you how far you can be away from your phone when using various smartwatches and give you the details about their features so you know what to expect when you walk away from your phone. 
The Apple Watch
The Apple Watch is the best-selling smartwatch worldwide.
That's because the watch is one of the best smartwatches you can buy regarding functionality, features, and the simple user interface.
The Apple Watch is a standalone product you can use independently from your phone.
Even if your Apple Watch isn't LTE-equipped, it still lets you stray about 33 feet (10 meters) away from your phone while retaining full functionality. 
This watch lets you put the most distance between yourself and your phone without losing any features.
If you have an Apple Watch with LTE capabilities, you don't need your phone near the watch.
The Apple Watch Series 7 available at Amazon, which includes LTE, is a fantastic option if you want a smartwatch that can connect with your phone, even when you're miles away.
The Samsung Watch
The Samsung smartwatch is just about on par with the Apple Watch.
It also allows you to connect to LTE so that you don't even need to carry your phone to receive calls and texts.
The Bluetooth range is the only area where the Apple watch outperforms the Samsung watch.
With the Samsung watch, you can only travel 30 feet (9 meters) away from your phone if the watch is not LTE-equipped. 
While this distance is slightly less than the Apple Watch, it's still pretty far, and if you have the cellular data equipped model like the Samsung Galaxy Watch 4G available on Amazon, you can truly leave your phone at home and use the watch to answer calls, respond to texts, pay for things, etc.
The Samsung galaxy watch 4 is also one of the most affordable LTE-enabled options on the smartwatch market.
The Fossil Smartwatch
Fossil is one of the watch industry's most iconic and well-known names.
So it was no surprise when they jumped into the smartwatch game and introduced some fantastic, high-quality products.
The Fossil Gen 5 has a comparable Bluetooth range to other smartwatches like Samsung and Apple, coming in at 30 feet (10 meters). However, your environment can affect that range.
Fossil also makes an LTE-capable model that you can use without a phone present as long as the phone and the watch are connected to cellular data or wifi.
The Fossil Gen 5 is the most affordable option for an LTE-capable smartwatch. It comes with nearly all the features of its competitors for hundreds of dollars less. If you're on a budget and want a smartwatch that can work independently from your phone, the Fossil Gen 5 is the smartwatch for you.
Garmin Smartwatch
Garmin is a trendy watch and GPS manufacturer, offering various smartwatch options.
The Garmin line of smartwatches is popular among outdoors enthusiasts and adventurists and for a good reason. The Bluetooth range is on par with that of the Apple Watch.
All Garmin smartwatches, except for two models (The Lily and Vivomove 3 series), come standard with a built-in GPS, which Apple didn't introduce until the 5.
Garmin announced the launch of their Venu 2 Plus in January of 2022. The Venu 2 Plus is their first watch with the ability to take calls and respond to texts. 
The Vivoactive 3 (available on Amazon.com) is a 4G capable smartwatch, and the Forerunner 945 model has LTE capabilities, so these are both 'leave the phone at home' watches.
With the great variety of smartwatches that Garmin offers, there are many models at different price points. All three watches also have cellular data capability, so you can leave the phone at home with all three models I mentioned.
Fitbit Smartwatches
Fitbits are in a bit of a gray area.
They don't seem like a proper smartwatch, more of an activity tracker – kind of like an updated version of pedometers from the 90s.
There is no Fitbit model with LTE capability. That means you would always need your phone with you. It cannot operate on its own. The Fitbit is more of an accessory for your phone than an independent product.
Fitbit did add some smartwatch characteristics to their activity trackers allowing users to see notifications from their phone on the watch, but only your watch is within the 30-foot (9-meter) Bluetooth range.
The final nail in the coffin for Fitbit is the price. Their watches lack essential features like cellular capability, the ability to respond to texts, and the ability to make calls directly from the watch, yet the device costs as much as the lower-tier of Garmin watches. For that price, you could get a Garmin or a Fossil smartwatch with LTE capability and more features.
Conclusion
The short answer to the question 'do smartwatches always need to be near a phone?' is no, if your smartwatch is LTE or cellular data enabled. 
If your smartwatch does not have cellular data, it will need to stay within 30 feet (9 meters) of your phone to get full functionality.
An LTE or Cellular data-equipped smartwatch is the best option if you want to use all of your smartwatch's features without having your phone nearby.