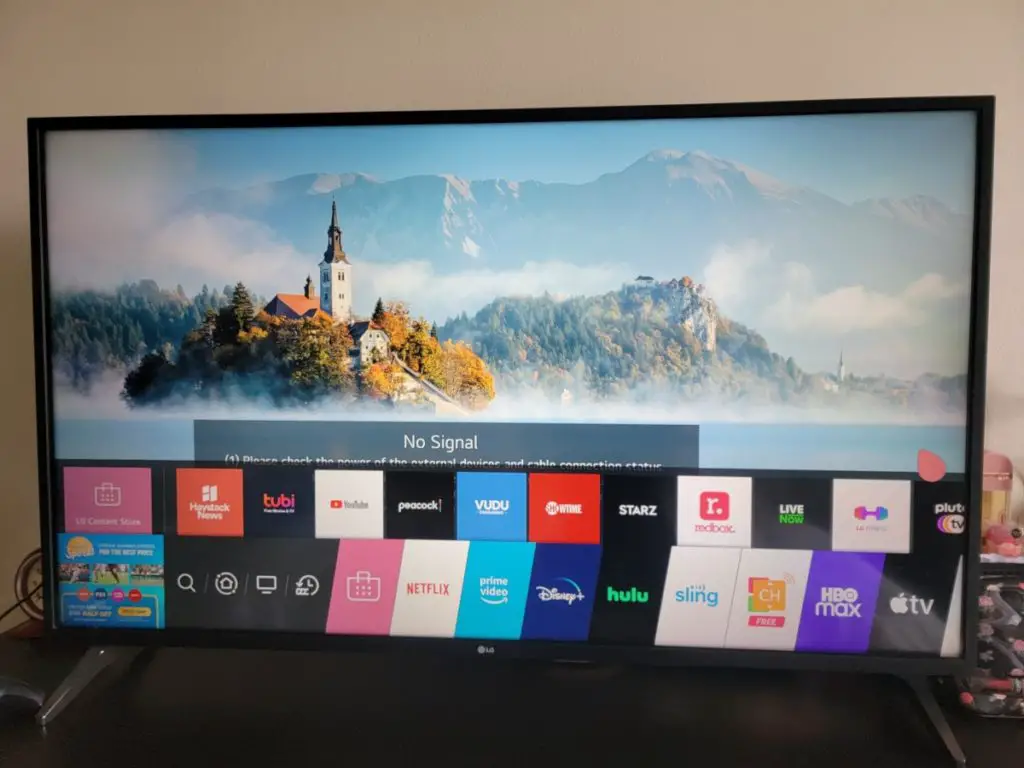 Sitting down to watch my favorite show on Hulu with a snack in my lap is one of my favorite ways to relax.
You have your favorite content saved right at the top.
It's even easier with a smart TV—if you can find the app.
Your LG Smart TV compatibility is most likely why you can't find the app in the content store. It's also possible that you have not updated your TV in a while. If you have an older smart TV, it may not work well with Hulu.
This article will tell you which LG Smart TVs are compatible with the Hulu app, how to find it in the content store, how to install it, and alternatives you can use if your device is outdated. So if that's interesting to you, definitely stick around!
Hulu Only Works With Compatible LG Smart TVs
Not all LG Smart TVs have the same capabilities.
Hulu did not design older versions to accommodate most streaming platforms because they were not as prevalent at the time.
Hulu is only compatible with LG Smart TVs that run on webOS 3.0 or higher or are powered by a Roku TV.
WebOS 3.5 or higher will give you the newer Hulu app and all its benefits; however, a webOS 3.0 TV will stick you with the Classic Hulu app.
The Classic Hulu app still allows you to stream its library of shows and movies, but you will not have access to live television and other premium features.
Other elements will be different, such as where your shows are stored.
Anything you have previously watched will be in "Watchlist" rather than "My Stuff."
How To Check Your TV Series
Depending on the LG TV series, you can find the name of your model in one of three ways:
Press the mute button three times.
Go to settings by pressing and holding the home button. Navigate to Setup, Support Menu, then to Product/Service info.
Search for a label on the back of the TV.
If you do not see an exact model name, find the serial number using one of the above methods.
The LG website should be able to tell you which device you have.
LG Content Store
The easiest way to find the Hulu app on your smart TV is through the LG content store.
It houses all of the apps compatible with your device. To find the Hulu app use the following steps:
Navigate to the content store using your remote.
Click on the "Search" icon.
Type in "Hulu."
Follow instructions to install the app.
If the Hulu app is not showing up, try updating your television.
How Do I Update My LG Smart TV?
To update your LG Smart TV, navigate to the home screen, click on "Settings," navigate to "All Settings," then "General." Scroll until you can click on "About This TV" and choose "Check for Updates." If there are any updates available, you can download them from this screen.
How To Install the Hulu App
If the Hulu app shows up in the content store search, you can install it in a few simple steps:
Finding the app in the content store.
Reading the app details.
Pressing the "install" button.
Once installed, you can enjoy Hulu.
Can I Install Apps on My LG Smart TV Which Are Not Available in the LG Content Store?
You cannot install apps that are not available in your LG Smart TV's content store.
The content store will only show you the apps compatible with your television.
If an app does not appear in the search results, your device most likely can't stream it.
Why Is Hulu No Longer Supported on My Smart TV?
Hulu is no longer supported on your smart TV because they constantly update their software.
As technology gets more advanced, so do smart TVs.
Hulu adapts its streaming service to keep up with more complex television and smartphone systems, and those updates are less compatible with older TV models.
Alternatives to the Hulu App
Can't get the Hulu app on the LG Smart TV? Below are some alternatives that will still allow you to stream your favorite content on the big screen.
ROKU or Fire TV Stick
If you still want to stream Hulu on your smart TV without making a big purchase, consider investing in a Roku Streaming Stick or an Amazon Fire TV Stick—both are available online on Amazon.com.
Hulu lists them as supported devices, so you will not have to worry about not finding them when you search.
The best part? Neither option requires you to buy a new TV.
Streaming sticks plug directly into your TV and connect to the Wi-Fi, so you do not have to do anything but purchase your mini streaming device.
HDMI
Another affordable option is an HDMI cord, like Amazon's Amazon Basics High-Speed HDMI Cable.
An HDMI cable easily connects your laptop screen to display on your television screen.
It only costs a few bucks, and you can access any streaming platform you can subscribe to through your device.
Other Streaming Services
Is there a particular show or movie you're dying to watch?
It may still stream on your smart television if you can find it on another platform you subscribe to, like Netflix or Amazon Prime.
Go to the content store to search for their availability.
Upgrade Your TV
If you can't find other comparable streaming services on your current LG Smart TV, it may be time to upgrade.
A new smart television offers a broader range of streaming services. Not only that, but a newer TV will run faster and show clearer colors.
Hulu lists Apple TVs, Samsung TVs, newer models of LG Smart TVs, and more in their list of supported devices.
Can't Find Hulu App on an LG Smart TV Conclusion
A sign your LG Smart TV is outdated is being unable to find the Hulu app in your content store.
If you find yourself housing an out-of-date television, you can grab an HDMI cord or a Roku Stick on Amazon to watch your shows on a budget.
If you have more dough to spend, consider upgrading your TV to a newer model.