Introduction
I love to have my house clean, and nowadays with our lifestyle sometimes it is very difficult to keep your palace as clean as you would want.
At home, I have a beautiful white floor that gets dirty with a lightning speed! And after a while, I get tired of keeping a portable vacuum in my hand 5 or 6 times a week.
But there is a solution to this. The Massachusetts Institute of Technology, MIT for several years has been developing a method that automates an analytical model building called Machine Learning.
I know, sounds a little bit techie for some of us, but the main idea is that a machine like a vacuum can learn how to move by itself, creating a map into its "head" making different rounds through your house.
And in 2019 this technology has taken the game to a whole new level!
Right now, Robot Vacuums are capable of vacuum your entire house and you don't have to even move a finger for even months!
If you are interested in learning which one's are the best robot vacuums in the market right now, this article is for you.
6. Neato Botvac D7: more Power than ever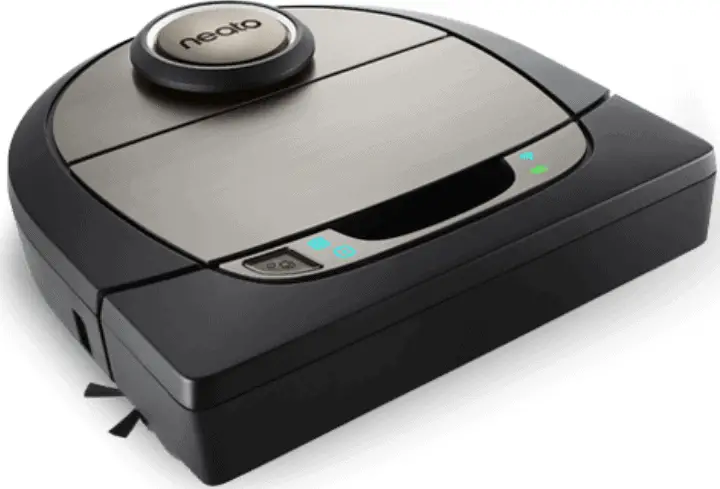 NeatoRobotics, an American company has presented its flagship robot vacuum. The shape of this robot is designed for corners.
Most vertical vacuums even have that problem, if you don't remove the brush roller and suck the dirt with the hose you will have the same problems as the circular robot vacuums right know out here.
I know that they have those new brushes that spin outside the diameter of the vacuum, but why don't they have them both?
As it doesn't have the home station to dispose of the dust, it wouldn't be possible to be on top of this list.
But the good thing is that it has all the high-end features that a reliable robot vacuum has: amazon Alexa connectivity, room cleaning programming, multiple floor plan mapping, Google Home.
Speaking of efficiency at mapping the house, let me tell you that it is very close to the Roborock S6. I love to show to my friends how a Robot Vacuum like this performs.
If some of my friends have one that is a little cheaper, immediately will see how well it senses obstacles and how smart has become this industry!
Picking up dust is a task that the BotVac D7 performs beautifully. Even if you left small screws laying around, it will pick them up without hesitation.
5. Roborock S6 The smartest robot vacuum!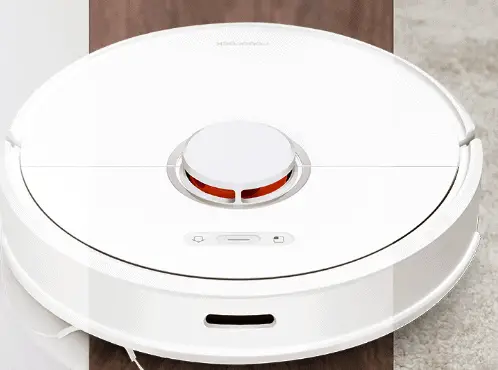 ' Roborock is an outgoing company in Beijing focused mainly on robot vacuum cleaners. But it doesn't mean that they don't know what they're doing!
Their flagship model is the Roborock S6. It comes with all sorts of high-end features. You can program certain areas of the House to be cleaned more often than others and it comes in that trendy light white color that we all love!
To me, is necessary to have a fully automated robot vacuum to feel completely detached from the vacuum process.
Even though this vacuum doesn't have a home base bin, it certainly can hold a decent amount of dirt inside.
The so-called moping feature that is used for advertising is not a reliable source for deep cleaning.
It can clean little drops laying around, but don't expect a truly cleaning from this.
The scenarios where this feature could be used are so limited that I don't feel that this is the reason you would want to buy it.
What I did like is the fact that can climb up to 0.8 in or 2cm tops. Most robot vacuums get stuck on thick rugs, but with this, you won't have to see a clumsy robot trying to jump on a rug!
Let's face it. Speaking of suction power, Roborock claims that it can hold almost 2000Pa… apparently better than Ozmo 950 right?
But the way they measure those values relies on certain factors that in my conclusion are made for advertising only.
The reality is that the amount of air suctioned inside of the vacuum is the lowest on this list.
It doesn't mean that it doesn't work, but from my perspective, they should recalculate that information.
But on the bright side, the Machine Learning method analysis implemented on the S6 is superb. It is the fastest and most efficient vacuum cleaner in the market to clean out your house.
Comparing it with the s9+ that takes almost twice to vacuum a room; Roborock really thought this through.
It is designed to work intelligently. You will not see this baby bumping all of your furniture as it had some kind of mental disease. Its algorithms are written specifically to be efficient during the mapping of your home and of course, trying to take all dust away.
4. Ecovac Deebot Ozmo 950 Wait… vacuums and mops?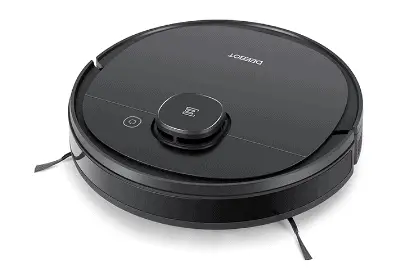 This little one looks like it comes from another dimension. As you can tell from the title it can mop, but don´t expect it to be a strong mechanism to remove stains.
His magic resides in its power. It is capable of delivering on 1500 Pa of suction.
You may say… what is Pa and why is he saying this to me? Well, it is a Pressure unit to measure the air sucked inside the little robot vacuum (For purposes of this review).
And believe me… even the i9+ can't suck that amount of air like the ozmo 950.
For picking up debris, this robot does a pretty good job.
At this point, most of the vacuums listed here are capable of handling dirt or hair, but we are looking to find the best one that suits our needs, right?
Speaking of deep carpet cleaning I can say that it functions as Ecovac planned to be, but it could be better.
Even though it has the strongest suction mechanism, it lacks intelligence while is on top of the carpet. Don't get me wrong, it can pick up 96% of dirt on hard floors but if you're a rug fan, I recommend better the i9+
Speaking about the app, it has an awesome feature that I value. You can specify zones in your smart home exactly to be cleaned by the robot.
If, for example, you drop some cereal on the floor, you just need to take your smartphone….. Select the area of the house and your good to go!
This one doesn't have a home station bin where it can discharge the garbage and recharge at the same time. It is a reliable robot if you live in a small house.
3. Shark IQ Robot Vacuum R101AE with Self-Empty Base. The Vacuum shark for debris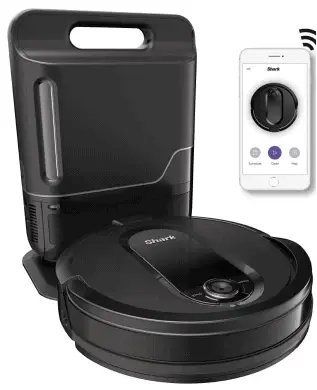 What I love about this one: The Self-Empty Base.
How cool is that a robot goes by itself cleaning your house while you are not there, and if it gets full goes to the trash and dispose of everything…. And the resumes where it left off?
Shark company is so sure that their robot vacuum performs better than anything else, that they have the best warranty in the market. 90-day money-back guarantee if you don't feel fully satisfied with your product.
One more point in favor of this little one… the price. Some people are having second thoughts about this technology. As it has not been well spread yet, it is normal to feel doubtful about them.
But with the offers that Shark and Amazon are giving away and the 90-day money-back guarantee why not to give it a try?
It has all the amazing features that most state-of-the-art robot vacuums have. You can select zones of your home that need to be cleaned more than others.
If you have a pet you can program it to stay away from the food bowls, etc.
The edge sweepers do their job as required. The material could be improved to last longer, but hey, the price is unbeatable.
And your beautiful robotic assistant… "Alexa: have the shark clean my bedroom."
But What if you're not fond of Alexa due to all the scandals that happened in the past?… Well, there is Google Assistant to the rescue!
Most of mid-low range robot vacuum suffers from the long hair wrapped syndrome.
As the shark IQ robot has a self-cleaning brush-roll, while it is rotating it auto-removes the long hair… so don't worry about that.
Machine learning comes to my mind with this Robot Vacuum.
It is a very efficient robot that is capable of learning and map your whole house from the beginning.
The only sad part about this if your messy and left things on the floor like a guitar, a box or something like that…. Your best cleansing friend will suffer the consequences.
This issue is present in all kinds of robot Vacuums. But I know you will keep things neat so she can do her job right?
2. IRobot Roomba s7+ A very complete robot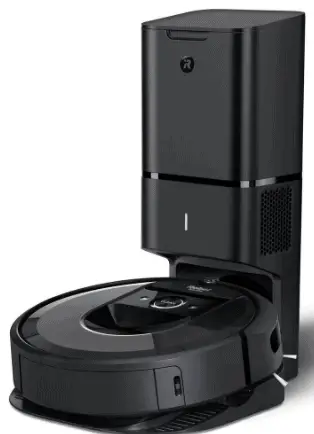 This robot vacuum is designed to deliver. It has a home base to dispose of dirt automatically.
You can forget about discharging dirt from it for months! As it can handle a considerable amount.
The Software engineers who coded the way the s7+ walks through your home are geniuses. It can cover all the rooms of your house and keep a record of the places where it finds more dirt.
You can schedule with the mobile app which rooms need to be cleaned more often to fit your lifestyle needs.
This feature for me is a must-have in this equipment because usually, my room gets dirtier than other places in my house. It drives me crazy to have dirt around me when I'm working!
If you have a pet that loses a lot of hair this is the robot vacuum for you! Because besides it is proven that it can pick up more pet hair than other robot vacuums you can program it to avoid hitting your pet's bowl and making a mess while cleaning.
One issue that I found with this particular model is that it shows problems to go on top over thick rugs. Surely it will clean everything around, but perhaps it won't clean your rug as desired.
One awesome feature that it has is that if you, later on, want a robot mop, you can synchronize them to once the vacuum finishes, the mop will start automatically.
In this new era, you can forget about having a maid or cleaning your house in your precious free time! What a relief if you ask me huh?
And last but not least, this vacuum can be paired with the Braava Jet M6. A robot mop to help you out with stains! Check out this post if you want to learn more
 1. IRobot Roomba s9+ The mother of vacuums!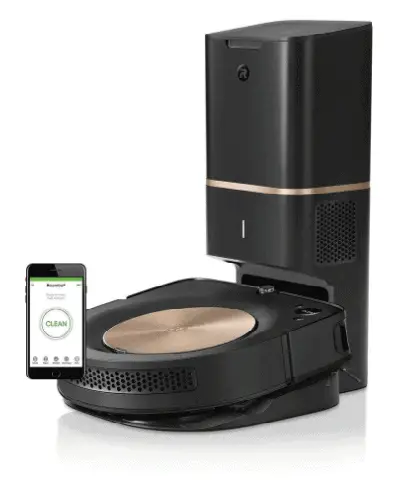 IRobot did a fine piece of art with the s9+. Its capability to perform in the cleaning process at home worth every penny.
Its main predecessor (i7+) had some rough edges that needed to be polished to become the winner of this list, and IRobot showed us that a robot vacuum will become your best friend if you want to keep every bit of dust away.
For me, the process of cleaning in my house has to be fully automatized.
It doesn't make sense to me that I have to be walking behind my vacuum to remove the dirt inside of it every two cycles!
That is why this new s9+ has its charm. It has a home base capable of handling a decent amount of dirt.
Once the s9+ is full, it automatically goes to its base and unloads to keep cleaning.
It is very convenient because once it's full it will send you a notification to your smartphone so you are aware that it needs to be discharged! A deal breaker for me.
Besides the home base, Roomba s9+ has the strongest vacuum device installed in the market.
According to the brand, it delivers 22 CFM of suction to remove all kinds of dirt possible at your home.
If you have a pet, this robot vacuum is capable of handling all of those hairs laying around because it as a sensor called Dirt Detect Technology where it recognizes the most concentrated areas of dust and ensuring that all hair will be gone!
During all this list, most of the robot vacuums have a big flaw that only this baby has mastered it.
Cornering dirt has been an issue for these devices, but with the new i9+, it is part of the past.
Since its shape is no longer circular, it allows reaching corners better than any other.
Also, the edge sweeper now rotates at lower speeds to avoid making a mess.
As we know, this robot connects to your smartphone, but now IRobot added an awesome feature that lets you schedule the cleaning process in certain areas of your home.
For example, if you spend most of the time in your living room, but no so much in the guest room, you can tell the robot vacuum to clean more often that part of the house so you don't have to see all those pesky hairs or dirt laying there! An awesome feature if you ask me.
The battery life is not an issue for the i9+ either.
It has a feature that if during the cleaning process the battery dies, it automatically goes to the home base, recharges, and resumes its work.
It is designed to be fully automated and without any kind of human intervention for at least monthly to remove the dirt.
Did I forget to mention that it is compatible with Amazon Alexa? Well, you can synchronize it and take the best of her! Or Google Assistant, Siri and all those useful Voice Assistants that saves lots of time daily.
And you can pair your s9+ with a Robot mop! You can automate your entire floor cleaning by getting one. The one that My Automated Palace recommends is the Braava Jet M6. If you want to learn more about the best Robot Mop in 2019 check out this post
I get that its price is high. But I see it in this way. To have a clean house all the time I have to hire a maid that in the U.S. charges you averagely twenty-two thousand bucks a year! Or spent time and effort on cleaning my home the weekends when I could be spending time with friends or family.
And with this vacuum, you only have to invest once and it will provide you a fully automated robot vacuum capable of cleaning your house without you even realize it.
But if the price is almost too much for a piece of equipment you haven't seen before go for the Shark Robot, it is the most valuable one.
If you decide to buy one robot vacuum to start your journey on automating your home, please let me know in the comments below! Or if I missed some cool feature share it with us!