If you have a couple of Nest Cameras lying around your house, you already know how good they are.
Likewise, Xfinity Home offers one of the easiest-to-use surveillance systems.
But will a Nest Camera work with Xfinity Home?
Nest Cameras won't work with Xfinity Home. Although Nest Cameras are compatible with certain third-party apps and systems, Xfinity Home Security only works with Xfinity surveillance cameras and smart doorbells. There are no third-party cameras that are compatible with Xfinity Home.
This article will explain why Nest Cameras can't work with Xfinity Home, what to do if you already have both, and whether Nest Doorbells work with Xfinity Home. I'll also present a few cameras that work with Xfinity Home.
Why Nest Cameras Don't Work With Xfinity Home
The main reason why Nest Cameras don't work with Xfinity Home is that the two companies have never partnered up.
As a matter of fact, it seems that Comcast (Xfinity Home's owner) and Google (Nest's owner) are rivals.
Google is picky with who they work with.
Google Nest cameras are great when used with the Nest or Home app, and they also added support for SmartThings (Samsung) somewhat recently.
Xfinity Home only works with Xfinity cameras currently.
A quick look at Xfinity's list of partners reveals that they only support lighting, door locks, thermostats, and locator services.
The list isn't too bad as it includes the likes of Philips, Tile, and ecobee, but Google Nest is nowhere to be found.
The key difference between a Google Nest and an Xfinity Home surveillance system is quality. 
Although both provide high-quality video playback and cost about the same, Xfinity Home Security is safer.
Also, Xfinity cameras integrate seamlessly into the system. And there are more safety features compared to Nest Cameras.
What Can I Do if I Have a Nest Camera and Xfinity Home?
If you have both Nest Cameras and Xfinity Home, you'll have to use them separately.
There's no way to integrate Nest cameras into the Xfinity Home surveillance system.
One possibility is to use Nest Cameras indoors and Xfinity Home for outdoor surveillance.
Unfortunately, there's no way to make your Nest Camera work with Xfinity Home.
There are no workarounds or hacks like the Starling Home Hub Nest HomeKit trick.
You pretty much have two options — sell all your Nest Cameras (or Xfinity Home) or use them separately.
If you only have one or two cameras, getting rid of either makes sense. 
But if you've already invested hundreds of dollars into each system, don't worry; it's not the end of the world.
My recommendation is to use one system indoors and the other outdoors.
It's not perfect, but it's a viable option. For example, if you have Nest cameras set to record indoors, you can ignore Nest notifications when you're at work.
But when you get a notification from the Xfinity Home app, you're probably going to check it immediately.
If there's a trespasser on your lawn, you can alert the authorities immediately.
You could also find someone in your local area with the same problem and strike a deal with them by swapping your cameras.
Does the Nest Doorbell Work With Xfinity Home?
The Nest Doorbell doesn't work with Xfinity Home. The only smart doorbell that works with Xfinity Home is the Xfinity Video Doorbell. If you want to use the Nest Doorbell, you'll have to do it through the Google Home or Nest app.
We see the same situation with smart video doorbells here as with the cameras.
The Xfinity Video Doorbell isn't bad by any means.
It has most of the same features as the Nest Doorbell, down to the aesthetics.
Video quality is comparable to the Nest, and it integrates beautifully with other Xfinity Home products.
Unfortunately, there's no way to make your old Nest Doorbell work with Xfinity Home, though.
You'll either have to replace it with the Xfinity one or use it separately, which kind of ruins the whole point of home automation.
Best Cameras for Xfinity Home
Although there aren't many Xfinity cameras on the market, there are a few to choose from on Amazon.com. Let's take a brief look at all of them and go over the most notable features.
Xfinity iCamera2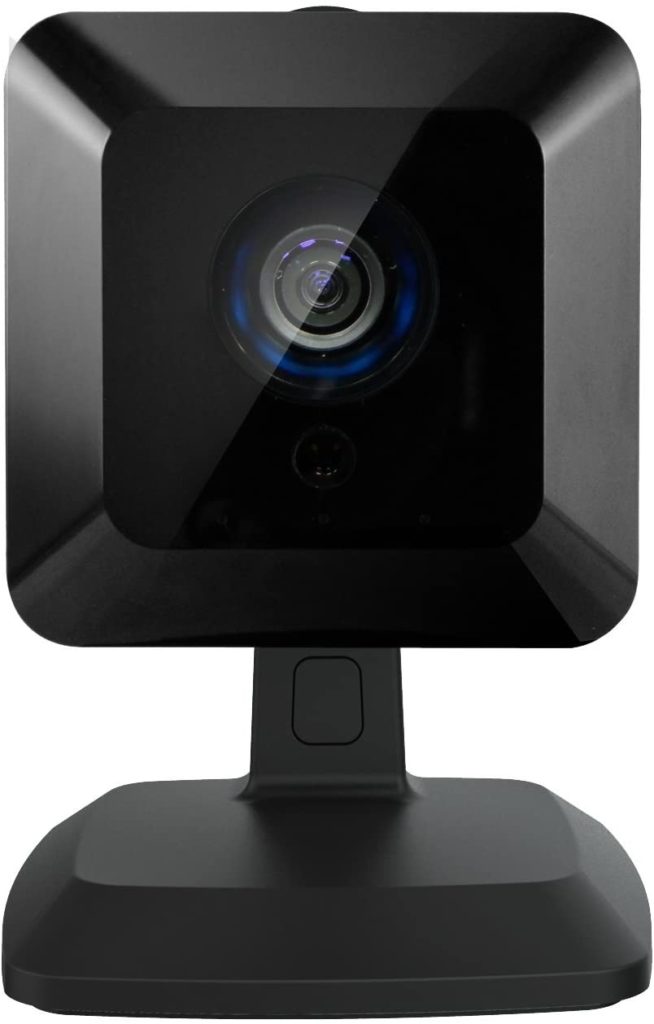 The iCamera2 is the successor to the Xfinity iCamera 1000. It has the same square shape but with a much sleeker design.
It has infrared LEDs with automatic night vision up to 5 meters, making it suitable for indoor and outdoor surveillance.
Also, it can be both wired and wireless and supports audio, so it's a very versatile camera.
Xfinity Camera XHC1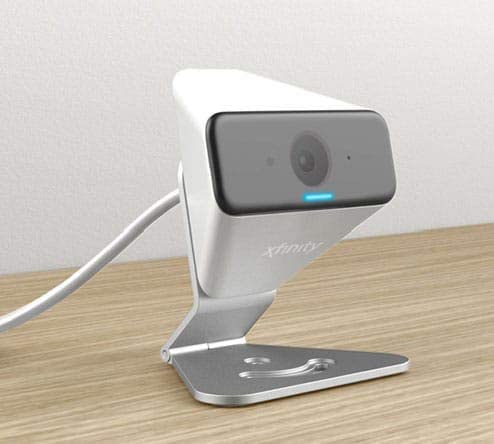 Here's another camera designed to work well both indoors and outdoors. It's water-resistant with support for 24/7 video and audio surveillance.
It's more affordable than the iCamera2 because it doesn't have a night vision mode and LEDs. So, only use it on a well-illuminated porch or indoors.
Also, the built-in stand makes it very easy to install.
PEQ Indoor/Outdoor Camera for Xfinity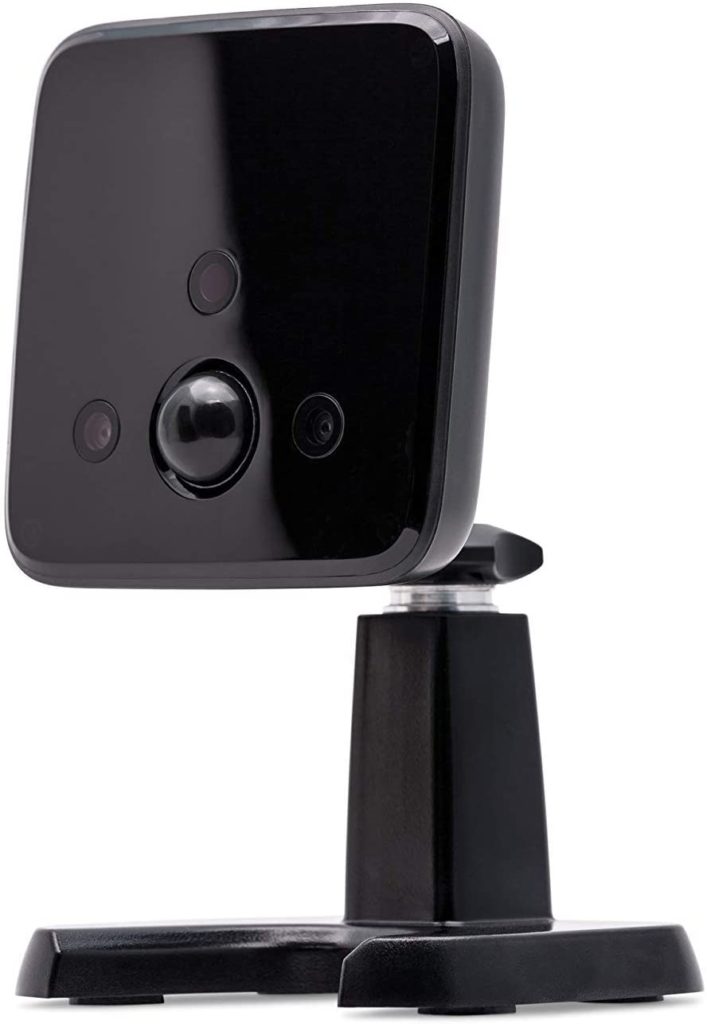 If you're surprised to see a non-Xfinity camera on the list, that's because it actually isn't. The PEQ Camera is actually a rebranded Xfinity iCamera 1000.
The image isn't as sharp as the two cameras mentioned previously, but it has decent night vision and infrared LEDs. It also has a wider camera angle than most surveillance cameras and a solid stand.
Additionally, it's the cheapest of the three.
The PEQ Camera is also compatible with Comporium, ADT, and Time Warner.
The only major downside is that it can't be paired as seamlessly as other Xfinity cameras. You may need to contact Xfinity support to do it for you or guide you through the process.
Final Thoughts
Nest Cameras don't work with Xfinity Home. Unfortunately, you can only use compatible Xfinity Home cameras with Comcast's Xfinity Home surveillance security system.
If you already have Nest cameras, you'll have to use them separately from the Xfinity Home system or replace them. 
Thankfully, there are several Xfinity Cameras to choose from at various price ranges.