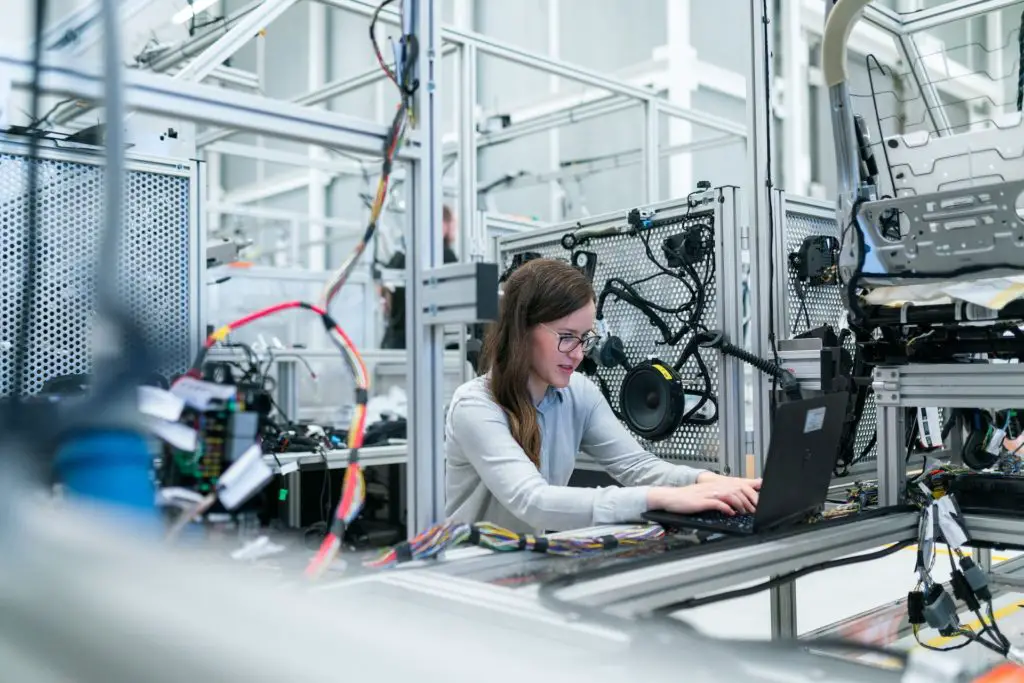 The display panel has been the most significant cost in manufacturing a conventional TV.
But smart TVs have several essential components along with HD or UHD display panels, such as backlight technology, processors, etc. So, how much does it cost to make a smart TV?
The cost of making a 55-inch (139.7 cm) UHD smart TV, selling for $1,000, is approx. $800. The manufacturing cost is lower for LED smart TVs and gets progressively higher for QLED and OLED displays. Also, the cost varies for different sizes and technologies.
Smart TV prices have gone down in recent years mainly due to the decreasing costs of display panels. However, premium models with large screens and state-of-the-art features are still costly to manufacture. Keep reading to know how the costs vary to make different types of smart TVs.
The Main Specs That Determine the Cost of Making a Smart TV
The cost of LCD panels has somewhat plateaued in the last five years.
A 55-inch (139.7 cm) LCD panel for a UHD smart TV costs up to $200 per unit. Likewise, OLED panels no longer cost as much as $1,300 now. A 55-inch (139.7 cm) OLED UHD smart TV panel costs $500 to $700.
These figures account for inflation but not variations in prices due to the demand and supply of raw materials or other market dynamics.
Plus, OEMs don't have the same manufacturing costs.
You must also account for all the costs of the other major components that make a smart TV.
Consider the likes of the Samsung 55-Inch Crystal 4K UHD Smart TV and Amazon Fire TV 55″ 4K UHD (both available on Amazon.com). These similar smart TVs are priced a tad under and over $500, respectively. 
Most smart TV brands have an operating margin of approximately 20%. This includes the manufacturer's and retailer's share, along with intermediaries, if any. 
The operating margins for smart TVs are no longer as high as 30%, which used to be the norm for such electronics in the past and still is for many goods. So, the manufacturing cost of Samsung and Amazon smart TVs with 55-inch (139.7 cm) LED displays is approximately $400. 
Both LED TVs use a 55-inch (139.7 cm) LCD panel, which costs around or less than $250. Hence, the remaining $150 or so accounts for the other components, including all hardware and software. But the specific types of hardware and software have a significant influence on cost.
Display and Backlight
All smart TVs have standard connectivity specs to be classified as such, including the following:
Ethernet
Wi-Fi
HDMI
Bluetooth
USB
RF input
These features don't weigh heavily on the manufacturing cost. The first major factor influencing how much does it cost to make a smart TV is the type of display panel. Consider the example of the Samsung 55″ Neo QLED 4K QN85B Smart TV (available on Amazon.com).
Unlike the Samsung LED smart TV of the same size that uses an LCD panel with light-emitting diodes for backlight, the QLED version has mini LEDs featuring a quantum dot layer. This type of display panel increases the cost of the Samsung QLED smart TV to around $1,000 (+/-10%).
Of course, the QLED smart TV has additional features such as HDR 24x, Dolby Atmos, etc. The display panel and premium specs are why its retail price is up to $1,400. 
Similarly, if you consider the Samsung 55″ OLED 4K S95B Smart TV (available on Amazon.com), the cost is even higher. An OLED display panel with a plethora of fancy features takes the manufacturing cost to $1,500 or more for this size, which brings forth Samsung's original retail price of approximately $2,200 for this model. 
LCD panels with fluorescent lights are rarely used in smart TVs nowadays. The simplest models feature LED panels, followed by QLED, which also use LCD technology, but the backlight tech is different. The more expensive variant is OLED, which can regulate the luminosity of each pixel.
OLED smart TVs are costlier to make than LED and QLED, irrespective of the manufacturer. For instance, the LG B2 Series 55-Inch OLED smart TV (available on Amazon.com) isn't as costly to make as the Samsung equivalent. However, the OLED model is much costlier than LG's QLED and LED smart TVs.
Resolution and Size
Resolution and size are the most important attributes of smart TV panels, and both factors will significantly impact the cost. Consider the cost of LCD smart TV panels for different resolutions and sizes:
32 inches (81.28 cm) HD: approximately $40 per unit
43 inches (109.22 cm) FHD: approximately $70 per unit
49 inches (124.46 cm) UHD: approximately $90 per unit
55 inches (139.7 cm) UHD: approximately $110 per unit
65 inches (165.1 cm) UHD: approximately $180 per unit
Notice the huge spike in cost between the 55 inches (139.7 cm) and 65 inches (165.1 cm) UHD LCD panel sizes. Smart TV manufacturers have to work with a similar spike for OLED panels. A 55″ (139.7 cm) OLED panel costs around half of an almost $1,000 worth 65″ (165.1 cm) variant.
Similar cost differences apply to QLED smart TVs. Hence, the Samsung 85″ Class QN90B Neo QLED 4K Smart TV costs around four times the 43″ version, despite the larger screen being barely twice the size of the smaller variant. Most other features in these smart TVs are identical.
HDR and Brightness
The display resolution and screen size have an enormous impact on costs because many visual attributes change dramatically. For instance, the Samsung 43″ QN90B Neo QLED 4K Smart TV has HDR 24x compared to the 85″ variant's HDR 32x, despite other identical features, such as:
EyeComfort Mode
HLG (Hybrid Log Gamma)
Neo Quantum Processor 4K
Quantum Matrix Technology
Resolution of 3,840 x 2,160
OS, Processor, etc.
All smart TVs require a processor. The chipset and processing power of smart TVs is directly proportional to the cost of hardware and the technology powering it. Likewise, smart TVs feature different operating systems, including but not limited to the following:
Android TV
Fire TV
Tizen (Samsung)
WebOS (LG)
Similar to the different costs of operating systems and processors, the audio output technology and speaker influence the cost of making a smart TV.
The Samsung QLED smart TVs mentioned above feature Dolby Atmos, but the sound output varies due to the type of speaker specs.
The 85″ model has a 60W 5.1 speaker with a woofer, whereas the 43″ smart TV has a 20W 2.0 ch sound output.
The former costs more, so the larger smart TV is also priced much higher than its smaller variant. Similarly, every important specification affects the cost of making a smart TV.
Final Thoughts
How much does it cost to make a smart TV isn't limited to manufacturing because all the brands must deliver firmware updates and ongoing support. But the companies also generate revenue through the likes of Samsung's TV Plus, Vizio's WatchFree+, etc. In time, smart TVs might also entail a cost for cyber security because such connected devices can be vulnerable to hacking.